Nationals get 2-time All-Star relief pitcher Kelvin Herrera from Royals for 3 minor leaguers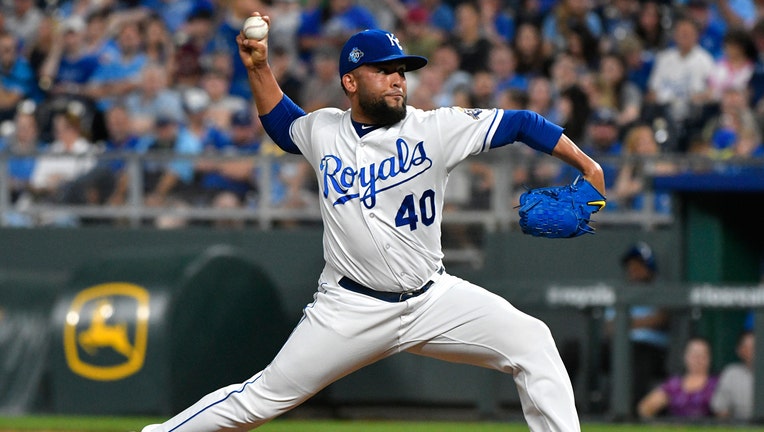 article
WASHINGTON (AP) -- Washington Nationals closer Sean Doolittle was going through his usual routine Monday, preparing if needed for a save, when general manager Mike Rizzo sought him out.
Rizzo wanted to discuss two things: The Nationals were trading for two-time All-Star reliever Kelvin Herrera, and Doolittle was going to keep his ninth-inning job.
Getting a jump on the trade deadline, the Nationals picked up right-hander Herrera from the Kansas City Royals for three minor leaguers, adding him to a back end of the bullpen that already includes the lefty Doolittle and righties Ryan Madson and Brandon Kintzler.
"It's almost their way of saying, 'Here's some help. Here's some reinforcements.' I think it's one of those situations where you can't have too many options down there," Doolittle said. "You get a guy who's pitched in every high-leverage role from the seventh inning on. He's won a World Series. ... We're planning on playing some really meaningful games down the stretch and making a run into the playoffs. We're gonna need some help. I think it's awesome."
As for the effect on his role, which the Nationals say won't change, Doolittle called it "definitely a confidence boost" to hear that it's "still my job."
"You want to add some stuff, but you don't want to have too many cooks in the kitchen," Doolittle said. "It's not necessarily that guys are super-attached to their roles, but they like to know what to expect -- when they're going to pitch in a game, when to get ready, that sort of stuff."
The Nationals sent infielder Kelvin Gutierrez, outfielder Blake Perkins and 17-year-old pitcher Yohanse Morel to Kansas City in the deal announced during Washington's doubleheader against the New York Yankees. Gutierrez heads to Double-A Northwest Arkansas, Perkins will be assigned to Class A Wilmington, and Morel goes to rookie ball.
Herrera has 14 saves and a 1.05 ERA this season. He's allowed three earned runs in 25 2/3 innings while striking out 22 batters and walking two.
"It's just a moment you don't want to see," Herrera said about leaving his only major league home. "It's always hard. I was born and raised (as) a player here."
The 28-year-old helped Kansas City win the 2015 World Series -- and is among the last players left from that title team. He is 23-27 with 57 saves and a 2.75 ERA across 442 games in relief over eight seasons in the majors.
"We've known Kelvin since he signed with us when he was 16 years old. He's one of the very best competitors that I've ever been around, probably that this organization has seen," Royals general manager Dayton Moore said. "Without him, there is no way we can ever make it to the World Series, win a World Series."
Kintzler, the usual seventh-inning man for Washington, went on the disabled list June 10 with a right forearm flexor strain, and Madson spent time on the DL earlier this season.
Madson was a teammate of Herrera's on the 2015 champions.
"He's a bulldog," Madson said. "I take it with welcoming arms. Let the old horse rest a little bit."
Instead of waiting to make moves at the July 31 non-waiver deadline, the Nationals opted to strike now. They are the two-time reigning NL East champions but have never won a postseason series. Washington also currently stands in second place in the division, entering Monday 3½ games behind the Atlanta Braves.
The Royals, meanwhile, are way out of contention in the AL Central in last place and 22-49 going into the day. They already shipped Jon Jay to the Arizona Diamondbacks for a pair of minor leaguers earlier in June.
"We'd like to be holding onto our players longer," Moore said, "but where we are in the standings and what we're faced with and how we're playing, if we can get the right move, it's important to move."
___
AP Sports Writer Dave Skretta and freelancer Alan Eskew in Kansas City, Mo., contributed to this report.
___
More AP Baseball: https://apnews.com/tag/MLBbaseball