MAMBA OUT: Kobe Bryant scores 60 in final NBA game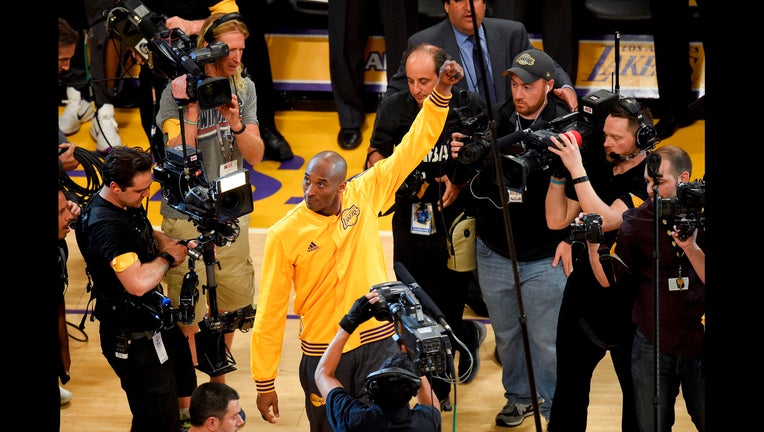 article
LOS ANGELES (AP) -- Kobe Bryant went out with a Hollywood ending to his remarkable career.
Bryant scored 60 points in his final NBA game Wednesday night, wrapping up 20 years in the NBA with an unbelievable offensive showcase in the Los Angeles Lakers' 101-96 victory over the Utah Jazz.
He scored 23 points in the fourth quarter, posting his first 50-point game since February 2009 and rallying the Lakers from a 15-point deficit to win the final game of the worst season in franchise history.
With the entire Staples Center crowd standing, Bryant drained a 3-pointer with 59 seconds left. He hit another with 31 seconds to play, putting the Lakers ahead 97-96. He finished with an assist before checking out for good with 4.1 seconds left in just the Lakers' 17th win of the worst season in franchise history.
Bryant played 42 minutes and took a career-high 50 shots to get there, his teammates attempting to set him up for shots on nearly every possession. He also had four assists and four rebounds in his highest-scoring performance since getting 61 against New York in 2009.
It was the fifth highest-scoring game of his career, and he became the oldest player to score 50 points in an NBA game.
The entire night was a tribute to Bryant, who is retiring after 20 seasons, five championship rings and 18 All-Star selections with the Lakers, who honored him before and after the game. Bryant is just the fifth player in NBA history to play 20 seasons, and the first with just one team.
Between the whistles, Bryant and his teammates conspired for one last omnivorous scoring performance by the third-leading scorer in NBA history.
Bryant briefly addressed the crowd after the game, expressing thanks for the fans' support.
"I think the most important part is that we all stayed together throughout," Bryant said. "You'll always be in my heart, and I sincerely, sincerely appreciate it. Thank you from the bottom of my heart. I love you guys."
He also had a few laughs after finishing his 1,346th regular-season game with 33,643 points.
"The thing that had me cracking up all night long is, I go through 20 years of everybody screaming to pass the ball," Bryant said with a grin. "And then the last night, they're like, 'Don't pass it!'"
Bryant surpassed his previous career high of 47 shots, taken in a loss to Boston on Nov. 7, 2002.
It was daylong tribute with thousands of fans thronging the downtown streets around Staples Center and chanting his name from early afternoon. Fans lucky enough to get inside Staples Center greeted him with ovations at every opportunity. Magic Johnson anchored a brief pregame tribute by calling Bryant "the biggest and greatest celebrity we've had in this town for 20 years" and "the greatest to wear the purple and gold."
After blowing kisses and pounding his heart before the game, Bryant got right to work on what the fans wanted to see. But he missed his first five shots before pump-faking and finally connecting on a jumper.
Bryant found a rhythm then, finishing the first quarter with 15 points on 13 shots. He kept it up after sitting out the first six minutes of the second, finishing with 22 points despite missing a last-minute shot, his 20th of the first half.
The Lakers snapped a six-game skid in their final outing, but their demanding fans could forget about the awful season for one night.
Trey Lyles scored 18 points and Gordon Hayward had 17 for the Jazz, who were eliminated from playoff contention shortly before tipoff by Houston's win over the Sacramento Kings. They didn't concede points, but Bryant's persistence wore down their defense.
TIP-INS
Jazz: Utah has missed the playoffs in four straight seasons, its longest drought since 1980-83. ... The Jazz rested Trey Burke, Derrick Favors and Alec Burks. Favors and Burks have right knee soreness.
Lakers: Bryant shot his 10,000th free throw to complete an early three-point play. ... Jordan Clarkson's 12 points were the second-most by the Lakers.
UP NEXT
Lakers, Jazz: End of the season for both teams