Frances Tiafoe returns home to Maryland to launch new charity
COLLEGE PARK, Md. - Frances Tiafoe's tennis skills have taken him all across the world, and on Thursday they brought him back home to the courts where he first fell in love with the sport. 
Tiafoe returned to College Park to launch his new charity at the Junior Tennis Champions Center where his father once worked as a custodian after emigrating from Sierra Leone. 
The rising star — who's currently ranked No. 10 in the world — hopes The Frances Tiafoe Fund will be a platform for positive social change with an emphasis on youth in the National Junior Tennis and Learning network.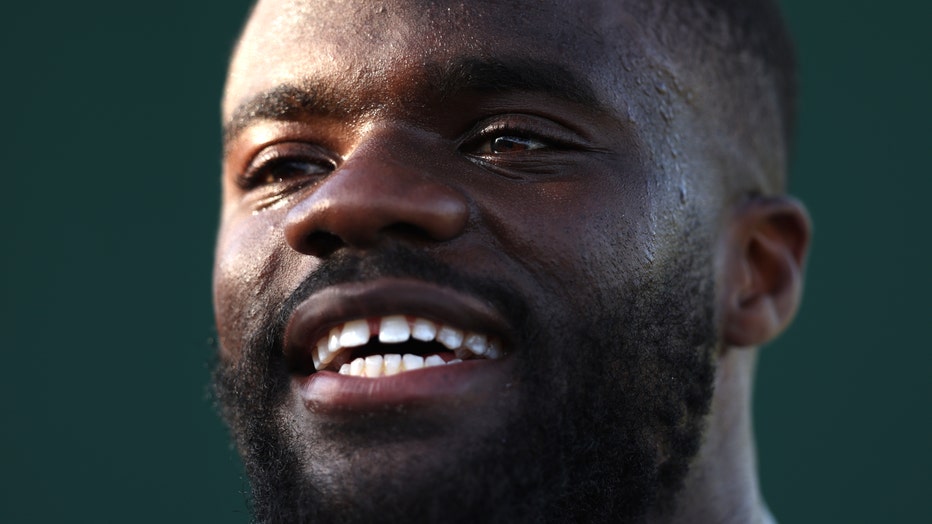 LONDON, ENGLAND - JULY 06: Frances Tiafoe of United States reacts after victory against Dominic Stricker of Switzerland in the Men's Singles second round match during day four of The Championships Wimbledon 2023 at All England Lawn Tennis and Croquet
As someone who grew up in the NJTL network, and played at the JTCC since he was 4 years old — giving back to the community he came from was personal for Tiafoe. 
"I'm so excited for this opportunity to work with the USTA Foundation and inspire kids who come from my hometown and beyond," Tiafoe said in a statement. "One of my priorities has always been to show kids that dreams can come true and that success is in everyone – and this Fund is just one step further toward that goal."
After his big announcement, the 25-year-old who turned pro in 2015, got to high-five fans, and swat tennis balls with kids during a clinic held on the outdoor courts at the center. 
"Frances Tiafoe is a role model for so many kids in Prince George's County and across the country," said Kathleen Wu, USTA Foundation Board President. "He's not just a talented tennis player, he's also a dedicated philanthropist who is committed to giving back to his community. The Frances Tiafoe Fund is a shining example of his commitment to making a difference in the lives of others. I'm so grateful to Frances for his work with the USTA Foundation, and I'm excited to see how the Fund will continue to inspire and empower kids from all backgrounds."
To celebrate the launch, many of Tiafoe's brand partners are expected to support his efforts and donate to the fund.