Drew Brees makes history in style, Saints thrash Redskins 43-19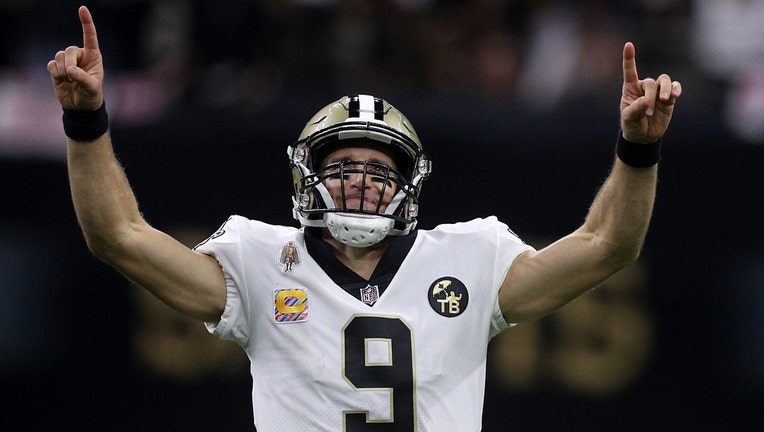 article
NEW ORLEANS (AP) -- Drew Brees' 62-yard touchdown pass to rookie Tre'Quan Smith made him the NFL's all-time leader in yards passing and sent the New Orleans Saints well on their way to a lopsided 43-19 victory over the mistake-prone Washington Redskins on Monday night.
Brees entered the game needing 201 yards to eclipse Peyton Manning's previous mark of 71,940 yards. He had 250 yards and two touchdowns by halftime and finished 26 of 29 for 363 yards and three touchdowns. The 39-year-old quarterback, who looks prolific as ever, has yet to throw an interception this season. He did, however, make his eighth career reception on his own deflected pass, and pushed across the line of scrimmage to add an extra yard to his career total.
The Saints' Smith, a third-round draft choice last spring, caught two touchdown passes from the 18th-year pro. Brees also hit Smith for a 35-yard score down the right sideline early in the third quarter.
Any hope Washington had of coming back was all but snuffed out when Justin Hardee, a special teams regular who was in the game because of Marshon Lattimore's concussion symptoms, snagged Alex Smith's underthrown pass at the Saints' 19-yard line and returned his first career interception to the Washington 4.
That set up change-of-pace QB Taysom Hill's 1-yard touchdown run that put the Saints (4-1) up 40-13.
Smith completed 23 of 39 passes for 275 yards for the Redskins (2-2). He ran for a short touchdown late in the first half that pulled Washington within 26-13.
The Redskins came in allowing fewer than 190 yards passing per game and spoke of doing what they could to prevent Brees from making history. Instead, they helped Brees pile up first-half yards with third-down penalties that extended two touchdown drives.
Josh Norman's defensive holding penalty during Brees' incomplete pass on third-and-4 from the New Orleans 42 helped the Saints on their first scoring drive, capped by Mark Ingram's short touchdown run.
In the second quarter, Montae Nicholson's unnecessary roughness penalty for leveling Ingram on Ryan Kerrigan's third-down sack of Brees extended a drive that ended with Brees' short TD pass to tight end Josh Hill.
Ingram, playing in his first game this season after serving a four-game suspension, scored two touchdowns, the second on a 1-yard run that made it 20-6 late in the second quarter.
After the Saints forced a three-and-out, Brees got the ball back needing just 35 yards to break the record. On the first play of the drive, Brees launched a pass toward the right sideline to the speedy Smith, who was wide open and easily sprinted away from Nicholson's tackle attempt en route to the end zone.
Brees' teammates ran toward their quarterback as he jogged behind the play, and a group of them formed a jumping, celebrating mass of black and gold next to the Saints' fleur-de-lis emblem on the 50-yard line.
Brees then removed his helmet, saluted fans and exchanged hugs on the sideline with his wife, Brittany, their four kids and Saints coach Sean Payton. The ball was handed over to Pro Football Hall of Fame officials.
With the game well in hand after the two-minute warning, Payton subbed Brees out of the game. As Teddy Bridgwater ran onto the field and Brees trotted to the sideline, Brees got one last ovation before fans began chanting: "Who dat say dey gonna beat dem Saints."
INJURIES
Redskins: Chris Thompson took a heavy hit from Saints linebacker Craig Robertson and received treatment on the field before getting up and walking to the sideline holding his helmet.
Saints: In addition to Lattimore, reserve defensive lineman Taylor Stallworth limped off the field, favoring his right leg.
UP NEXT
Redskins: Host Carolina on Sunday.
Saints: Enter their bye week before returning to action at Baltimore on Oct. 21.
___
More AP NFL: https://apnews.com/tag/NFL and https://twitter.com/AP_NFL