Adrian Peterson impresses in Redskins debut vs. Broncos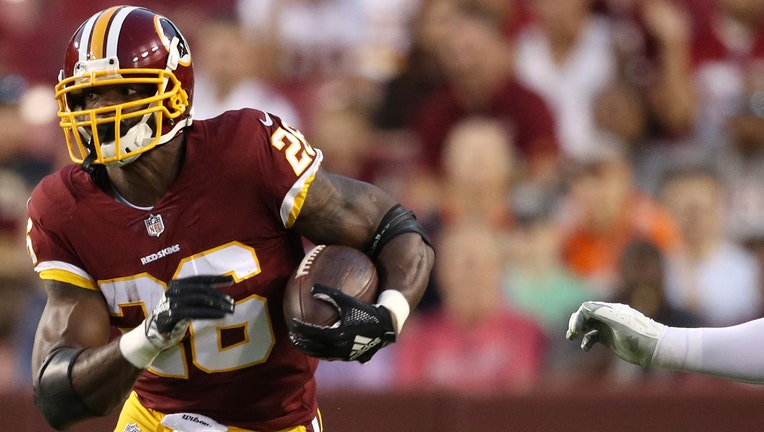 article
LANDOVER, Md. (AP) -- Adrian Peterson didn't mind a healthy diet of action in the preseason 12 years into an NFL career that hasn't included much exhibition work.
"So many years I begged to play in the preseason and was shut down," Peterson said. "They didn't have to beg me at all to play this week."
The Washington Redskins needed to see what Peterson had left in the tank, and the 33-year-old showed them by rushing for 56 yards on 11 carries in his debut, a 29-17 loss to the Denver Broncos on Friday night in each team's third preseason game.
"He surely doesn't look like he lost a step," left tackle Trent Williams said of his friend and college teammate. "I can tell you that much."
Peterson carried the ball seven consecutive plays on one possession, and the 2012 MVP later picked up 15 yards on fourth-and-1. The Redskins signed Peterson on Monday after injuries to three running backs and wanted to see how he could handle a heavy workload.
They got their answer: enough to likely earn the starting job Week 1 at the Arizona Cardinals. After only three practices, Peterson looked to have passed Rob Kelley, Kapri Bibbs and injured backs Samaje Perine and Byron Marshall on the depth chart.
Peterson wanted to gauge how he'd handle a game after missing offseason workouts and training camp, and said, "Based on how I felt today, I'm pretty excited."
His play was a bright spot for the Redskins as they were carved up by Case Keenum and Denver's first-team offense, and Alex Smith was an unimpressive 3 of 8 for 33 yards and said his performance was "not where it needed to be."
"The big thing was I wanted to really focus in on the running game and try to give Adrian some good looks and we accomplished that to some degree," coach Jay Gruden said. "But I wish we would've done a little bit better job in the passing game today."
Keenum was 12 of 18 for 148 yards before giving way to backup Chad Kelly.
SANDERS SHINES
The Broncos' first-team offense scored two touchdowns and added a field goal in five series of work, led by dual-threat receiver Emmanuel Sanders. He was responsible for all 75 of Denver's yards on its second touchdown drive, catching passes of 15 and 33 yards from Keenum and scoring on a 27-yard end-around . Sanders finished with 88 all-purpose yards.
"As far as what we showcased tonight after this game, I would say, yeah, we're ready to go out and play against anybody and we can win, we can compete," said Sanders, who finished with 88 all-purpose yards. "Going in there as an offensive unit and how we performed in the first half putting up 17 points, it was something we can build off of."
MOP-UP LYNCH
After Kelly was 7 of 11 for 70 yards in the third quarter, the Broncos turned to demoted QB Paxton Lynch to finish the game when up 26-10. The 2016 first-round pick completed three of seven pass attempts for 39 yards and had a 5-yard rush in what was as much a trade audition as a chance to show Denver brass he should stick around.
"We'll see," said coach Vance Joseph, who refused to label Kelly or Lynch the Nos. 2 or 3 QBs. "We have one more game next week and Chad should play a lot along with Paxton, so that's yet to be determined."
NATIONAL ANTHEM
Broncos LB Brandon Marshall and WR Demaryius Thomas again were absent from the sideline during the national anthem and jogged out of the tunnel immediately after. Every Redskins player stood on the sideline, as they did in their first two preseason games.
INJURIES
Broncos: S Shamarko Thomas left with an eye injury and was taken to a local hospital for evaluation. ... Marshall was evaluated for a concussion but returned.
Redskins: Kelley, supplanted as the starter by Peterson, was injured on kickoff coverage and evaluated for a stinger. He returned and had eight carries for 19 yards. ... RB Chris Thompson and TE Jordan Reed, coming off surgeries, were held out.
___
More AP NFL: https://apnews.com/tag/NFL and https://twitter.com/AP_NFL