5 things RGIII needs to know about Cleveland--according to a die-hard Browns fan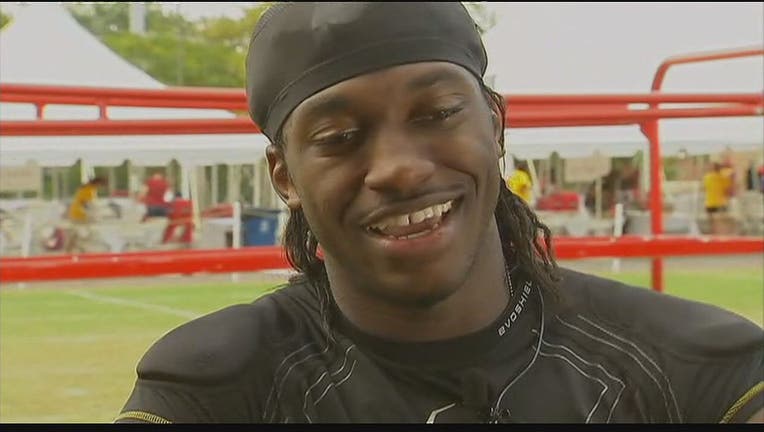 article
It's official: Robert Griffin III is the newest member of the Cleveland Browns. As he packs his bags and moves to the Midwest, he's got a lot to learn (in case you haven't noticed, DC and Cleveland are not the same).
So, we asked die-hard Cleveland fan and FOX 5 DC 10 pm producer Mike Phillips for his list of things RGIII needs to learn about his new city--and from the looks of it, he's gonna be a busy guy this offseason.
Here's Mike's take on 5 things RGIII needs to know about Cleveland:
1. THE FANS
We Cleveland fans take their sports seriously. We hate the Steelers. We loathe the Ravens after Art Modell moved the Browns to Baltimore back in 1995. And we're tired of all the losing seasons. So don't pull a Johnny Football. We do not approve of our quarterbacks wearing wigs and calling themselves "Billy."
2. THE WEATHER
The winters here in DC are nothing compared to Cleveland. You will learn to hate the phrase "lake effect snow." Learn to drive in it, and learn to play with bone-chilling winds swirling in our "Factory of Sadness."
3. THE SCENE
Cleveland gets a bad rap (Mistake by the Lake, the river catching on fire, etc., etc.). But in recent years, the city has been on the upward swing. The restaurant and nightlife scene has been booming. There are plenty of places to check out (and not just the ones owned by Michael Symon).
The same goes for the craft breweries. Like everyone else in Northeast Ohio, you'll learn to love Great Lakes Beer... especially the Christmas Ale.
4. THE REPUBLICAN NATIONAL CONVENTION
It's this July at Quicken Loans Arena. If Donald Trump is the nominee, be prepared for riots. Remember Chicago a few weeks ago?
5. THE TEAM
The Browns have had 257 starting quarterbacks since returning to the NFL in '99 (I may be exaggerating). None of them have panned out. So don't sign a long-term lease.