Woman dead after shootout between suspected abductor, police on I-95 in Virginia
PRINCE WILLIAM COUNTY, Va. - Authorities say a woman they believe was the victim of an abduction is dead after a chase and shootout between police and her suspected kidnapper along Interstate 95 in Virginia.
Officials say a Virginia State Police trooper spotted an SUV with the wrong license plates attached Wednesday around 9:30 p.m. in the Springfield area of Fairfax County.
The trooper initiated a stop and identified the driver as 34-year-old Michael C. Davis. Earlier in the day, New York State Police said Davis forced 34-year-old Tatiana N. David into the SUV against her will in Ithaca during a possible abduction. Police say Davis and David were previously in a relationship and have a four-year-old child together.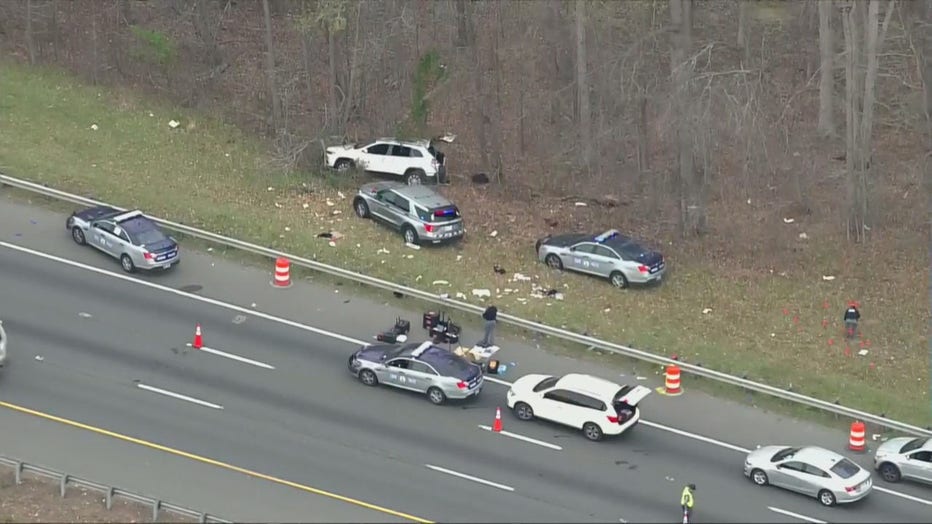 Troopers say Davis sped away from the traffic stop and led police on a chase into the Quantico area of Prince William County where he ran off the road and crashed into the woods. Officials say as troopers approached the crashed vehicle, Davis began firing shots at them. Law enforcement returned fire.
Davis was flown to Inova Fairfax Hospital with critical injuries. David was found dead outside the vehicle with a gunshot wound. Her cause of death is pending investigation.
No officers were injured in the shooting. The troopers involved have been placed on administrative leave pending the outcome of the investigation. Officials say a firearm was recovered from the SUV.
The incident remains under investigation by the Virginia State Police Bureau of Criminal Investigation's Fairfax Field Office.
The crash and shooting caused major delays for early morning commuters. Southbound Interstate 95 was closed near the Marine Corps Base Quantico for several hours impacting the better part of the morning commute.
David's family has launched a GoFundMe page to help them take care of her four-year-old son and funeral expenses.