Woman describes moment she plunged through SEPTA bus shelter during NFC Championship celebration
PHILADELPHIA - A woman who fell through a SEPTA bus shelter during the Eagles NFC Championship celebration is lucky to be mostly unharmed after a fall that she described as "traumatizing."
Ashley Marcial, 22, and her boyfriend were among the crowds of people who reveled in the Eagles' Super Bowl berth on Broad Street Sunday night. 
"We got to about this part of Broad Street, and I'm looking, and I'm like - I hate to say this - but I'm like 'that looks so fun, I want to go up there'," Marcial told FOX 29. 
She joined about a dozen other people atop the SEPTA bus shelter, but she quickly found out that the structure wasn't as sturdy as she thought. 
SUPER BOWL LVII
"The two guys that I'm holding on their shoulders, they're like 'I feel like this is about to pop, I feel it sinking in'," Marcial said.
Suddenly the structure caved in, sending Marcial and others plummeting to the ground. She initially thought that she had a spinal injury.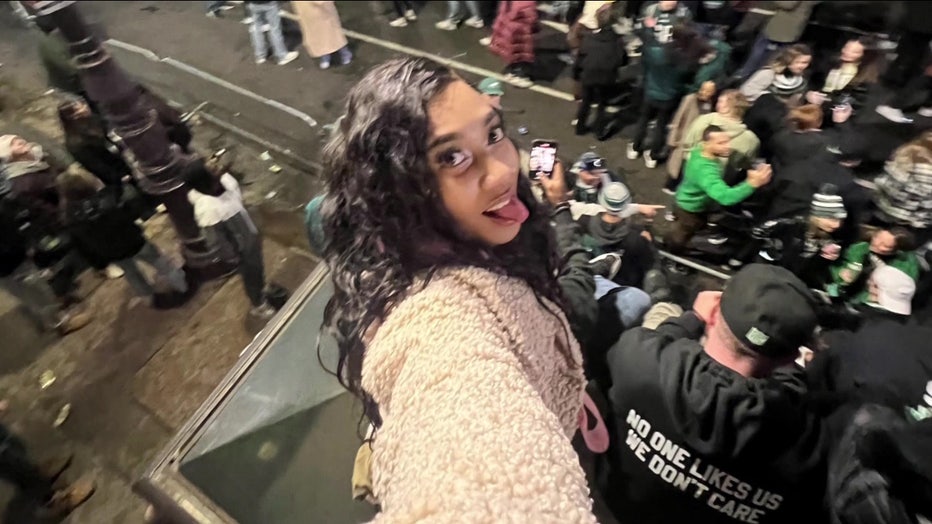 Ashley Marcial, 22, was among the people who fell through a SEPTA bus shelter during the Eagles' NFC Championship celebrations.
"I ended up hitting my head and hitting my back on the bench, and I was knocked out for a couple of minutes," said Marcial who recalled seeing another man bleeding from the head.
She spent three hours in the hospital getting x-rays, a CAT scan and a tetanus shot. 
While no serious injures were incurred, Marcial learned a painful lesson for future championship celebrations on Broad Street. 
Meanwhile, city officials say they're still working on getting an estimate for the damage to the bus shelters. Deputy Managing Director for Transportation Mike Carroll released the following statement Tuesday. 
"We are still working on getting a full estimate of the damage to bus shelters, which are owned by the City. The City through its street furniture concessionaire (Intersection) covers the repair costs, which at this point we can only say will be in the tens of thousands of dollars order of magnitude.Our shelters are engineered to withstand weather conditions commonly found in Philadelphia, such as rain, snow accumulation and wind. The structural load of people standing on the shelter roof is not commonly factored into shelter designs here in Philadelphia, or as far I can determine in any other city. Standing on the shelters is dangerous, particularly on our newer design shelters which have a glass roof. Damaging shelters in this manner is a disservice to bus riders who depend on the shelters to stay out of the weather while they wait. I want to strongly discourage it and ask loyal Philadelphia sports fans to use good judgment as we celebrate the Eagles and all of our teams' successes."