Wife speaks after husband murdered while driving for Uber
FREDERICK, Md. (FOX 5 DC) - An immigrant from Cameroon working as an Uber driver to help support his wife and four children was murdered in Prince George's County Tuesday.
Police say a man high on PCP called an Uber pool on Indian Head Highway in Oxon Hill only to shoot Beaudouin Tchakounte, 46, of Frederick and his passenger Casey Xavier Robinson, 32 of Accokeek.
Tchakounte's wife said her husband had been driving for Uber for three years but had worked as a driver for much longer.
"Since I've known him he's been driving," said Carole Tchatchoua. "He loved driving." 
She described her husband as a jokester who took pride in caring for his children.
"Brushed their teeth in the morning, give them showers and wash their clothes, iron it," said Tchatchoua. "He loved to do that."
She said her older son, who's 7, knew right away something was wrong when he woke up Wednesday morning.
"He went out the window and was like, 'My dad is supposed to be here at this time. His car is not outside, what's going on?'" said Tchatchoua.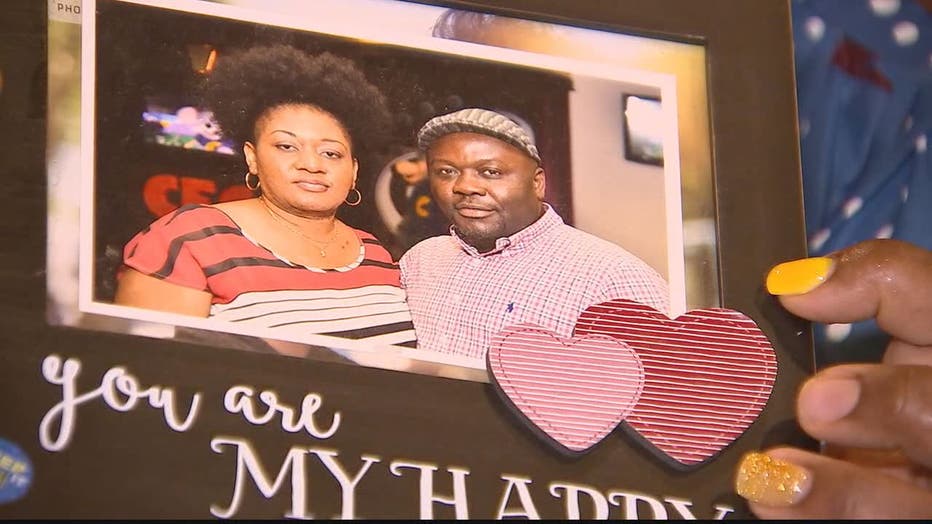 She had to tell her kids why their dad never came home from work.
"We prayed and I told them I have something I have to tell them," she said. "I told him that God has called your father. That he's an angel now."
She said her 7-year-old got angry and started crying, asking if God would let him see his father one more time.
"I told him when they go to heaven they don't come back," she said.
Police said it was around 9:45 Tuesday night when Aaron Lanier Wilson Jr., who was armed with gun and high on PCP, called an Uber on Indian Highway and Bald Eagle Rd. in Oxon Hill. Police said minutes after getting picked up, Wilson shot both men in the car.
Police arrested Wilson at his home Wednesday morning and said he confessed to the shootings and to being on PCP. He's charged with first and second degree murder. FOX 5 has learned he has a long criminal past with charges including multiple assaults, weapons violations and theft.
Tchatchoua said her husband's death doesn't feel real and she keeps waiting for him to come home.
"It's like i don't believe it," she said.