White House Easter Egg Roll tradition continues in nation's capital
WASHINGTON - President Biden and the first lady kicked things off Monday at the 2023 White House Easter Egg Roll. The annual tradition troop place on the South Lawn of the White House.
Time-honored traditions like rolling and hunting for eggs brought approximately 30,000 families from across the country to the nation's capital. Guests included thousands of military and veteran families, caregivers, and survivors.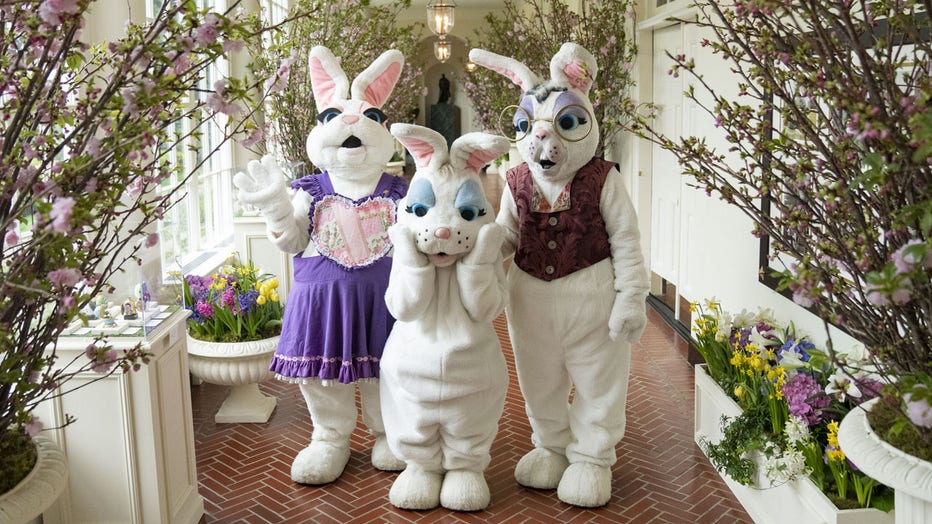 The Easter Bunnies pose for a group photo in the East Colonnade, Monday, April 18, 2022, following the White House Easter Egg Roll. (Official White House Photo by Erin Scott)
First lady Jill Biden continued her theme of "EGGucation" for the event with special activities like a School House Activity Area, Reading Nook, Talent Show, and Field Trip to the Farm.
Another fun feature of this year's roll - NASA has sent one of the wooden Official White House Easter Eggs up to the International Space Station, where astronauts will demonstrate the laws of gravity to students!
The tradition dates back to In 1878 when President Rutherford B. Hayes invited children to the White House for Easter.
The following streets posted as Emergency No Parking on Monday, April 10 from 5am to 7pm:
~ 15th Street from Constitution Avenue to Pennsylvania Avenue, NW
The following streets closed to vehicle traffic on Monday, April 10 from 5am to 7pm:
~ 15th Street from Constitution Avenue to H Street, NW