Virginia police chief retires following Charlottesville rally backlash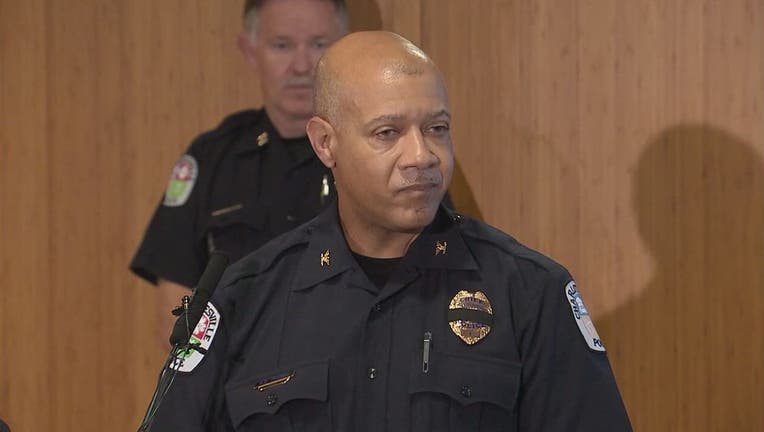 article
CHARLOTTESVILLE, Va. (AP) - The first African-American police chief of Charlottesville, Virginia, abruptly resigned Monday, about two weeks after a scathing independent review criticized his "slow-footed response" to violence at a white nationalist rally this summer.
In a brief statement, the city did not give a reason for Chief Al Thomas' departure, which was effective immediately.
"Nothing in my career has brought me more pride than serving as the police chief for the city of Charlottesville," Thomas said in the statement. "I will be forever grateful for having had the opportunity to protect and serve a community I love so dearly."
Earlier this month, a former federal prosecutor hired by the city released a report that was sharply critical of Thomas and other law enforcement officials.
The report from former U.S. Attorney Tim Heaphy said Thomas' response was "disappointingly passive" as the violence began to escalate on Aug. 12, the day of the "Unite the Right" rally that drew hundreds of white nationalists from across the county. A woman was killed that day when a car plowed into a crowd of people who were peacefully protesting.
According to the report, as brawling broke out between rally attendees and counterprotesters, Thomas said, "Let them fight, it will make it easier to declare an unlawful assembly."
Thomas did not recall making that statement, which was cited in accounts by two other police employees, though he confirmed he waited to "see how things played out" before declaring an unlawful assembly, the report said.
"Chief Thomas' slow-footed response to violence put the safety of all at risk and created indelible images of this chaotic event," the report said.
The report also said Thomas initially tried to limit Heaphy's team's access to certain information by directing subordinates not to answer certain questions and made officers fearful of retaliation for speaking with investigators. And it said Thomas had deleted text messages relevant to the investigation and used a personal email account to conduct some police business, then denied having done so in response to an open records request.
Kevin Martingayle, an attorney for Thomas, has said the chief disputes that he deleted text messages, as well as other parts of the report. Martingayle didn't immediately return messages from The Associated Press on Monday.
City Manager Maurice Jones called Thomas "a man of integrity who has provided critical leadership for our department since his arrival."
"We wish him all the best in his future endeavors," he said in the statement.
Deputy Police Chief Gary Pleasants will guide the department until an interim chief is formally appointed within the next week.
A veteran of the Air Force, Thomas was appointed police chief in April 2016. Before joining the Charlottesville Police Department, Thomas had served as the police chief in Lexington, Virginia, since 2010. Prior to that, he spent 20 years with the Lynchburg Police Department.
Thomas had not publicly discussed plans to step down or retire. He spoke earlier this month at a press conference, saying he was committed to implementing the recommendations in Heaphy's report.
"This community needs leadership now more than ever before. It's not a time for finger-pointing -- it's a time to come together," he said.
Some residents have called for Thomas to resign or be fired. Others said he was unfairly bearing the brunt of the criticism.
"There's certainly more than enough blame to be passed around throughout this whole fiasco of the summer," activist Don Gathers said at a recent city council meeting.