Virginia AG Jason Miyares says school districts must comply with governor's transgender policies
BETHESDA, Md. (FOX 5 DC) - Now that Virginia's Attorney General Jason Miyares has issued his official opinion on the Virginia Department of Education's model policies impacting transgender students, FOX 5 is pressing for answers on how the policies will be enforced.
Multiple northern Virginia school districts recently announced plans to reject the policies. But Attorney General Miyares says the policies are in line with state and federal laws.
Miyares is demanding school boards across the commonwealth follow the governor's guidance on the treatment of transgender students. The attorney general's legal opinion came out Thursday. 
"I think the governor's model policies go back to this fundamental truth that has been recognized by the Supreme Court that says parents have a fundamental right to the education and the upbringing of their children and that parents matter," Miyares told FOX 5. "At the end of the day, these local school districts have tried to make the argument that it's not legal. The reality is, that it is legal in federal law … Also recognizing the privacy of individuals is sacrosanct in our public schools. The governor's policies are legal. They also are common sense. These school districts essentially are saying that these local school boards are making decisions saying your local school cannot give your child so much as an aspirin without parental permission, but we can change your child's gender pronoun and not even inform you. So, the idea of the governor's policies was parents have to be involved. You can't cut parents out if a parent and a child are dealing with gender identity issues, and they want to inform the school district of that and their local school – then they absolutely can do so, but what it does say is you can't ignore the parent … "No mom and no dad is seeking to co-parent a child with the government. This goes back to what the governor, and frankly I ran on, which is parents matter and so do these model policies," Miyares continued. 
Governor Youngkin's policies, finalized last month, require transgender and nonbinary students to use facilities on campus that match their legal gender. The governor's policies also mandate parental consent to use a chosen pronoun or name different from their legal name and pronoun.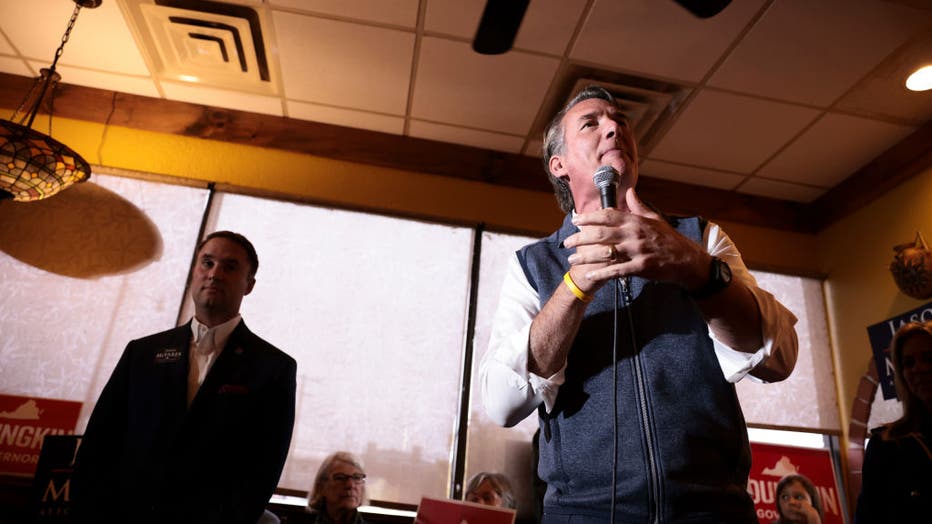 CHARLOTTESVILLE, VIRGINIA - OCTOBER 29: Virginia Republican Attorney General candidate Jason Miyares looks on as Virginia Republican gubernatorial candidate Glenn Youngkin gives remarks at a restaurant for a campaign stop on October 29, 2021 in Charl
The federal appeals court in Virginia held that the equal protection clause resoundingly protects transgender students from school bathroom policies that prohibit them from affirming their gender.
"Under the law, if they feel like their rights have been violated, parents can bring a claim against their local school district, and our office will evaluate every claim on a case-by-case basis," Miyares said, "and we stand ready to participate if we feel like it rises to that level. They have to realize you can't cut parents out, and they have a right to bring their claim if their rights are violated."
The Attorney general's office could launch an investigation into school districts that are not following the new policies. 
FOX 5 reached out to Alexandria City Public Schools, Arlington Public Schools, and Fairfax County Public Schools. They are just three of several school districts planning to maintain their current policies acknowledging transgender students' identities.
Read the attorney general's full opinion here.