'Don't be trans': Critics push back on Virginia schools' new policies for transgender students
ARLINGTON, Va. - Some students and LGBTQIA+ advocacy organizations are pushing back against the Virginia Department of Education's new model policies which outline how schools are expected to handle some sensitive issues such as student identity, bathroom use, sports and parental oversight.
The guidelines were released Tuesday, July 19 with the support of Republican Gov. Glenn Youngkin and all Virginia school districts are required to adopt the policies. 
"The VDOE updated model policies reaffirm my administration's continued commitment to ensure that every parent is involved in conversations regarding their child's education, upbringing, and care," Youngkin said in a statement. "The Department of Education has delivered policies that empower parents, prohibit discrimination, create a safe and vibrant learning environment by addressing bullying incidents immediately, and protect the privacy and dignity of all students through bathroom policies, athletic procedures, and student identification measures." 
The measures address what have been hot-button issues for parents, students and legislators across the country. 
Under the new rules, students' participation in "any school program, event, or activity (including extracurricular activities)" as well as "any athletic program or activity that is separated by sex" will be based on biological sex rather than gender identity. This also applies to bathrooms, locker rooms and any overnight travel accommodations. 
When it comes to pronouns, the policies say teachers and staff are only required to use those that match the student's biological sex listed in the school's records. Parents can, however, provide written instruction directing school personnel to use different pronouns or a different name. 
"The previous policies fully excluded parents and we know that study after study has shown that family counseling when parents are deeply engaged is far more effective, and parents have a right to be at the head at the table, particularly in these most difficult discussions," Youngkin told FOX 5. 
But also speaking to FOX 5 Wednesday, Virginia Democratic Sen. Tim Kaine voiced concerns about the changes.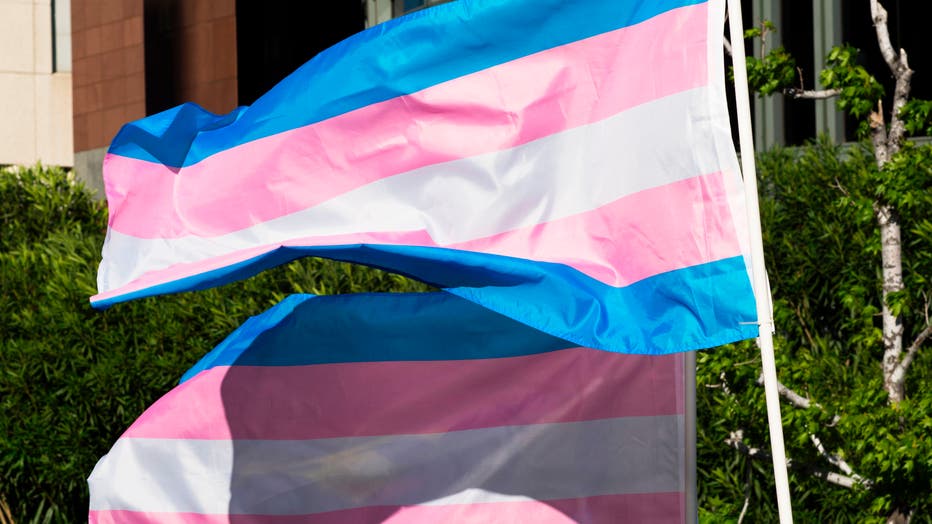 Trans pride flags flutter in the wind at a gathering to celebrate International Transgender Day of Visibility, March 31, 2017 at the Edward R. Roybal Federal Building in Los Angeles, California. International Transgender Day of Visibility is dedicate
"I saw that there was an announcement today following up an earlier draft proposal about the way school districts should deal with transgender students and look, when in doubt, follow the golden rule: treat people the way they want to be treated," Kaine said.
And he's not the only one. 
The Pride Liberation Project has dubbed the new regulations the "Don't Be Trans Guidelines," saying that it's "an attempt to force LGBTQIA+ students back into the closet."
Virginia's ACLU says the governor's policy "requires discrimination" against transgender students.  
"These policies still invite, at best and really require discrimination against trans youth. Discrimination that violates existing state and federal law," said Wyatt Rolla with the ACLU of Virginia.
But Youngkin and his supporters say it ensures that it's parents who are in charge.
"This really returns parental rights to the parents so that they have an input in what goes on with their children at school and more than that I think this complies with the law," said Ian Prior, executive director of Fight for Schools. 
The model policies met fierce opposition when they were initially introduced in 2022. Students across the state staged walkouts in protest of the proposed regulations in September. 
Within hours more than 5,000 comments had been provided to VDOE. In their finalized document, they say the policies took into consideration the nearly 80,000 comments they received from community members. 
But the ACLU claims the majority of these comments were in opposition and says "the Youngkin VDOE dismissed the will of the majority of Virginians it's meant to serve." 
As part of their revisions, an "opt-out" policy was added for parents to request that their children be given access to sex-separated facilities. It's another means of empowering parents and prohibiting discrimination, Youngkin says. 
"They ensure the privacy, they ensure the dignity and respect of all children and all parents by first by making sure that parents are involved in these discussions and second of all by protecting, protecting children," the governor said. 
But that's where much of the contention lies: The model policies state that "a student's individual needs should be taken into consideration by their school, and schools should attempt to accommodate students with distinctive needs" — which would include those who identify as transgender — but much of this relies on parental permission.
So while "reasonable accommodations" can be made with parental consent for students who identify as transgender, it may leave out those who have not spoken to their parents about their sexuality or gender identity, or have their support to identify as transgender. 
Critics say that is what's discriminatory about the policies. 
"For those of us who are lucky enough to have parent support, we will as long as our parents are willing to put in the effort, have that continued ability to continue as our gender identities," Casey, a Virginia High School student, told FOX 5 last year. "And any student who doesn't have support from their parents be it they haven't come out, their parents are homophobic or transphobic, other multitude of reasons, they will not have equal support that they should have as being a student that attends Virginia public school."
School officials in Arlington, Fairfax, Loudoun and Fairfax tell FOX 5 they're studying the policy and have not commented on how they'll implement the changes.
READ THE VIRGINIA DEPARTMENT OF EDUCATION MODEL POLICIES HERE