Alexandria City Public Schools joins list of districts rejecting state's new policies for transgender students
ALEXANDRIA, Va. - Another Virginia school district appears to be rejecting Gov. Glenn Youngkin's new model policies, which updated the Virginia Department of Education's policies for transgender students.
Alexandria City Public School's Superintendent and School Board Chair released a joint statement on Monday, first reported by ALXnow, in which they both said they were "dismayed" the governor introduced affecting transgender students. The school community notice had the words model policies in quotes.
While some side with the governor, many told FOX 5 they're just glad their children aren't in the Virginia school system anymore.  
"It's political points. It's just you know, rabbit meat for their base," mom Holly Sapp said. She and her children graduated from Alexandria Public Schools. 
In the notice sent out to the community, ACPS said they are still reviewing Youngkin's policies but reaffirmed their commitment to the school's LGBTQIA-plus community, saying their nondiscrimination policy was adopted back in 1996 and as of 2013, already identified gender equality and identity as a protected class.
"It's a hard situation, hard questions, hard times. I just think that what's best for our parents, for our children together, collectively, is going to make the best outcome for us all," said Ellen, whose children also graduate from ACPS. 
Loudoun and Prince William County Public Schools tell FOX 5 they're also in the review process. Stafford, Fairfax and Arlington County say they already have policies in place.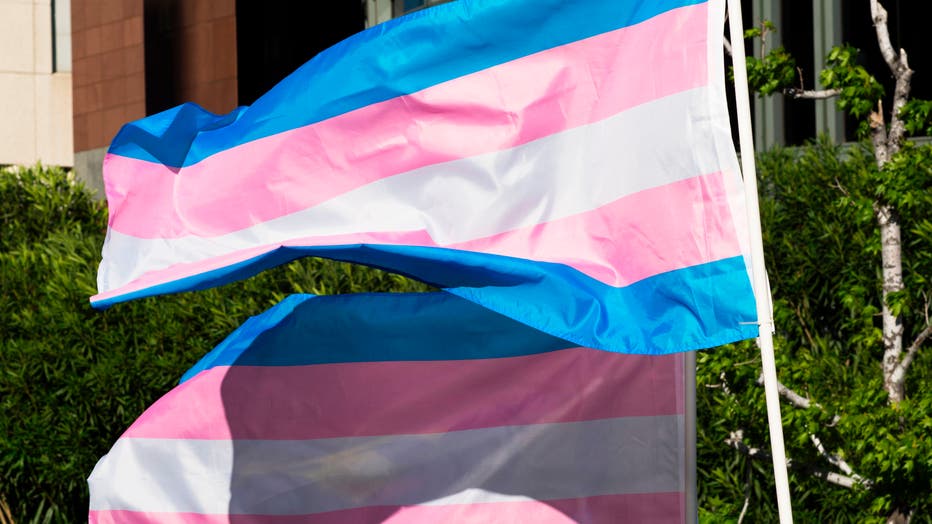 Trans pride flags flutter in the wind at a gathering to celebrate International Transgender Day of Visibility, March 31, 2017 at the Edward R. Roybal Federal Building in Los Angeles, California. International Transgender Day of Visibility is dedicate
In a July 20 statement, Arlington Public Schools Superintendent Dr. Francisco Durán wrote, "We have reviewed the model policies and determined that our current policies and policy implementation procedures that protect the rights of our transgender students will stay as is. ​Moreover, they are in alignment with decisions from the Fourth Circuit Court of Appeals, Title IX of the Educational Amendments of 1973, and the Equal Protection Clause of the Fourteenth Amendment. I oppose any policy that infringes upon the rights of our students and threatens the safety and well-being of our LGBTQIA+ students." 
The policy updates address what have been hot-button issues for parents, students and legislators across the country. 
Under the new guidelines, students must use bathrooms and other private facilities that match their biological sex — not gender identity  — unless it's required by federal law. There is an "opt out" policy that allows parents to request that their children be given access to sex-separated facilities.
Students also have to receive parental permission to be recognized by another name or gender.  
The Youngkin administration says this gives parents more rights — an issue the governor campaigned on and one some say was key to his success.
"I have a two-and-a-half-year-old son. I hope to put him in a school where he's able to do whatever he's comfortable with at one point," another parent told FOX 5.
Right now it's unclear what kind of penalty — if any — these school districts could face if they do not implement the new policies. We were previously told in a different capacity that when state and school district guidance didn't exactly match, that the school boards operate under their own authority.
When FOX 5 reached out to Youngkin's office for clarification, a spokesperson issued a statement saying, "The law states that the Virginia Department of Education shall provide model policies and school boards shall adopt. The Virginia Department of Education has fulfilled its responsibility to develop the model policies, school boards are expected to follow the law."