Tyre Nichols video: DC protestors voice outrage near White House
WASHINGTON - The death of Tyre Nichols prompted protests all over the country Friday, including here in D.C., with many of them being peaceful.
Crowds have cleared outside the White House and the peaceful rally that was there earlier has now dispersed.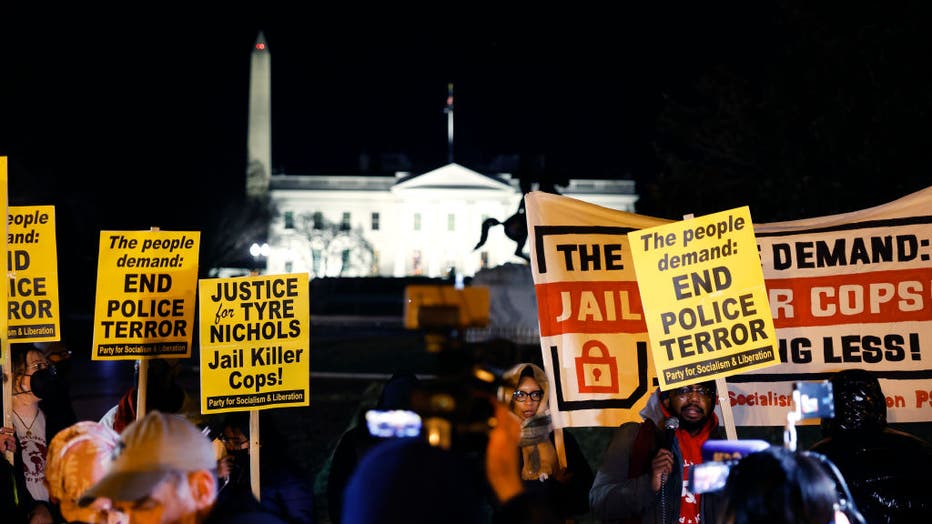 WASHINGTON, DC - JANUARY 27: Demonstrators participate in a protest against the police killing of Tyre Nichols near the White House on January 27, 2023 in Washington, DC. Tyre Nichols, a 29-year-old Black man, died three days after being severely bea
There were about 60 people who showed up to Black Lives Matter Plaza around 7 p.m. Friday night — gathering in solidarity as the body cam video of the deadly police beating of Tyre Nichols was released.
The crowd was mostly calm, chanting for accountability from government officials and police.
Many of them told FOX 5 they gathered in the area before the video's release, and have no intention of watching it. Instead, they are encouraging people to not do so.
Kevin Cramer, co-founder of the Palm Collective, was among the residents who took to the streets. 
"I got my head sat on by a police officer of the Metropolitan Police Department and I'm refusing to watch that video because it's traumatizing and it's told that black people that actually do find and carry trauma when they watch these things. So, that's why I'm not going to watch it," Cramer said.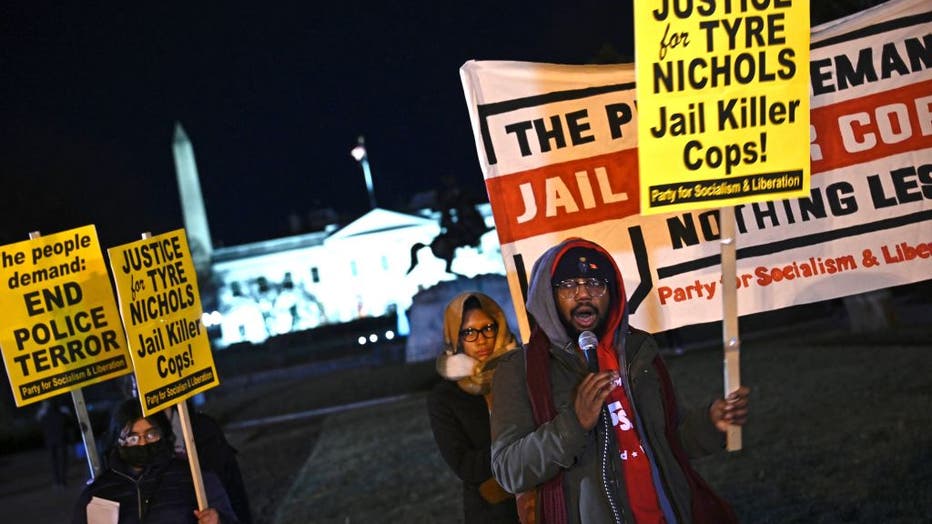 Protesters rally against the fatal police assault of Tyre Nichols, in Lafayette Square near the White House in Washington, DC, on January 27, 2023. - The US city of Memphis released January 27, 2023 graphic video footage depicting the fatal police as
Karen Hylton, mother of Karon Hylton-Brown who was killed by D.C. police in 2020, also joined the protestors. 
"Mrs. Nichols, Mrs. Blake, each and every mother that has lost a child I can understand," she said. "At my house… I cried before I came here. I cry every day. There's no justice. We're out here asking for justice, but the sad thing is there's no justice."
Earlier in the day, another rally was held by the local group, Harriet's Wildest Dream near Franklin Park.
RELATED: Tyre Nichols video: DC police warn residents not to react violently after body cam footage release
The group said they were avoiding Black Lives Matter Plaza — calling it a "facade."
They also shut down K Street between 12th and 13th while running into the road, chanting during the midst of rush hour.
Several of those demonstrators also called for full investigations into the deaths of several local Black men who were allegedly killed by police officers in the District.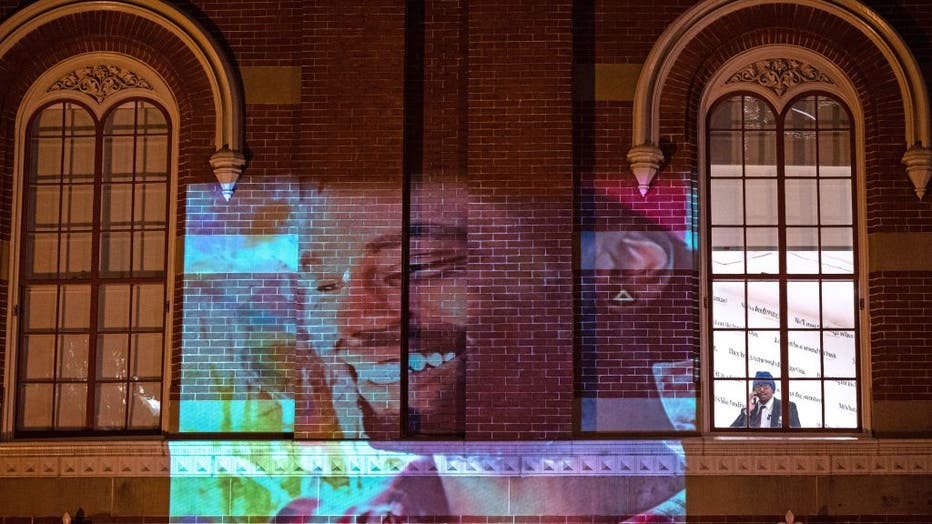 A security guard looks out of a window as protesters project an image of Tyre Nichols during rally against the fatal police assault of Tyre Nichols, in Washington, DC, on January 27, 2023. - The US city of Memphis released January 27, 2023 graphic vi
D.C. police activated more than 3,000 officers for the night. 
Near Lafayette Square, a row of police trucks lined the streets, and officers were standing by waiting for any activity to happen.
How local leaders are reacting to the bodycam footage
Several leaders across the DMV shared their reactions to the release of the body cam footage.
Maryland Governor Wes Moore shared a statement sharing his emotional reaction to the footage, and condemning the action of the former officers involved in the incident. You can read the full statement below:
"It's difficult not to fight back tears watching this video. The inhumanity that was shown to Tyre Nichols, a young skateboarder and amateur photographer, is intolerable by anybody, but especially by people whose job and responsibility it was to protect him. I'm thankful that the Department of Justice is engaged in this investigation, and these five individuals must be held to account for their barbarism.
I know I speak for all Marylanders as we grieve with Tyre's family, friends, and community."
Virginia Governor Glenn Youngkin also expressed sadness and condemnation. You can read Gov. Youngkin's statement below:
"The hearts of Virginians and our entire nation ache tonight as we struggle with the horrible events in Memphis and grieve for Tyre Nichols and his family. The disturbing and shocking video released this evening displays incomprehensible violence towards another human being and we must condemn these heinous actions.
As we process these agonizing events, I ask those exercising their first amendment rights to do so peacefully. We will ensure Virginians' first amendments rights as we prioritize and protect the safety of the Commonwealth and all Virginians. We can choose to come together and not further the divide. We must strive each day to better our communities and treat on another with love and respect.
Suzanne and I are praying for the family of Tyre and for the continues safety of the Commonwealth, all Virginians and our men and women in law enforcement."
D.C. Mayor Muriel Bowser expressed the same sentiments, and called for "change for our nation." Read Mayor Bowser's full statement:
"Tonight, I stand with the millions of Americans sending condolences and love to the family of Tyre Nichols as they navigate this unimaginably difficult tragedy. We are a nation traumatized by violence, especially violence against Black Americans. We don't even need to see the video to feel outraged that those five former officers, sworn to protect their community and now arrested and charged with murder, killed Tyre. But tonight, many people will see the video and it will elicit strong feelings from sadness and anger to confusion and despair. Tonight, we are a city and country united by tragedy, but we are also determined to deliver justice for Tyre and change for our nation."
The District's Attorney General Brian Schwalb issued a statement as well:
"This evening, Washington DC is reminded that our institutions still have a long way to go toward upholding true equity and justice. No one can watch the video of Tyre Nichols being beaten to death without being overwhelmed with horror, sadness, and disgust.
Shelby County District Attorney Mulroy has taken important first steps toward accountability through the indictments of the five officers under investigation for Tyre's death. However, nothing will return Tyre to his family, and true justice will only be realized when people, particularly Black people, are free from excessive police force.
People across the District are understandably angry and heartbroken, and have a right to make their voices heard. We will always protect and support District residents who exercise their democratic rights to protest peacefully.
I urge all of us to come together as a community to support Tyre's family, support each other, and continue the hard work needed to achieve true justice."
Maryland's Attorney General Anthony Brown released this statement:
"I extend my deepest condolences to the family of Tyre Nichols, and to the community in Memphis and beyond that knew him and mourns his passing. I also grieve for our American community, which still has so far to travel to reach the goal of justice for all.
These videos, and the horrors that they portray, have been felt here in Maryland and across the nation. Protesting injustice is a proud American tradition, and I stand with you in peaceful opposition to the violence and degradation portrayed in these videos.
As the Attorney General, I promise to uphold the ideals that all Marylanders share – that justice should not depend on race or wealth or geography, and that no person or profession is exempt from the rule of law. I promise to be present with our Maryland community while we reckon with injustice, and to listen and learn as we work together to ensure that the brutality that ended Mr. Nichols' life will never happen again."
Virginia Attorney General Jason Miyares also released a statement on the footage, which you can read below:
"The death of Tyre Nichols is a brutal, horrific tragedy. The role of police is to serve and protect, and those officers violated their solemn oath. 
Man can be so cruel toward their fellow man, forgetting we are all made in God's Holy Image."
The Montgomery County Council and County Executive Marc Elrich also released the following joint statement:
"Our thoughts are first and foremost with the Nichols family and the people of Memphis as they grieve the senseless murder of Tyre Nichols. Our nation once again mourns the brutal loss of a young Black man's life at the hands of law enforcement and must now cope with the collective trauma that this tragedy has triggered.
It's difficult to grasp the lack of humanity that was displayed by these officers during this heinous incident. We share the outrage and pain felt all across our country, at the disregard of basic human rights at the hands of those who took oath to protect and serve the public. As a county, a state, and a nation, we must have zero tolerance for police brutality.
Montgomery County has introduced changes such as creating a Policing Advisory Commission, funding staff for the Policing Advisory Commission and Administrative Charging Committee, enhancing the review of body-worn camera footage, and ensuring that investigations into police-involved deaths are independent, impartial and transparent. We remain committed to continuing this work to ensure every resident feels safe in our community."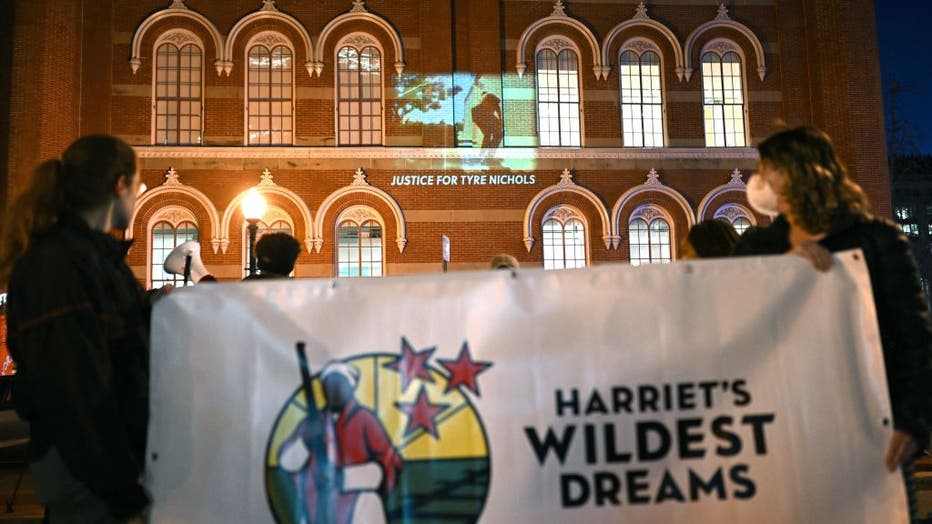 Protesters rally against the the fatal police assault of a Black man, in Washington, DC on January 27, 2023. - The US city of Memphis released January 27, 2023 graphic video footage depicting the fatal police assault of a 29-year-old Black man, as ci
In Prince George's County, State's Attorney Aisha Braveboy released the following statement:
"My heart goes out to the family of Tyre Nichols and the entire Memphis community. No one deserves to die in the inhumane way in which Mr. Nichols was killed. What makes his death even more unconscionable is that five individuals who were sworn to uphold the law were responsible for this tragedy. The videos are graphic and heartbreaking; however, the public has a right to know the actions that the former officers took on that fateful day.

I applaud the quick actions and transparency of Memphis Police Chief Cerelyn "C.J." Davis to fire all five officers involved. No one is above the law – and the public should have confidence that law enforcement is held to the highest standards of accountability. Both the continued use and release of body-worn cameras will help keep public safety at the forefront while overseeing interactions between police officers and the public.

After viewing the video footage, Chief Davis said "you're going to see acts that defy humanity," and "you're going to see a disregard for life, duty of care that we're all sworn to, and a level of physical interaction that is above and beyond what is required in law enforcement." Again, I applaud her honesty, transparency and quick actions.

I also commend Shelby County District Attorney Steve Mulroy for presenting this case to the grand jury for consideration in a timely and appropriate manner. The serious charges in the indictments returned against these officers, which includes 2nd degree murder, illustrates the strong disapproval by a body representing the people of Shelby County of the actions of these officers.

Ultimately, the family and the public must wait for the justice system to run its course, but at least in this case the transparency and swift actions of law enforcement gives us all hope for a fair and just outcome. I will continue to pray for the family and friends of Tyre Nichols who loved and will miss him dearly. I am also praying for patience and peace as the wheels of justice turn in this case."