Trump voices reservations about doing a Mueller interview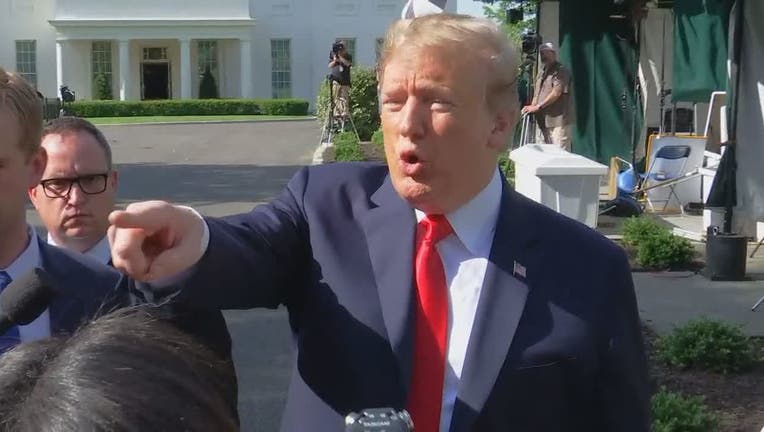 article
WASHINGTON - (AP) -- President Donald Trump declared Friday he thinks the Russia probe is "very biased" and has reservations about being interviewed by special counsel Robert Mueller, raising more questions on whether he will consent to an interview as part of the investigation.
Trump said in an impromptu interview with Fox News on the White House North Lawn that he "would like to talk" to Mueller, but the probe "seems to be very biased." His comments came a day after the Justice Department watchdog released a report critical of how former FBI Director James Comey handled the 2016 Hillary Clinton email probe. The report contained messages from FBI agents who spoke critically of Trump.
Trump's legal team has repeatedly cast doubt on whether the president would sit for an interview with Mueller, who is investigating Russian interference in the 2016 election. Rudy Giuliani, the president's attorney, has suggested that a presidential interview with Mueller may not happen in the aftermath of the IG report, which he contends shows the investigation has been tainted and biased against the president.
Mueller is investigating whether Trump associates coordinated with Russia during the 2016 presidential election and whether Trump took steps to shut down that investigation through actions including the firing of Comey.
Trump, appearing before reporters after the interview with "Fox and Friends," sought to further discredit the probe, saying the "problem with the Mueller investigation is everybody's got massive conflicts." He reiterated his longstanding contention there was no collusion between his campaign and Russians.
"Here's the good news: I did nothing wrong. There was no collusion. There was no obstruction. The IG report yesterday went a long way to show that, and I think that the Mueller investigation has been totally discredited," he said.
While polls have shown a majority of Americans believe Trump should cooperate with the investigation, recent polling suggests an increasing number of people have begun to view the investigation as politically motivated.
The president is expected to reach a decision soon on whether he will sit for an interview. His advisers had suggested that a decision would be delayed until after Trump's summit with North Korea's Kim Jong Un in Singapore, which the president completed earlier this week.
© 2018 The Associated Press. All rights reserved. This material may not be published, broadcast, rewritten or redistributed.