Truck driver injures teen in Alexandria hit-and-run; nearly strikes middle schoolers a mile away
ALEXANDRIA, Va. - The search is on for a driver who allegedly hit a teenager in Alexandria, and then nearly hit even more kids at a nearby school. 
After-school activities at George Washington Middle School were canceled Wednesday after the hit-and-run collision. 
Around 3 p.m., Alexandria police were called to the intersection of Montgomery and North Patrick Streets for a hit-and-run.
When officers arrived at the scene they found a 15-year-old boy – who police say was hit by a yellow Penske truck that did not stop.
A neighbor who lives just steps away told FOX 5 he heard a loud boom that sounded like an accident.
"I look out the window, I see a young guy screaming for help," Nico Lee said. "I wanted to do something, but I was dealing with my son. He was running back and forth and I saw him, he was limping … He was crying for help."  
Officials said the 15-year-old was taken to the hospital and is expected to be okay.
Immediately after the crash at the intersection, police believe the driver drove to George Washington Middle School – less than a mile away –and nearly hit a group of students.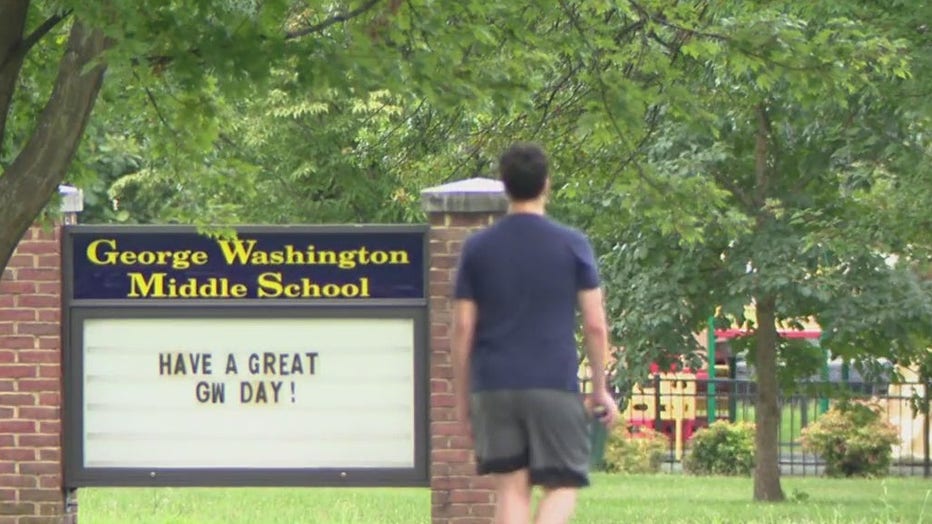 In a letter to families, George Washington Middle School's principal said the School Resource Officer did draw his weapon while trying to protect the students from the driver of the box car.
No shots were fired, but moments after that, the school went on "secure the building" status, meaning no one could leave or enter the school.
The driver got away before officers arrived, and the box truck was located unoccupied about four miles away on Eisenhower Avenue. 
Alexandria police are actively looking for the driver of the box truck and interviewing witnesses.