Suspects held up woman at gunpoint on bike trail, Loudoun County Sheriff's Office says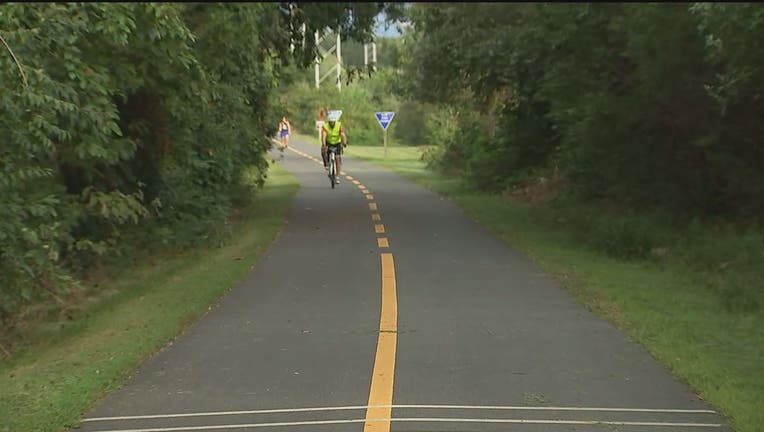 article
LOUDOUN COUNTY, Va. - The Loudoun County Sheriff Department is searching for two suspects who robbed a woman at gunpoint along the W&OD trail.
The attack happened in the middle of the day when the trail is usually very busy.
Deputies say it happened just before 12:30 in the afternoon Saturday. The victim, a woman in her 20's, was riding her bicycle here along the Washington and Old Dominion trail near Williamsburg Road in Sterling. 
At one point the woman veered off the paved path onto the gravel horse path that runs along side the trail to avoid some walkers.
Deputies say minutes later, as she road along the gravel horse path, another man on a bike came up next to her, turned in front of her, and positioned his bike to block her path. Lt Colonel Mark Poland with the Loudoun County Sheriff says the man then pulled out a handgun.
"They actually get into a struggle, at which point a second suspect then comes out of the woods next to them and the two of them are able to knock her off her bike. They take her backpack, cellphone, her necklace and then actually leave on her bike and proceed towards Herndon," Lt. Poland says.
The suspects are still at large…The victim describes them as both hispanic males around 18 yrs old.
The suspect on the bike was wearing a white shirt and hat and blue jeans; the other was more heavy set wearing blue jeans and a black shirt with red stripes.
Meanwhile people who use this trail are pretty shaken up.
"We live against the trail so my son, my wife we walk the dog, we ride our bikes we are always watching out and recently we have heard more and more stories just like this of people being wreckless. Safety has become an issue and we are hoping that there is more police presence on the trail that we can use. Its actually scaring the hell out of me now so I will caution my family more and more," said George Papachristos.
Another bike rider, Tom Archer was also concerned.
"I'm noticing all the young women that were by themselves today as well. Hopefully they are being very proactive and watching their back," he said.
Lt. Poland has some safety tips for trail users:
"If at all possible, it's recommended you either walk, jog or bike with a partner or in groups just for safety, and report any suspicious activity. Keep a cell phone with you."
The victim suffered some minor scrapes and bruises. If you have any information you are urged to contact the Loudoun County Sheriff's Department.