Schools face challenges with AI as students head back to class
WASHINGTON - Within the last year, artificial Intelligence -- specifically ChatBots -- has grown in prevalence and use since it was introduced in late 2022. 
It has caused disruptions in many classrooms and now, schools are working to keep up with the technology to make sure it's being used responsibly. 
"It is a useful and valuable tool. So for as much potential headaches it can give instructors, it's also going to bring a very large number of valuable tools to the classroom that instructors, in a variety of topics can use," said Ryan Watkins.
Watkins is a professor at George Washington University who runs programs that study the intersection of education and technology.
A few weeks ago, FOX 5's Tisha Lewis surveyed school districts across the DMV, many saying they were still studying Artificial Intelligence and coming up with policies.
While districts have approached the topic tepidly, Watkins says there's a place for this technology in the classroom but with a few important emphases.
Watkins says it's best to think of AI as being supplemental to what students learn, emphasizing it's still an imperfect technology and stressing that it's not "creating new knowledge" despite its capabilities.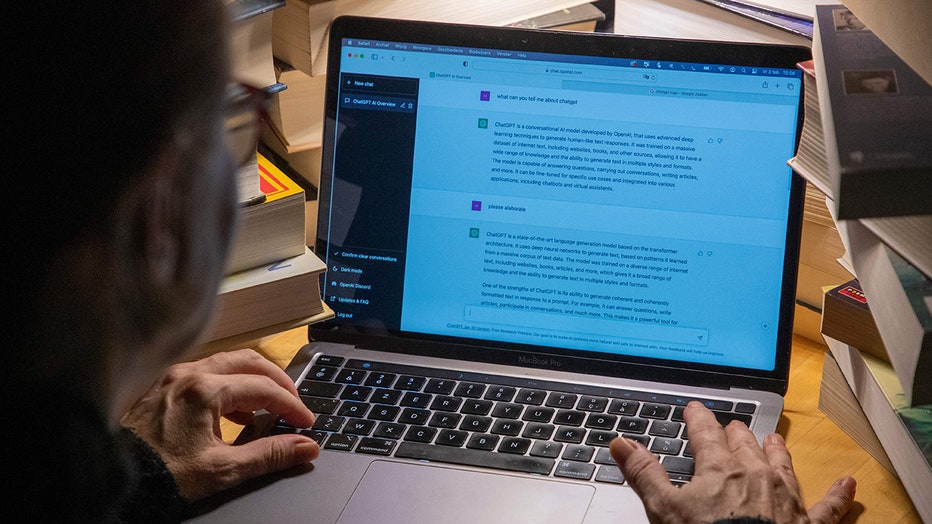 Illustration picture shows the ChatGPT artificial intelligence software, which generates human-like conversation, Friday 03 February 2023 in Lierde. BELGA PHOTO NICOLAS MAETERLINCK (Photo by NICOLAS MAETERLINCK / BELGA MAG / Belga via AFP) (Photo by
Asking a ChatBot to do an assignment for a student creates ethics problems, so say nothing of the potential for a student to not learn anything. But Watkins says asking a ChatBot to generate potential multiple choice questions on a topic to help a student study is a practical and useful application.
"Working with your instructors is probably the best way to figure out where it can really help to accelerate your learning and prepare you for the future and where not to take those shortcuts where you're just going to really harm yourself in the long run," Watkins says.
To that end, he says educators, from K-12 to Colleges and Universities, need to come up with clear guidelines of when it's acceptable to use AI and when it's not, which is something that can vary from class to class, or even assignment to assignment.
Watkins encourages parents to have that conversation with kids and teachers to ensure AI is a learning tool and not a learning replacement.
"Like the teachers, I think the parents need to have an open dialogue and let the students know it's there and ask questions about it, 'Did you use it for this assignment? How did you use it? Where did you draw the line of did it go too far?'," Watkins said.
Watkins also encourages teachers to think about where AI can help supplement students work.