Report of active shooter at Senate building may have been 'bogus call,' Capitol Police chief says
WASHINGTON - A report of a possible active shooter near the U.S. Senate Buildings Wednesday afternoon prompted shelter-in-place orders and evacuations by U.S. Capitol Police. Officials now say all buildings have been cleared and there is no threat. 
U.S. Capitol Police Chief Tom Manger says more than 200 officers went door-to-door through the Senate office buildings and searched the surrounding area after officers responded to a "concerning" 911 call that came in around 2:30 p.m. 
They immediately issued shelter-in-place orders for the office buildings and evacuated other nearby buildings. 
"We've found nothing concerning. We've got nobody that actually heard shots, certainly no victims, and as we've gone through the buildings, nobody has said that they've seen anything," Manger said. 
In the initial notice to Senate building staff, police said: "Due to a security threat inside the building, immediately: 
Move inside your office or the nearest office.
Take emergency equipment and visitors.
Close, lock and stay away from external doors and windows.
If you are in a public space, find a place to hide or seek cover.
Remain quiet and silence electronics.
Once you are in a safe location, immediately check in with your OEC.
No one will be permitted to enter or exit the building until directed by USCP.
If you are in a building outside of the affected area, remain clear of the police activity.
Await further direction."
"We have the advantage of having trained for this over the last couple of years, and we had a very quick response," Manger said.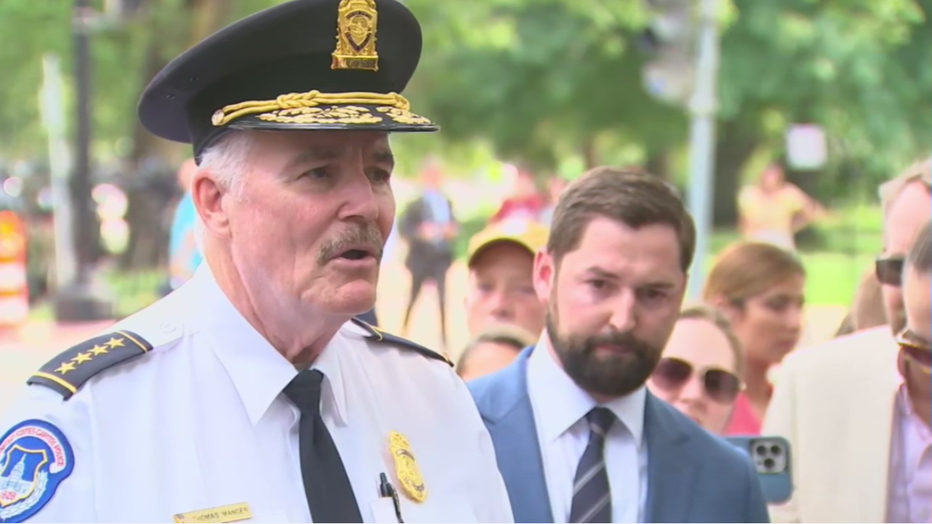 He added that while the shelter-in-place order is still in effect for those inside of the buildings, they are not stopping people from leaving if they choose to. They were, however, stopping people from re-entering while the investigation was ongoing. 
Police noted that from the time their response began, there were no confirmed reports of gunshots. They say the 911 caller also did not report gunfire but did claim there was an active shooter in the Hart Building.  
"The call from MPD did not indicate that they heard anything. It was just someone saying there was an active shooter, they gave a description and that it was in the Hart building," Manger said. 
He says the original description given of the "shooter" was a heavy-set Hispanic male wearing body armor but added that "this may have been a bogus call."
Officers finished searching the buildings just before 4 p.m. 
FOX News reporter Hillary Vaughn told FOX 5 she was on the third floor of the Russell Senate Office Building when police in assault gear entered and told members of the media to evacuate. Vaughn reports that they were ushered down the stairs and that "police were in a posture that seemed to be trying to contain an active threat."
Chad Pergram, senior Congressional correspondent for FOX News was also on the Senate side of the Capitol. He told FOX 5 that he saw police searching the Dirksen and Hart Office Buildings and that nothing was found. 
The commotion prompted concerns about security for Thursday, as former President Donald Trump is expected to appear in a D.C. courtroom for his arraignment on federal charges related to the Jan. 6 riots and his attempts to invalidate the results of the 2020 presidential election. 
But Manger says law enforcement is prepared for any possible disturbances. 
"We're prepared for tomorrow. We've been working with our partners from our partner agencies here — MPD, U.S. Parks, Secret Service and Federal Protective Service — we've all been working together in preparation for whenever…if the indictment in fact did happen. We've been talking about this for a couple of weeks now," Manger said. "So yeah, we're prepared."