Questions on construction precautions after partial building collapse in DC
WASHINGTON (FOX 5 DC) - Two weeks ago, on a calm, sunny Wednesday, a building at Florida Avenue and Staples Street in Northeast collapsed out of nowhere narrowly missing two women crossing the street. 
Now, there are questions about whether the construction company approved to do work there was taking enough precautions to keep people safe.
Download the FOX 5 DC News App for Local Breaking News and Weather
Louise McClary, 75, and her nurse had just passed the building as it began to crumble. Louise fell as she tried to run away using her walker. She says she broke her arm.
Fortunately, there was no one inside the building and no other injuries were reported.
DDOT has issued Dila Construction a notice of violation and a fine for occupying public space illegally.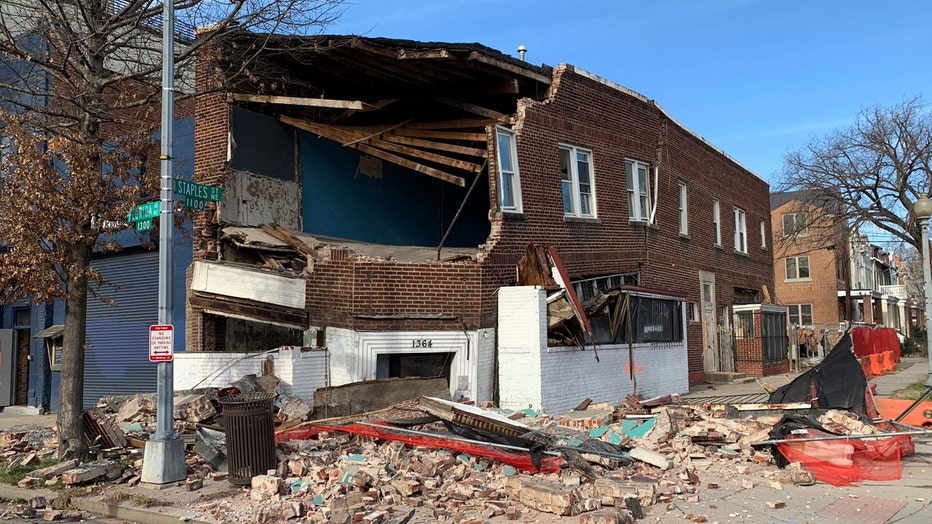 An agency spokesperson says Dila's request for a permit was approved but they never paid for it. 
On the day of the collapse, the city also issued the company a stop-work order for illegal construction on the property.
There was a barrier and fencing along Staples Street but a covered walkway, as outlined in the permit paperwork, was not set up along Florida Avenue.
It is not clear how far along Dila Construction was with its plan to build a four-story, 14 unit apartment building at the location. 
FOX 5 has reached out and is awaiting a response. 
Another developer on the project tells FOX 5 his understanding is the company believes they were operating in accordance with permits.
RELATED: Crews demolishing partially collapsed building in Northeast DC
RELATED: 75-year-old woman narrowly escapes building collapse in Northeast DC