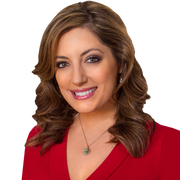 Lauren DeMarco
Anchor/Reporter
Who makes the best sushi in DC? Where can you find the best tapas? These are questions I thought I would be answering. You see while finishing up my college career, I went after an internship at WBFF-TV in Baltimore to learn about the television business, with hopes of one day working on one of those popular food or travel shows.
Within a matter of a month or two, however, that dream transformed. Almost immediately, I became a news junkie. Being aware of what's going on in the communities around me is now a priority.
I was fortunate enough to join the team at WTTG in 2004 as a writer/producer. The DC Region has become a beloved home away from home, and while I'll never lose my "Jersey pride," I'm also very proud to live near the nation's capital now. It's an amazing area with even more amazing people.
After reporting traffic part-time for several radio stations, including WTOP, and starting a tech segment centered on smartphone apps for FOX 5 Morning, I eventually transitioned into a general assignment reporter role here at FOX 5 and now I anchor Saturday and Sunday nights as well. The best part of my job is meeting new people every day and hopefully impacting lives in a positive way.
If police are looking for a suspect, I want you to have the details. If there is a legislative issue that may affect your commute, I will get you the facts. If there is someone out there who could use your help, I want to do everything I can to make sure you know about it.
It's been some unbelievable years here in D.C. I've reported on presidential elections and President Barack Obama's inauguration. I stood on the shoreline as Hurricane Sandy rolled past Ocean City, Maryland. I also shared a Virginia family's story as they launched a media campaign to get their 7-year-old an experimental drug, which doctors say ultimately saved his life.
To me, the nightly local news is extremely important and I'm honored to be a part of it. That passion for food still serves well as a hobby, and when I'm not at work you can often find me at one of the many exciting restaurants across the DC region.
Right now I'm into the salmon crunch roll at Meiwah and Jaleo is probably my favorite spot, but I'm always open to trying something new. My dog also takes up plenty of time as he loves to get out and explore all of the beautiful spots around the area, especially Great Falls and Beach Drive. He's quite demanding, but also a sweetheart!
If you see me out and about, please say hi. It's so rewarding to get feedback and hear from people who are watching. If you have a story idea, drop me an email or tweet me.
The latest from Lauren DeMarco