Poor air quality impacting outdoor dining across DC region
BETHESDA, Md. (FOX 5 DC) - Some restaurants in the DMV are trying to figure out how to handle outdoor dining as smoke from Canadian wildfires blankets the region.
FOX 5 talked to several restaurant managers across the region, and almost all of them closed their patios to diners.
However, some kept theirs open and said if people want to sit outside — they'll serve them. 
As cities and towns across the D.C. region take measures to limit outdoor activities restaurants in the region are doing the same.
"From the early morning when I came in, I was like 'yeah we're not serving anybody outside,'" said Kevin Belloso, hospitality manager at Silver New American Brasserie. 
The restaurant is one of many eateries faced with the tough decision to nix outdoor dining due to poor air quality.
"We closed the patio completely," Belloso said. "If we had any reservations for tables outside we gave them a call and let them know, 'hey we can't take any tables outside due to the air quality outside and concerns for our guests and employees.'"
Belloso says a handful of cancelations were made Thursday but inside the restaurant, they were packed and busy.
"If it was a normal day, we would have a balance between inside and outside eating, but it was just much more busier inside and that's just what the vibe was for the day," he said.
While no one asked to sit outside on the patio, management says servers and guests would have been encouraged to wear masks while waiting tables in the thick of the smoke.
Many guests FOX 5 spoke to said they had high hopes of enjoying the open air but that quickly changed.
"It's a nice afternoon," said Brenda Ruby. "The weather is perfect, except for the air. So we were hoping to sit outside but here we are inside."
"Little people enjoy being outside on a day like today, but we thought we'd be a little safer inside," said Karen and Don Thibeau while enjoying a meal with their grandchildren.
"I'm sure a lot of people decided not to go out today because they wouldn't be able to enjoy the weather and sit outside on a lovely patio," said Pink Strasser, who was enjoying dinner with a friend.
"That's not our case particularly because we haven't seen each other in a really long time, so we thought to ourselves we're going to do this no matter what," she added.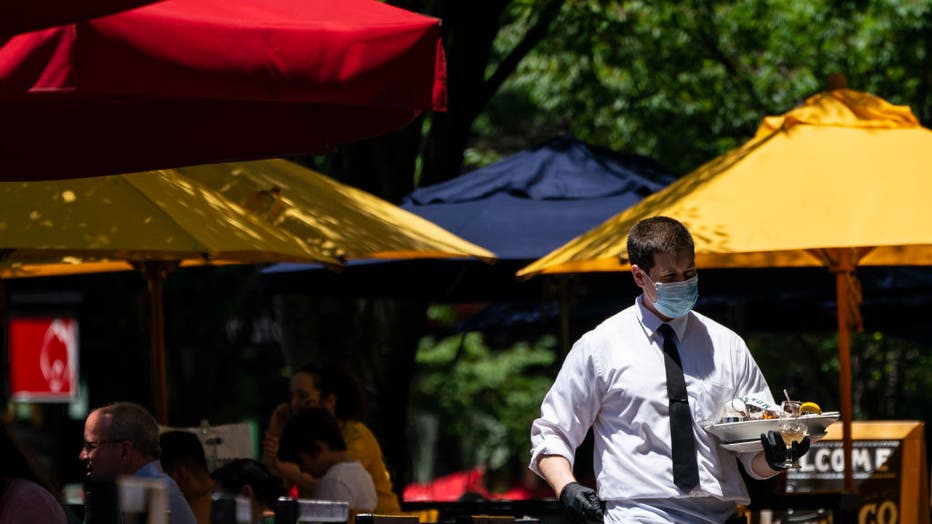 With unhealthy levels of smoke and the air quality alert expected to linger through parts of the weekend, the decision to reopen the patio is ever-changing.
"As of right now, it's going to be a case-by-case basis day to day," Belloso said.
"Today, we're closing the patio. Tomorrow, if it's worse we're definitely closing the patio, but it is going to be a day-by-day basis."
Many restaurants FOX 5 spoke to on the phone say they will follow the advisories of local jurisdictions when it comes to reopening their outdoor dining.