Police ID suspect accused of punching elderly man in Eastern Market Metro station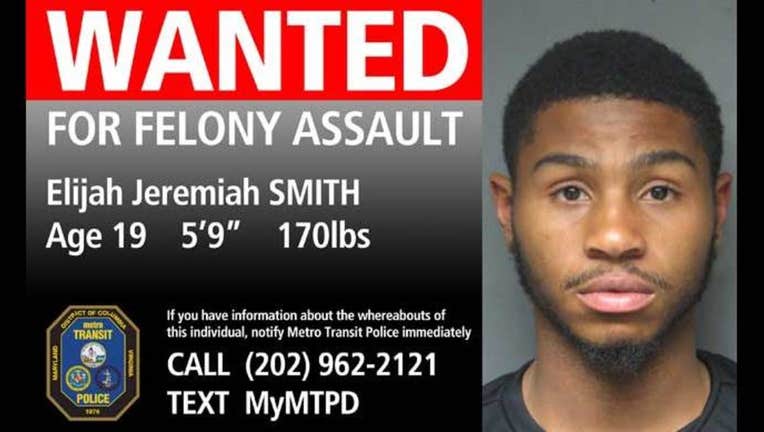 article
Metro police say they have identified a suspect accused of punching a 69-year-old man in the face in the Eastern Market Metro station last week.
Police say they have issued a warrant for the arrest of 19-year-old Elijah Smith. Smith faces a felony assault charge, and if convicted he could face an enhanced penalty of 1.5 times the maximum prison term because of the age of the victim.
CLICK ON THE PHOTO GALLERY ABOVE TO SEE MORE IMAGES
The attack happened April 24 just after 1 p.m., and it was caught on security cameras inside the Metro station. That video was released within a few hours of the time the assault took place in hopes someone would recognize him.
The elderly victim told police he was shoved by the suspect as they got of a train, and that led to an argument. The video shows the suspect waiting for the victim at the top of the escalator as they exited the platform, and the suspect is seen spitting on the victim, and then punching him three times.
The man was hospitalized and treated for facial injuries. The man was knocked out, but fortunately, the escalator was not working at the time.
Smith was arrested last May for the assault and robbery of local actor Frank Britton outside of a taxi stand at the Silver Spring Metro station.
Anyone with information on Smith's whereabouts is asked to call Metro Transit Police immediately at (202) 962-2121 and reference case 2015-21061. Tips can also be sent via text message to MyMTPD (696873). Police instruct that you should not take action other than calling police.