Pay It Foward: Children's National Hospital volunteer surprised with Nats tickets
WASHINGTON - There's really something special about a person who gives without expecting anything in return. A person that works to make an impact on others because someone made an impact on them. That's exactly what FOX 5's Pay It Forward segment is all about.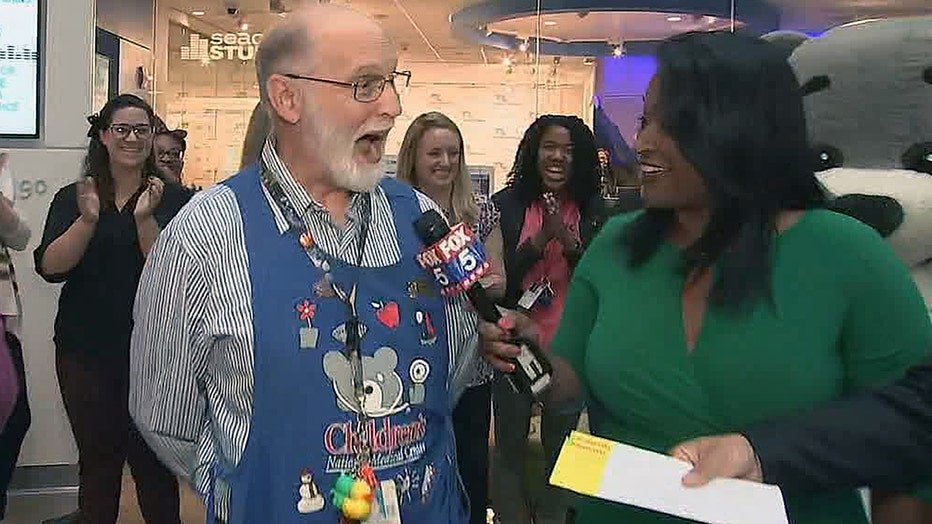 Jonathan Bell is surprised with a $1,000 gift card and tickets to the Washington Nationals game on Monday, Oct. 14, 2019.
Jonathan Bell is that special someone. He has been volunteering for over 20 years and has reached an incredible 2,807 hours of service at Children's National Hospital. As a patient care volunteer, he rounds and supports patients on the 7th floor and can often be found greeting and leading new hire tours on Mondays.
But volunteering isn't the only connection Bell has with Children's National Hospital in Northwest. When he was just 3 years old, he had kidney failure and was hospitalized frequently up until he was 7 years old.
During that time, there weren't the medical advances like dialysis, so he really credits the team that took care of him.  When he got older, he wanted to make a difference in the lives of children being treated in the same wing he was so many years ago so he began to volunteer.
He talks to the children about their disease and lets them know how lucky they are to have the medical care they have now while explaining to them what it was like when he was a patient there.
FOX 5 and Easterns Automotive Group presented Bell with a $1,000 gift card to help him buy books and supplies for his volunteer work. Bell, a big Washington Nationals fan, was also surprised with tickets to tonight's Nationals game and an official Nationals hoodie.
If you know someone who should be featured on Pay It Forward, you can nominate them here. In your email, be sure to include who they are and why they deserve to be recognized.