Olney residents protesting radio tower
OLNEY, Md. - Dozens of people showed up outside the Montgomery County municipal building on Tuesday to protest the construction of a police and fire radio tower near their homes.
The tower is long overdue to update the county and state's radio system for personnel responding to emergency situations.
Despite what officials consider a significant need, people who live in the neighborhood are worried about their health and their home values.
"This is not about NIMBYISM – it's about failed process and it's about the health and wellbeing of the tax paying residents who are going to pay for the construction for this tower," said Senator Ben Kramer.
"It's a decision that was made out of ignorance and the governor should apologize to the community for having taken that kind of an action," he added.
Residents don't want to see a 250-foot communications tower in their Brook Manor Estates neighborhood off of George Avenue in Olney, and they also say the Governor has gone back on a previous decision to move the proposed tower to an alternate site.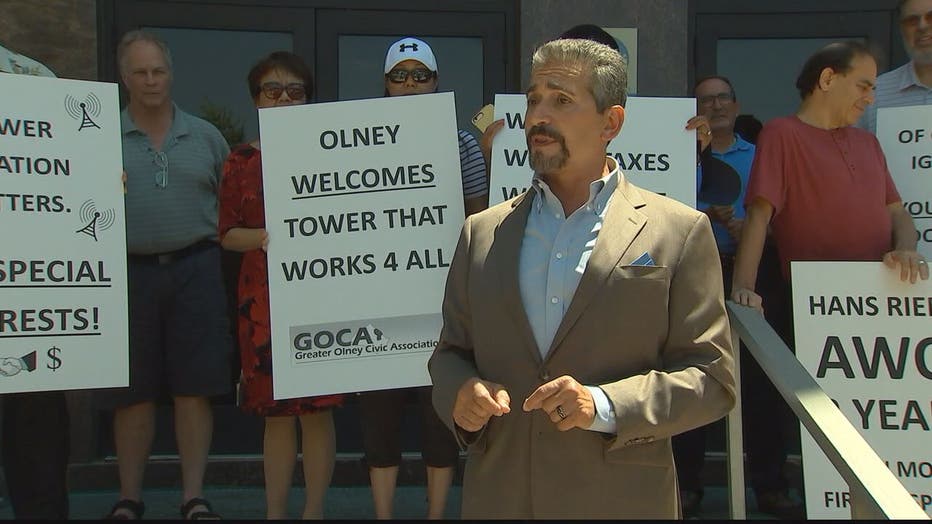 The state has had plans for several years to install 10 more towers throughout the county – bringing the total number to 22.
The President of Brook Manor Estates Homeowners Association says that residents fear the tower will bring down property values, and they feel they should not have been left out of the decision making process.
"There's also question about safety issues. Nobody knows what those health hazards will be. The last study was done in 1996. As you know communications, cellphones have come a long way from then, and if it was just an emergency tower, I don't think anyone would care. But by state law, every communication company can put their little dish on that tower and that's a big concern for us," said Homeowners Association President Robert Zimmerman.
Residents say the proposed alternative site is not far from the neighborhood in question, but the county says construction at that location would take longer and could jeopardize the December 2020 deadline.