Off-duty DC police officer struck by vehicle in Bowie supermarket parking lot
BOWIE, Md. - An off-duty D.C. Police officer is hospitalized after being struck by a vehicle at a grocery store parking lot in Prince George's County.
SkyFox was over the scene in Bowie, Maryland where several police vehicles could be seen in front of the Shoppers supermarket at the Vista Gardens Marketplace located along the 10500 block of Martin Luther King Junior Highway.
According to Prince George's County Police, the incident happened around 10:40 a.m. on Friday. They say a victim was hit by a vehicle as they were walking out of a store in the shopping center.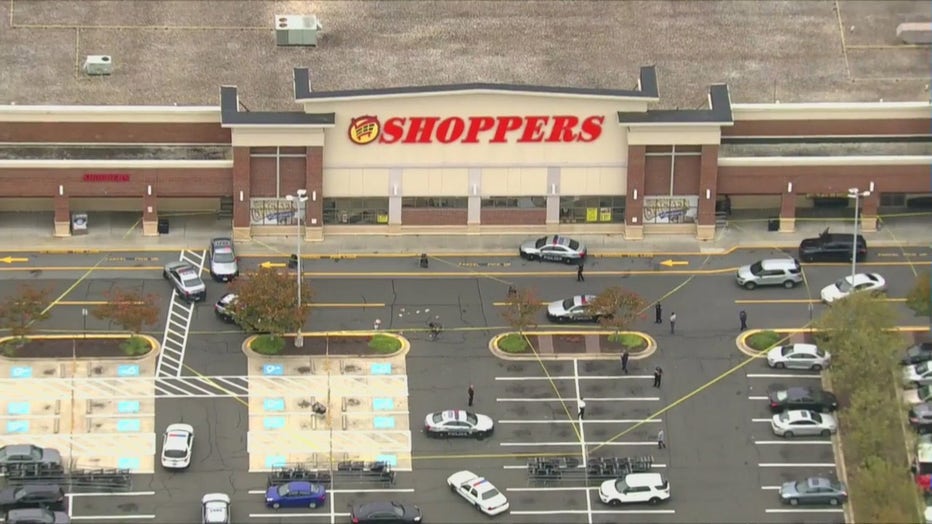 At a press conference on Friday afternoon, police confirmed the victim was an off-duty Metropolitan Police Department officer. MPD Police Chief Robert Contee said the officer was leaving a store with his mother when he was struck by a car.
Police said a citizen alerted nearby officers to the incident, and officers immediately responded to render aid to the officer. 
The officer, identified as 23-year MPD veteran Kenneth Daniels, was taken to a nearby hospital for treatment. Authorities say the officer is in critical but stable condition. Doctors say they are monitoring his condition, but at this time, no surgical intervention is required.
Investigators said other nearby officers stopped the vehicle believed to be involved in the incident not far from the scene. Prince George's County Police say the driver is cooperating with police. 
During the press conference, Chief Contee indicated that the officer Daniels was his friend, and that the two had known each other since high school.
"Police officer is what he does, he's just a great individual. I mean it's really kind of the bottom line. I've known Kenny, again, since he was in his teens. We went to Spingarn Senior High School together, he's a Green Wave," said Contee. "His brother is a retired member from the police department, and he has a niece on the police department. So he's very much rooted in the Metropolitan Police Department."
MPD released the following statement about the incident:
"We are praying for our MPD brother during this time. Please send your thoughts and prayers to him and his family while we learn more about his condition."
Images from the scene showed police tape blocking off a portion of the parking lot. At least six police vehicles were seen. Investigators could also be seen taking pictures of a black Toyota SUV.
The investigation into the incident is ongoing.
This is a developing story. Stay with us for updates.