Obama seeks broader audience through YouTube personalities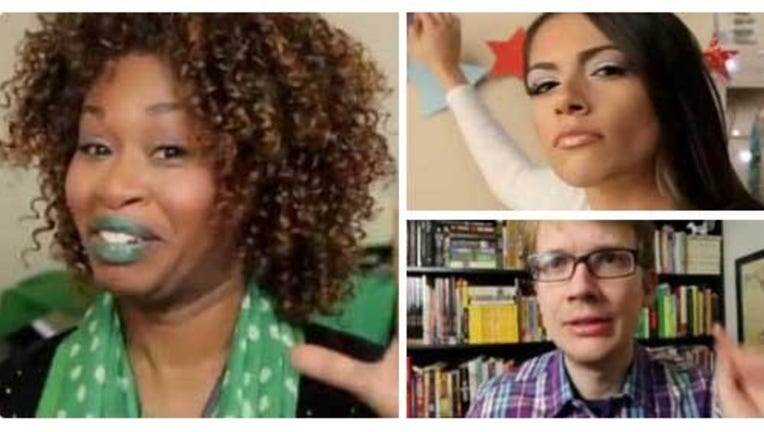 article
WASHINGTON (AP) -- No cringe. No dazzle. No edge.
President Barack Obama picked three of the most popular YouTube content creators for an interview Thursday, hoping to reach an audience typically not tuned to the daily give and take of Washington and its politics.
After all, these were YouTube personalities with hits such as "The five worst places to vomit," and "My push-up bra will help me get my man." But the weirdness, the limit-pushing, the cuteness that has contributed to the questioners' success in social media was not much in evidence. Instead, Obama encountered fairly mundane questions about current affairs - from North Korea to terrorism, to marijuana laws to police and race relations.
If there were viral moments, they came during his session with GloZell Green, a popular YouTube fixture known for her extreme acts like eating a ladle full of cinnamon. She asked Obama about his Cuba policy, declaring that the Castros "put the dic in dictatorship." Obama smiled.
She also offered the president three samples of her trademark green lipstick as gifts for his daughters - and for the woman she called Obama's "first wife." (play video around 27:30)

"You know something I don't?" Obama cracked before Green corrected herself and referred to Michelle Obama as "first lady."
Bethany Mota, who has found success pitching advice to young people, asked Obama what super power he would fancy. Obama allowed as to how flying would be "pretty cool." But then he amended, declaring that speaking any language would be his ideal power. "I don't think it would make a really good movie," he conceded.
White House spokesman Josh Earnest said the approach aimed to put Obama in touch with "particularly popular YouTube creators."
"It simply is an effort to engage as many Americans as possible in various venues," he said.
Indeed, Green, Mota and the third questioner, Hank Green, routinely draw hundreds of thousands of viewers to their YouTube videos.
At its peak, though, the Obama session drew slightly more than 80,000 viewers. But those were live, real-time viewers. Social media is about going viral over time.
For that, the White House will have to wait. And see.
---
Follow Jim Kuhnhenn on Twitter: http://twitter.com/jkuhnhenn
© 2015 The Associated Press. All rights reserved. This material may not be published, broadcast, rewritten or redistributed.