Newsweek Twitter account hacked by 'CyberCaliphate'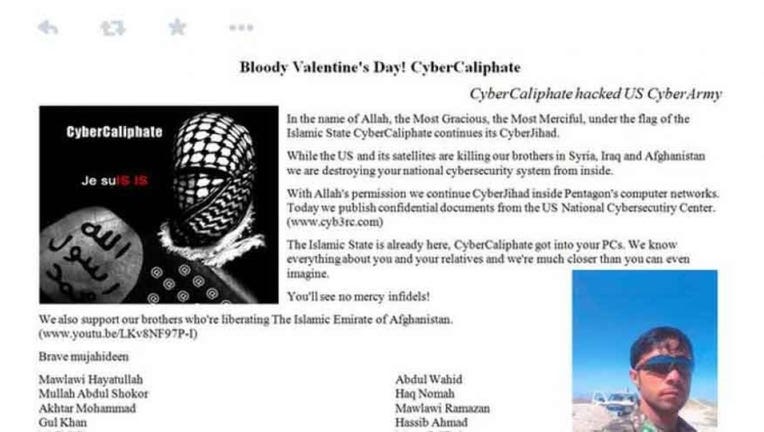 article
Newsweek's Twitter account was hacked Tuesday morning by a group describing itself as "CyberCaliphate," the latest in a series of high-profile hacks by apparent cyber jihadists.
During the 14-minute hack, the group praised "cyber jihad" and threatened Michelle Obama and her family.
"Bloody #Valentine's Day Michelle Obama! We're watching you, your girls, and your husband!" it tweeted, via the @Newsweek account.
The hack by the group claiming affiliation with Islamic State started at 10:45 a.m. EST. Newsweek said that the account remained hacked until 10:59 a.m. EST when Twitter's support team regained control of the account, at the publication's request.
The hackers briefly changed the account's profile picture and banner to an image of a masked man and the black standard that is the symbol of the terror organization. The profile also bore the message "Je suIS IS."
"We can confirm that Newsweek's Twitter account was hacked this morning, and have since regained control of the account," said Newsweek managing editor Kira Bindrim, in a statement. "We apologize to our readers for anything offensive that might have been sent from our account during that period, and are working to strengthen our newsroom security measures going forward."
The website of International Business Times was also hacked on Tuesday, apparently by the same group. Newsweek and International Business Times share the same parent company, IBT Media.
The hacks come just a few weeks after a group also describing itself as "Cyber Caliphate" seized the U.S. Central Command's Twitter and YouTube accounts, prompting the military to tighten its social media password security.
The hacker group may be the same one that is under FBI investigation for hijacking the websites or Twitter feeds of media outlets, including a Maryland television station and a New Mexico newspaper
Twitter declined to comment on this story when contacted by FoxNews.com.
Follow James Rogers on Twitter @jamesjrogers
READ MORE: http://www.foxnews.com/tech/2015/02/10/cyber-caliphate-hacks-newsweek-twitter-account/