Montgomery County addresses coronavirus concerns after Maryland's first positive cases confirmed in county residents
ROCKVILLE, Md. (FOX 5 DC) - Leaders in Montgomery County addressed coronavirus concerns after Maryland's first three positive cases were confirmed in county residents. Gov. Larry Hogan declared a state of emergency in Maryland Thursday evening. He said the cases were confirmed by the state's Public Health Laboratory in Baltimore.
 At a news conference, Hogan said the patients are a married couple in their 70s and an unrelated woman in her 50s who all contracted the virus while traveling overseas. All are currently in isolation in their homes in Montgomery County.
Download the FOX 5 DC News App for Local Breaking News and Weather
On Friday, Montgomery County Executive Marc Elrich held a news conference with top officials to provide updates on the confirmed cases. The county leaders promised transparency as they continue to work with state and federal partners on their COVID-19 response.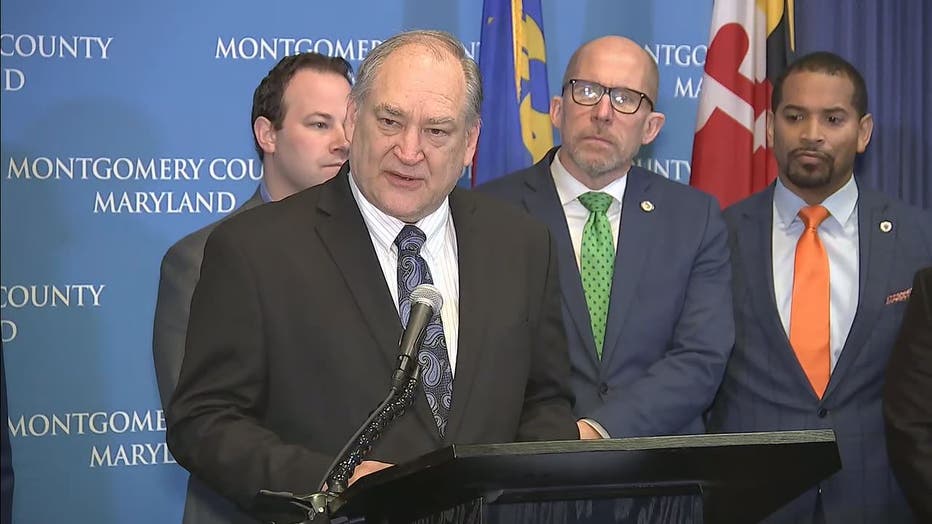 Dr. Travis Gayles, Montgomery County's Chief Health Officer, said that the individuals who tested positive were not on a cruise affiliated with the port of Baltimore, but did confirm the three were believed to be on an international cruise, where they contracted the virus.
 Dr. Gayles could not give specifics on travel history once the patients returned on February 20th, citing both patient privacy reasons and reasons that involve the state and CDC still collecting this info.
 "Look, the state is doing an investigation," said Montgomery County Executive Marc Elrich, "The CDC is involved in this and I'm sure we'll get the information. That's what they're trying to do now. SO I feel pretty confident that they're doing what they need to do. Everybody wants to make sure we contain this as quickly and thoroughly as possible."
The three patients were said to have "very limited" contact with school-aged children, not enough for public school leaders to close schools. Superintendent Jack Smith tells FOX 5 they did not see an uptick in absences but do expect to see such moving forward.
FOX 5's Complete Coverage of the Coronavirus Outbreak
"Of course if a child has any health issues that would preclude them from coming to school because of their fear of this, then we would work it out, absolutely," said Dr. Smith, "because that child is already – that family is already on high alert about their child's participation in the school."
County leaders said residents can stay updated by signing-up for alerts and reading information on: MontgomeryCountymd.gov/Coronavirus. Dr. Gayles also confirmed the county's Public Health Commander Center in Silver Spring is now activated.
Also on Friday, President Donald Trump signed an $8.3 billion measure to help tackle the coronavirus outbreak that has killed more than a dozen people in the U.S. and infected more than 200.
In nearby Prince George's County, schools are canceling all projects involving international travel and asking students to take precautions if they go to "high-risk" areas during spring break after the Maryland cases of coronavirus were confirmed. Results are pending in over a dozen cases of patients who have been tested for COVID-19 in Maryland, Virginia and D.C.