Lightning report: 2022 was a 'year of extremes,' with most US strikes in Texas
From a record-breaking volcano to a major snowstorm, new lightning data shows that 2022 was a "year of extremes" with more than 198 million lightning events in the United States — the highest total count since 2019.
According to the Vaisala U.S. National Lightning Detection Network (NLDN), 2022 saw the most extreme concentration of lightning ever detected. Meanwhile, the state of Texas saw a significant decrease in lightning activity, a major snowstorm in Buffalo, New York triggered over 1,100 lightning strikes, and an unusual lack of thunderstorms led to drought across the Mississippi River basin.
Released each January since 2017, the 2022 Annual Lightning Report highlights the most remarkable lightning events and trends of the previous year.
"Even as lightning counts across the continental United States returned closer to average levels, 22 states still saw below-average lightning – including Texas, which saw its count drop by 34% from 2021," said Chris Vagasky, meteorologist and lightning expert at Vaisala Xweather. "Much of the Mississippi River basin saw below-average lightning as the drought worsened, and the lowest water levels in decades on parts of the Mississippi River had significant impacts on agriculture and river transportation."
Texas was state with most lightning in 2022
Despite the Lone Star State's decrease in lightning activity in 2022, it continued its run as the number-one state for lightning with more than 27 million lightning events. 
And while it secured the top spot, its total count dropped significantly from the 41 million events recorded in 2021, Vaisala noted.
RELATED: Lightning blamed for 2 house fires in Fort Worth
Florida had the second-highest number of strikes with more than 18 million events, followed by Louisiana, Oklahoma and Mississippi.

Top 10 states by lightning count in 2022:
Texas
Florida
Louisiana
Oklahoma
Mississippi
Arkansas
Georgia
Kansas
Alabama
Missouri
Four Corners, Florida was lightning capital in 2022
Four Corners took the top spot from the 2021 Lightning Capital, Flatonia, Texas. 
Just two miles west of Disney's Animal Kingdom Lodge, Four Corners saw 1,229 lightning events per square mile in 2022 — the highest density of lightning of any community in the country.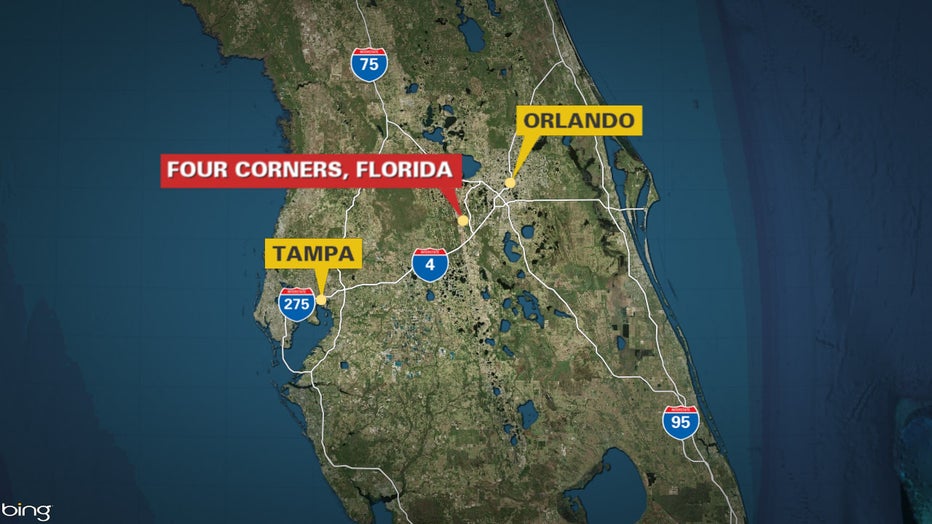 The lightning capital of the U.S. for 2022 was in Four Corners, Florida
The state of Florida also secured the top spot in the United States for total lightning density, with 285 lightning events per square mile, an increase of 27% compared with 2021.
Lack of thunderstorms dried up North America's largest river
The Mississippi River basin receives up to 60% of its yearly rainfall from thunderstorms. In 2022, exceptional drought, exacerbated by an 11% decrease in lightning over the basin, resulted in the river's lowest water levels in decades.
 Some new low-water marks surpassed records from the 1960s, with water levels in Memphis, Tennessee, dropping so low in mid-October that barges became stranded.
Volcanic eruption shatters records
The eruption of the Hunga Volcano in the Pacific Ocean between Dec. 19, 2021, and Jan. 16, 2022, triggered over 600,000 lightning events and nearly 400,000 lightning events in just six hours.
RELATED: Mean Mother Nature: Top 5 extreme forces of nature in 2022
At the peak of the eruption, half of all global lightning was concentrated around the volcano – the greatest concentration of lightning ever detected — more than 25,500 lightning events in just six minutes. 
The eruption was the largest in over 100 years and produced global tsunamis that caused damage to the Kingdom of Tonga and other Pacific states.
Buffalo, New York snow storm triggers lightning
A major lake-effect snowstorm hit the Eastern Great Lakes between Nov. 17, 2022 and Nov. 21, 2022, which brought up to 80 inches of snow, and thus, an unusual amount of lightning. 
A wind farm south of Buffalo, New York, saw more lightning in 28 hours than in the first 10 months of 2022, and wind turbines downwind from the Great Lakes saw more than 1,100 lightning events in just three and a half days. 
RELATED: Dangerous snowstorm paralyzes Buffalo, western New York
According to Vaisala, wind turbines can trigger lightning when winter storms move overhead. Lightning strikes can cause serious damage to wind turbines.
"Thunderstorms are life-threatening. Lightning can start wildfires, cause power outages, and damage infrastructure. Monitoring lightning in real-time and analyzing long-term trends is essential for protecting life and property and understanding changes to our climate," Vagasky concluded.
Viasala has been reporting and detecting lightning for nearly 40 years. 
This story was reported from Los Angeles.