Jewel's 'disrespectful' national anthem joins Roseanne Barr, Jimmy Buffett accused of 'butchering' song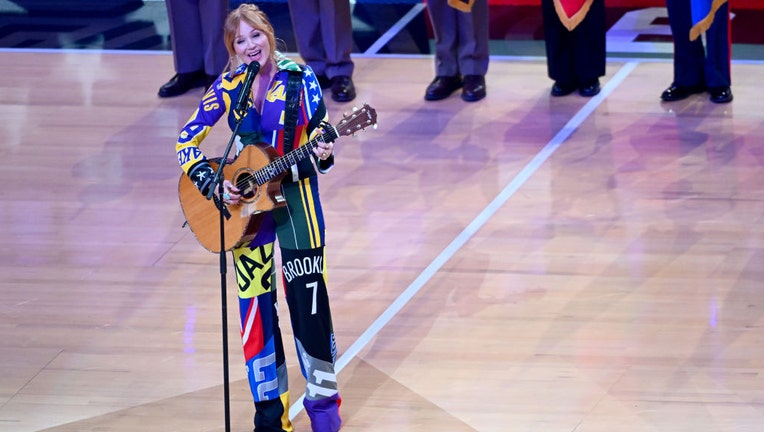 article
By most standards, the national anthem is not an easy song to sing. And some singers seem to struggle with it more than others.
When it comes to "The Star-Spangled Banner," the moving song written by Francis Scott Key during the War of 1812 that became America's official anthem in 1931, most people want to hear a traditional performance. It's not seen as a number open to interpretation.
However, Jewel added her own spin when she performed over the weekend at the Indianapolis 500.
The folk-pop singer, known for hits like "You Were Meant for Me" and "Foolish Games," is undeniably talented, but when she sang the anthem, she made it sound more like her own song. She accompanied herself on an acoustic guitar, and it sounded very much like something that could be on one of her albums.
JOHN MELLENCAMP SITS FOR NATIONAL ANTHEM BEFORE COLTS-EAGLES GAME
After the performance, viewers reacted strongly on social media, with one person writing, "Jewel, quit butchering an iconic song trying to make it your own interpretation."
Another person claimed the rendition was "to the point of being disrespectful," and yet another called it "ABSOLUTELY DREADFUL!"
Others were more constructive with their feedback, like the person who told her, "You have a beautiful voice, and it was beautifully sung. But the original sound and rhythm of the anthem has a very special place and meaning in our country, especially to many of those older than you. That's why there is so much criticism. Best to you!"
Some were clear but not cruel, like the person who wrote, "No. Never change the natural rhythm and pace of the National Anthem. Bad idea."
While many Indy 500 viewers were displeased by Jewel's performance, she's hardly the first artist to receive this kind of criticism.
Jimmy Buffett at the 2018 NFC championship game
Jimmy Buffett has been a big fan of the New Orleans Saints for years. In 2018, he was invited to sing the national anthem for the Saints at the NFC championship game.
The performance did not go well.
Buffett sang the song a cappella, and he sang it at a noticeably fast, almost breathless pace. He's admittedly not an incredibly gifted singer. Instead, his talents lie more in storytelling through music. So, he may not have had the vocal talent to help with the strange pacing.
Then, at the end of the performance, he lifted the microphone and dropped it.
While he did get many compliments on his performance — his fans were extremely supportive — others were not nearly as pleased with his choices.
"Let's not pretend like that Jimmy Buffett national anthem wasn't painful as hell," one person tweeted at the time.
Another posted, "The National Anthem he sang at the NFC Championship game was absolutely horrible !!!!! HORRIBLE !!!!!! Retire Buffett !!!!!!"
About the dropping of the microphone specifically, a viewer wrote, "Jimmy Buffett mic drop; he's too old and that's totally disrespectful."
"Not to be that guy, but I'm not sure what was more disrespectful. The #micdrop or his mediocre performance," another wondered.
MARK CUBAN CONFIRMS MAVERICKS ARE NO LONGER PLAYING NATIONAL ANTHEM AT HOME GAMES
Fergie at the 2018 NBA All-Star Game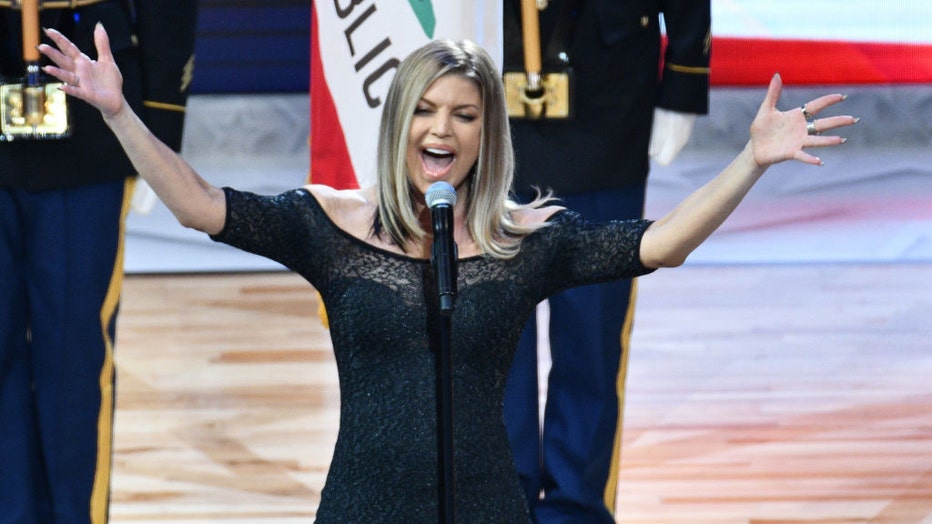 Singer Fergie sings the national anthem prior to The 67th NBA All-Star Game: Team LeBron Vs. Team Stephen at Staples Center on February 18, 2018 in Los Angeles, California. (Allen Berezovsky/Getty Images)
Fergie is known for being a member of the Black-Eyed Peas, a group that achieved its highest level of popularity in the 2000s with hits like "My Humps" and "I Gotta Feeling." She released a successful solo album in 2006 that featured "Fergalicious."
But when she performed "The Star-Spangled Banner" in 2018 at the NBA All-Star game, no one could have been prepared for what happened.
Fergie decided to do a very jazzy take on the 1814 classic, filled with unusual vocalizations that not many basketball fans seemed to appreciate.
"Fergie's rendition was the *Star Mangled Banner*," one viewer joked.
"What was she thinking?" another asked. "The anthem has stood the test of time and needs no changes."
Just this month, even before Jewel's controversial version of the anthem, someone wrote, "Every now and then i think of when Fergie sang the national anthem at the 2018 nba all star game and i chuckle."
MARIAH CAREY GIVES FERGIE ADVICE AFTER DISASTROUS NATIONAL ANTHEM PERFORMANCE
Steven Tyler at the 2001 Indianapolis 500
Jewel wasn't the only singer to rile up Indy 500 fans with her national anthem rendition. In 2001, Steven Tyler of Aerosmith kicked off his version with a harmonica, and according to many people who heard it, it went downhill from there.
Tyler sang in his typical rock style, hitting a screeching high note on the word "free," often a struggle for many singers.
Tyler also changed the lyrics to the end of the song, from "o'er the land of the free and the home of the brave," to "o'er the land of the free and the home of the Indianapolis 500."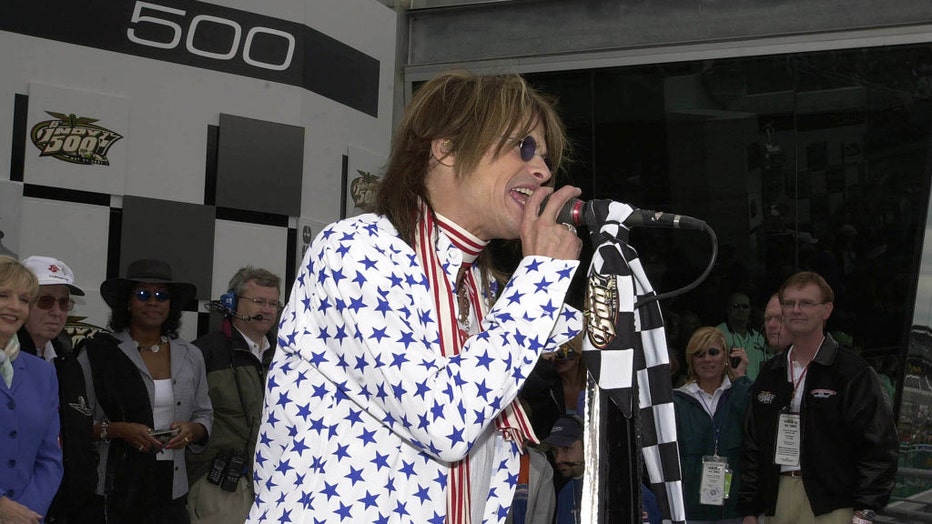 Steven Tyler during 85th Indy 500 at the Indianapolis Motor Speedway at 85th Indy 500 Race at the Indianpolis Motor Speedway in Indianapolis, Indiana, United States. (KMazur/Getty Images/WireImage)
The change was deemed wildly inappropriate and disrespectful and elicited complaints from viewers, prompting a response from Tony George, president of the Indianapolis Speedway at the time.
"While we are certainly sorry that some were offended, it was neither our intention nor that of Mr. Tyler to be disrespectful," he said in a press release at the time. "All of us have the utmost respect for the sacrifice our veterans have made for us."
Tyler also later apologized, saying in a statement, "I got in trouble my whole life for having a big mouth. I'm very proud to be an American and live in the home of the brave."
JOSEF NEWGARDEN PASSES MARCUS ERICSSON ON FINAL LAP TO WIN INDIANAPOLIS 500
Lady Antebellum at the 2018 Stanley Cup Playoffs
Country trio Lady Antebellum (now Lady A), featuring Charles Kelley, Hillary Scott, and Dave Haywood, sounded fine when they started off their rendition of the national anthem during the 2018 Stanley Cup playoffs. 
But just four lines into the song, they stumbled over the words.
Where it should have been "O'er the ramparts we watched, were so gallantly streaming" Kelley accidentally jumped ahead in the song as Scott paused and sang the correct line.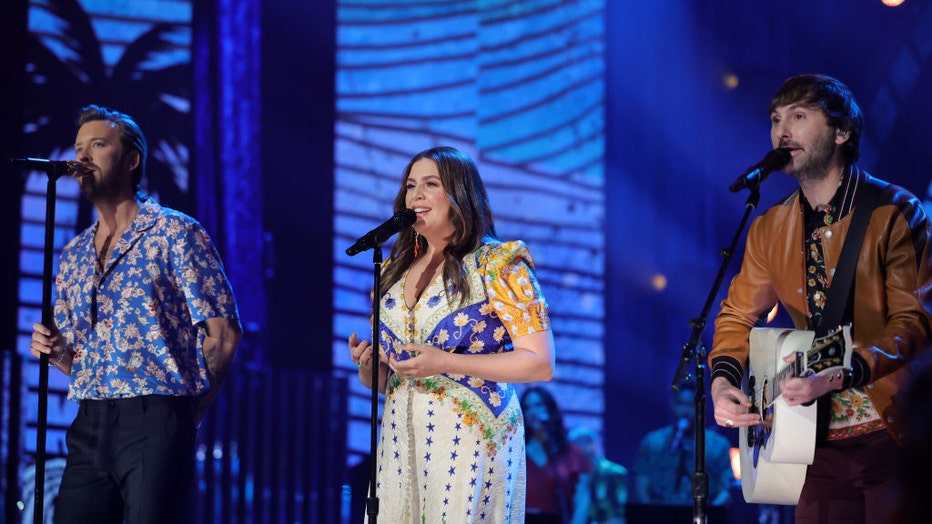 (L-R) Charles Kelley, Hillary Scott and Dave Haywood of Lady A perform onstage during A GRAMMY Salute to The Beach Boys at Dolby Theatre on February 08, 2023 in Hollywood, California. (Amy Sussman/Getty Images for The Recording Academy)
The group recovered quickly, joined by an enthusiastic and forgiving crowd to finish the song correctly.
After the flub, they took to Twitter to apologize for the mistake.
"Welp. We're human too y'all," they wrote, accompanied by a picture of Kelley covering his face in embarrassment. "We're still rooting for ya Preds!!! #smashville."
Commenters were kind in the responses, writing encouraging words like, "It happens," "We love you anyway," and "Kudos for owning this, and trying to have fun with it."
Roseanne Barr at a 1990 San Diego Padres game
Perhaps the most infamous performance of "The Star-Spangled Banner" goes to Roseanne Barr, who delivered a tone-deaf version that drew boos within seconds.
Barr was at the height of her fame with her self-titled sitcom, "Roseanne," when she "sang" the song, in a rushed, roughly 40-second performance, including a strangled high-note on "free." 
After completing the song, Barr also grabbed her crotch and appeared to spit on the ground after stepping away from the microphone.
Celebrity comedian and actress Roseanne Barr singing national anthem before San Diego Padres vs Cincinnati Reds game. Barr's off-key version was controversial. (John W. McDonough /Sports Illustrated via Getty Images)
DELAWARE SCHOOL DISTRICT APOLOGIZES FOR PLAYING ROSEANNE BARR'S INFAMOUS NATIONAL ANTHEM
The backlash to the performance was swift and went all the way to then President George Bush.
"My reactions is, it was disgraceful," he said aboard Air Force One at the time.
In a press conference days after the incident, Barr was unapologetic. "I'll sing that song again if I feel like it because it's my national anthem. I'll just be very selective who I sing it in front of."
Twenty-five years later, in a 2015 interview with The Washington Post, Barr explained the thinking behind her performance.
"I was singing in my act at the time — and I am a good singer — I was flattered and fully intended to sing a good version of the song," she told the outlet.
Barr also said she was given advice by Johnny Carson to not start the song "too high," but she failed to follow through on it.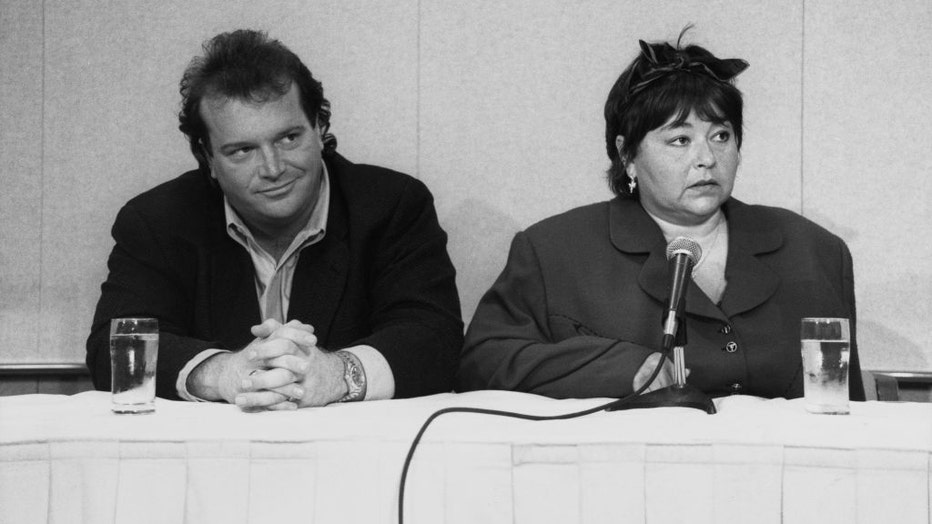 American actor and comedian Tom Arnold and his wife, American actress and comedian Roseanne Barr address a press conference in Los Angeles, California, July 1990. (Vinnie Zuffante/Michael Ochs Archives/Getty Images)
"I started too high. I knew about six notes in that I couldn't hit the big note. So I just tried to get through it, but I couldn't hear anything with 50,000 drunk a---- booing, screaming, 'You fat [expletive],' giving me the finger and throwing bottles at me during the song they 'respect' so much."
So why was a comedian chosen to sing the anthem at the game? 
Tom Werner, owner of the San Diego Padres and a producer with Carsey-Werner, the company that produced Barr's sitcom, denied he was behind the decision when The Washington Post spoke with him in 2015. He said the idea came from Andy Strasberg, then the team's vice president of marketing.
Barr also explained that the crotch grab and spitting were meant to poke fun at baseball players, who, at the time, were known for their rough habits. 
However, the joke was lost amid her performance. 
"Had it gone better, I would have taken a longer beat between singing and the 'tribute' to baseball players," she wrote to the outlet. "But, at that point, I just wanted to get out of there."
Get the latest updates on this story at FOXNews.com.