Good Charlotte to headline benefit concert for Capital Gazette shooting victims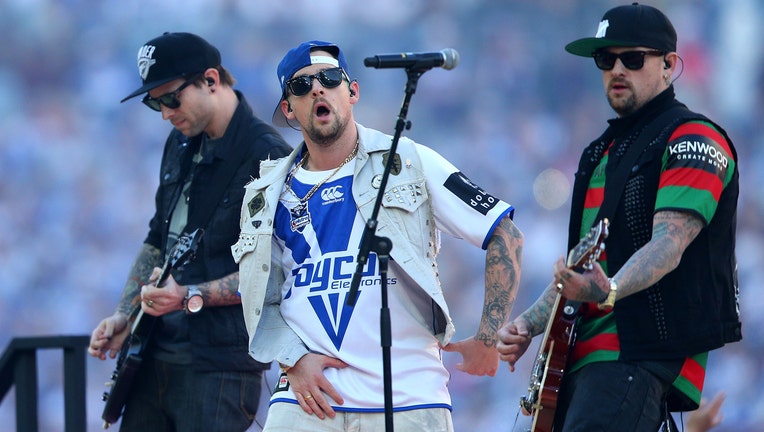 article
ANNAPOLIS, Md. - (AP) -- The city of Annapolis will hold a benefit concert featuring Maryland-bred rockers Good Charlotte to honor the five Capital Gazette employees killed in an attack in their newsroom.
Mayor Gavin Buckley said Wednesday the event dubbed "Annapolis Rising: A Benefit for The Capital Gazette and Free Press" will take place July 28 and will include performances, as well as guest speakers from the journalism community.
Information on tickets will be available at a later date. Proceeds will benefit a fund established for the victims and survivors, as well as journalism scholarships.
Police say gunman Jarrod Ramos, who had a grudge against the newspaper, blasted his way into the Annapolis newsroom on June 28, killing John McNamara, Wendi Winters, Rob Hiaasen, Rebecca Smith and Gerald Fischman. Ramos remains jailed on five counts of first-degree murder.
Good Charlotte, which includes twin brothers Joel and Benji Madden, said in an interview they are proud to return to their roots to pay tribute to the community.
"I feel everything starts at home, it starts in your community and this is the place in Maryland that we come from. This is the place we go back to. We feel very, very deeply connected to Annapolis and it's a very important place to us. It's very important for us to show up for the city," Joel Madden told The Associated Press.
"If we can help support an event that will be uplifting for the families of the victims and the tragedy as a whole, it feels really important to be a part of that," Benji Madden added.
The 39-year-old Madden brothers, who currently live in Los Angeles, were born in Waldorf, Maryland. Good Charlotte released its self-titled album in 2000 and launched hits like "Lifestyles of the Rich and Famous" and "Dance Floor Anthem."
The punk-pop performers say they remember going to Annapolis at 18 to pursue their music careers.
"Everyone helped us out. We didn't have anything. We went there with nothing. And we wanted to make it with our music and that was the town that supported us," Joel Madden recalled. "All of the local bars ... they hired us to play gigs, they gave us jobs, we worked as bar backs, we worked as waiters and bussers. We played our music at night. We went around the town and we were given opportunities to not only to play our music, but to live. The town really took care of us. Everyone there looked after us. It became home."
Benji Madden added that the Capital Gazette is "such a big pillar in the Annapolis community, really supporting their community and all of the different facets, whether its sports, art (or) local businesses. It's really a tight-knit community."
"It feels really special to us. It's rare to find that kind of community," he added.
The benefit concert will take place from a stage on College Avenue with the Maryland State House in the background.
Buckley, who became mayor of Annapolis last year, said "this horrible tragedy cannot be forgotten."
"Sadly, our country's attention will soon shift from this event that has forever changed our city. We will not stand by and allow the memory of these slain journalists to be forgotten. We also stand up for our journalists and our freedom of the press and this concert is just one step in that direction," he said in a statement.
FOX 5's coverage of the Capital Gazette shooting:
Harassment victim speaks out about Jarrod Ramos
Anne Arundel County police say Geofeedia could've helped in Capital Gazette shooting
Annapolis-native Patriots' Bill Belichick saddened by Capital Gazette shooting
Video shows Capital Gazette shooting suspect being arrested
Vigils held to remember victims of Capital Gazette shooting
Victims identified in Capital Gazette shooting
Capital Gazette suspected gunman charged with 5 counts of 1st-degree murder, bond denied
Annapolis shooting suspect previously filed defamation lawsuit against Capital Gazette
Governor Hogan orders Maryland flags lowered in honor of Capital Gazette victims
Annapolis Mayor: "We're just horrified at what they must have had to go through"
Court Docs: Suspected Capital Gazette gunman tried to hide under desk after shooting
Capital Gazette 'Opinion' page left blank in memory of shooting victims
Milo Yiannopoulos texts about 'gunning journalists down' 2 days before Capital Gazette shooting
Police: Gunman in Maryland newspaper shooting had intent 'to cause harm'
Capital Gazette Shooting: 5 dead after gunman opens fire in Annapolis, officials say
Despite tragic shooting, Capital Gazette still publishes paper on following day