Florida fisherman documents incredible massive swordfish catch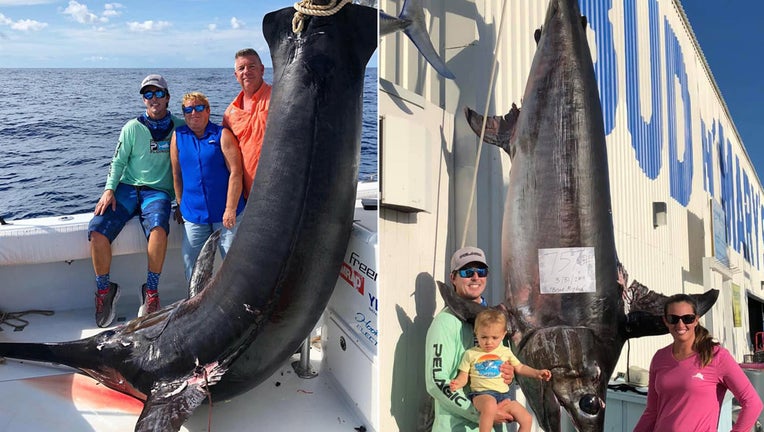 article
ISLAMORADA, Fla. (FOX 13) - A fisherman in the Florida Keys made the catch of a lifetime: a swordfish that took eight hours to reel in!
Captain Nick Stanczyk took some clients out on his charter boat on March 31 not knowing the battle he'd be in for that day.
He took them to a known swordfish spot off the coast of Islamorada and set out the bait.
Not 10 minutes in, Stanczyk says he saw the buoy move, and shortly after, realized it was a bite.
Over the next 40 minutes, they saw that it was an electric blue swordfish, but they didn't know how big it was.
It took more than five hours before they were able to get a good look at what was on the other end of the line and thought when they saw it, it was a 500-pound, maybe even 600-pound fish.
They continued to keep trying to reel it in and eventually, eight hours after it took the bait, they were able to harpoon it and bring it onto the boat.
When they finally made it back to shore, it took seven people to get the fish out of the boat, using a pully. After weighing it, they found it was a whopping 757.8 pounds.
Stanczyk documented the entire ordeal on his Facebook page, along with videos of them reeling it in and even cooking it up, but he still can't believe it.
"Every morning I left my house to go fishing saying, "Today could be the day," Stanczyk wrote. "Today was that day!"
WATCH THE FULL VIDEO BELOW: