DC woman charged with murder in deadly Rock Creek Parkway crash due in court Tuesday
WASHINGTON - The driver who was arrested in connection with a deadly crash on Rock Creek Parkway is expected in court Tuesday.
Authorities say Nakita Marie Walker, 43, of Washington, D.C. will be in court for a preliminary hearing beginning at 9:30 a.m.
Walker was arrested last month and charged with second-degree murder.
Police say the crash happened March 15 around 1:40 a.m. on the Parkway near the intersection of P Street in northwest D.C.
According to U.S. Park Police, an officer initiated a traffic stop on a Lexus SUV near the intersection of Virginia Avenue prior to the crash. Officials say a man and a woman were inside the vehicle when the officer tried to pull them over, but the driver refused to stop and fled.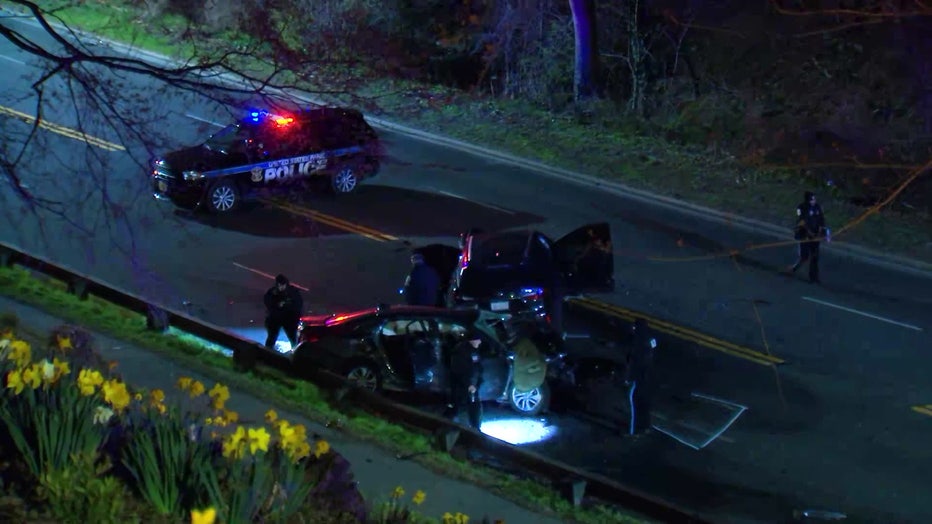 Deadly Rock Creek Parkway Crash
Several minutes later, officials say the SUV collided with a Honda sedan. Three men inside the Honda were killed in the crash. The two adults in the Lexus suffered what were initially reported as non-life-threatening injuries, however, it was later determined that woman was in critical condition.
The three victims who died were identified as Mohamed Kamara, 42, of Burtonsville, Maryland, Jonathan Cabrera Mendez, 23, of Arlington, Virginia, and Olvin Torres Velasquez, 22, of Arlington.
FOX 5 has confirmed that the SUV had 44 outstanding tickets worth $12,300 with the District's Department of Motor Vehicles prior to the crash. According to the D.C. DMV website, 43 of the tickets are for speeding violations, and one of them is for running a red light.