DC region remembers those who lost their lives in 9/11 attacks
WASHINGTON - The D.C. region is marking 22 years since the deadliest terror attack on U.S. soil by honoring those who lost their lives.
First lady Dr. Jill Biden will participate in an observance ceremony at the National 9/11 Pentagon Memorial in honor of the 184 people killed in the 2001 terrorist attack.
In the District, D.C.'s Mayor Muriel Bowser and other city leaders are honoring those who lost their lives with a remembrance ceremony. The ceremony will recognize the bravery and memory of the first responders and others who were impacted by the attacks. A moment of silence will also be held in honor of the D.C. residents, teachers, students, and others who died in the attacks.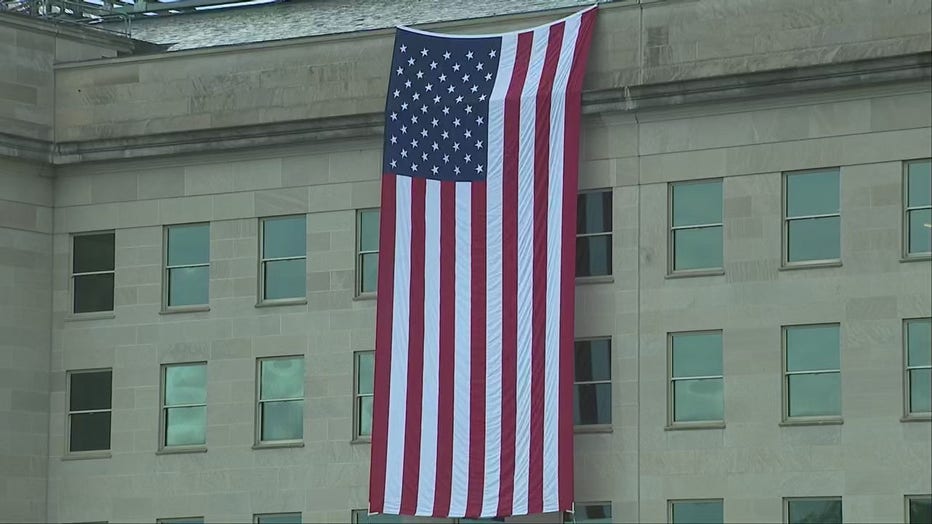 US Flag Unfurled at Pentagon in Memory of 9/11 Victims
AmeriCorps, the federal agency for national service and volunteerism, will lead local and nationwide efforts to commemorate the anniversary of the 9/11 attacks through service.
Hundreds of membe
rs and volunteers will work to package more than 6.5 million meals in 18 cities across the nation, including the nation's capital.
More information about how you can serve can be found online.