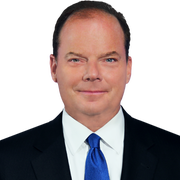 After working the night shift for 10 years (coming home to a dark and quiet house as late as midnight), I am now waking up before dawn and quietly leaving my home and family to be part of the FOX 5 Morning team.
It's a fairly big change for me. I'm naturally a night owl. All those years reporting for the 10 and 11 p.m. newscasts seemed like the perfect fit. But man, I love the mornings! The people I'm working with and extended airtime are a surprising shot in the arm for somebody who's been doing this for a while.
You can now find me doing live reporting for our 6 a.m., 7 a.m. and 8 a.m. newscasts and for Good Day DC.
Being home in the afternoons and evenings has also improved the quality of my home life.
It's pathetic but true, as a native New Yorker, I had never been west of Pennsylvania before I got my first TV reporting job at the ABC station in Las Vegas. That was 1984. I was 22. It was a lucky break for a kid who'd spent only a little more than a year as a desk assistant at NBC News in New York City.
After college classes in the Bronx, I'd be hauling butt down the 3rd-floor hallway at 30 Rock in Manhattan with scripts in hand for the producers and directors in the control room - and Tom Brokaw on the set of Nightly News. When I wasn't "running for Broke," I'd help the adults in the newsroom keep track of all the camera crews and reporters covering stories in the U.S. and overseas. And this was before computers!
Needless to say, it was a great introduction to the TV news business. When I think back on that first on-air job in Vegas, I recall one of the saddest stories I've ever covered. It was late at night, my shift just completed, when we got word that a family of five had been swept up in raging floodwaters out in the desert south of the Strip. The dad had basically killed his family trying to cross a washed-out street in their truck during a rare and wicked rainstorm.
It was September 10, 1984. Out in the desert, as police searched on foot and by helicopter for the youngest child - a 13-week-old baby who'd been carried away in the flash flood - I walked up on the parents and two older children. They were just lying there dead. Lined up in a row. Looked like mud-caked, life-sized dolls there among the sand and rocks near the mangled pickup. I quickly realized the job of a TV news reporter can expose you to some of the most dreadful things imaginable.
It does, however, also take you to great places and introduces you to fascinating people. My next job was with the CBS TV station in Orlando. From its Daytona Beach bureau, I covered NASCAR and Spring Break. I got to fly with the Blue Angels, parachuted on the back of a veteran skydiver dressed as Santa, and invited viewers to watch as a tattoo artist named Snapper put Woodstock on my hip for life. That was in a temporary tattoo parlor set up for Bike Week in '88. Yes, all in the name of TV news.
From Orlando, I moved to the CBS station in Tampa. There I helped cover countless hurricanes, the U.S. military's efforts to feed starving refugees in Somalia, the Oklahoma City bombing, and O.J. Simpson's "not guilty" verdict from the streets of Los Angeles.
After nearly a dozen years in Florida, I moved to Washington in 1997 and have been here at WTTG FOX 5 ever since. Among the stories I've shared with our loyal viewers: the Beltway snipers' reign of terror and the attack on the Pentagon on September 11, 2001. Of course, most of what we do is tell stories about people from the cities and towns close to home. Sadly, there's always enough madness and mayhem to keep us busy. But it's the stories of ordinary people doing good and interesting things that keep me coming back for more. Growing up on Long Island and watching New York City news, I knew at a fairly young age that I wanted to be a TV news reporter when I grew up. Not that I have ever grown up, but I can truly say I enjoy going to work every day. For that, I consider myself a fortunate guy.
The latest from Bob Barnard