DC council member calls for National Guard's help as city grapples with escalating violence
WASHINGTON - On Tuesday afternoon, Ward 8 Councilmember Trayon White held a news conference in Southeast by the scene of Saturday's mass shooting on Good Hope Road.
White called on the entire community to help stop the surge in violence that has led to a 28% increase in homicides in the District. 
While he said it's only a "piece" of the puzzle, the council member said he supports possibly calling in the National Guard to help patrol the streets. 
White disputed the acting police chief's comments she made after the mass shooting, saying the neighborhood is now a "warzone," and residents are hearing gunfire at all times of the day.
So far this year, 161 lives have been lost, compared to 126 this time last year, according to police records. 
This weekend alone, D.C. police confirmed 11 people had been killed from Friday to Sunday.
"We're tired of this sh-t," Councilmember White said passionately. "Enough is enough. And excuse my language, but I want to be frank with the young men and young ladies we serve. It's not okay for you to load up 30, 40, 50 – 120 rounds in a gun and shoot up our community."
White told reporters that he did speak with someone from the National Guard to find out exactly what they would need in an official request. Those details include a very clear definition of how many members, what they'd be doing, and the length of time.
D.C. Mayor Muriel Bowser previously pushed back when FOX 5 asked her following the July 4 mass shooting and extended holiday violence, why that violence and police staffing shortages didn't constitute calling the National Guard:
Councilmember White also noted several shootings are happening right in front of police officers. 
He wants the presence of armed, sworn military members who will have arresting powers. 
He also raised the issue of there not being enough police officers on the force to patrol Southeast.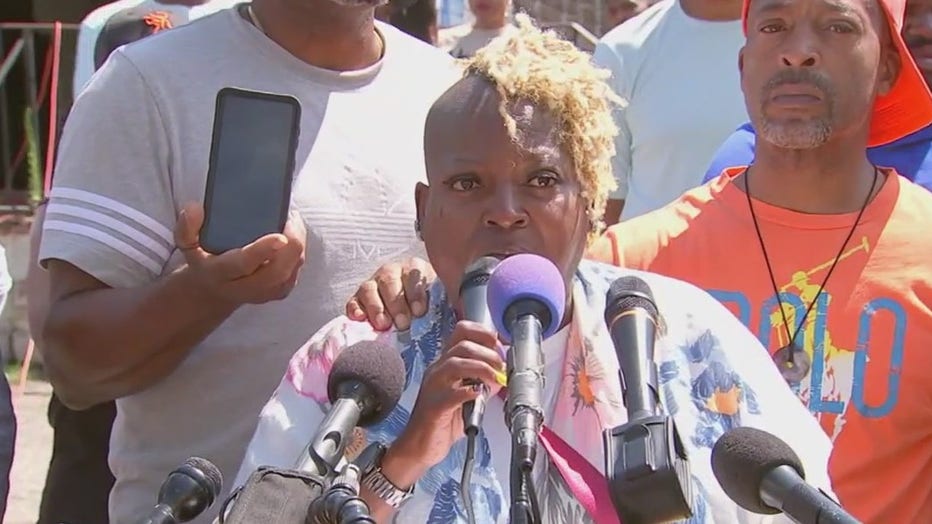 Regina Pixley, founder of Regina's Place, called on parents to send their kids to community programs if they need help. 
FOX 5 also asked about the council reportedly moving to defund the police department in 2020.  
"That's not true," White said. "The police budget has not decreased in the 7 years I've been on the council. In fact, it has increased. And while the budget has increased, and guess what has also increased? The crime in the community," 
FOX 5 asked the council member about the proposed budget increase not being approved for FY 2021 and whether the council made a mistake.
"There was not a mistake," he responded. "We believe that police is not the end-all solution to addressing crime in our city. As you know, those resources were reallocated to social service programs."
When asked why the council can't do both, White responded that by the time the council gets the budget, it's already balanced.
He emphasized that while he does not believe police are the only solution, he knows something needs to change. He also recalled the chilling effect National Guard support provided when he was a child growing up in the District.
Mayor Bowser is not in office this week. But the deputy mayor sent FOX 5 a response to White's call for National Guard support.
"The District regularly requests the support of the D.C. National Guard where our needs are within their mission. We will continue to make these requests as appropriate while also being mindful of the staffing constraints of the DCNG. Our focus, and where we will continue to request Council support, is on attracting and retaining more officers at the Metropolitan Police Department." 
The D.C. Police Union blames the council's emergency police reforms for today's staffing shortages and violence. 
The union also responded to Ward 1 Councilmember Brianne Nadeau's previous comments to FOX 5 where she called "public safety" her top priority. 
"In 2020, the Council passed the Policing and Justice Reform Act. This was a 26 subtitle bill that made sweeping changes to policing. The bill eliminated due process and disciplinary rights of police officers, created a new ability for investigators to 'Monday morning quarterback' all uses of force, prohibited officers from using body-worn camera to complete basic reports, and generally hamstrung police. Councilmember Nadeau added several amendments to this bill that prohibited officers from protecting themselves and others in a riot. She also openly advocated to 'defund the police'. The fact that she is now pretending to be 'pro-public safety' is laughable. She is absolutely to blame for the violence and mayhem in this city," wrote D.C. Police Union Chair Gregg Pemberton, "Before we discuss bringing in the National Guard, we should be having serious discussions about repealing the Policing and Justice Reform Act of 2021, which prohibits cops from doing their jobs of keeping communities safe and keeping criminals off the street."
White told FOX 5 he was planning to meet with acting police chief Pam Smith to discuss a National Guard request but hadn't spoken to the mayor yet.
"If such a request is submitted, and pending DOD approval, DCNG stands ready to provide support to the citizens of the District as directed by the secretary of defense," said a D.C. National Guard spokesperson in part of their response to FOX 5.
Among those calling for the community to help protect one another was the mother of 35-year-old Bernard "BJ" Hodges, one of the Good Hope Road mass shooting victims. Tempie Satcher told FOX 5 her son was a father of four who worked three jobs – the most recent involving HVAC at MGM National Harbor. Satcher said she was told by BJ's closest friends, that he was in the wrong place at the wrong time and had just exited a corner store by 16th and Good Hope Road Southeast.
Affected mothers and community activists, including neighborhood ANCs, called on neighbors to stop their "no snitching" stance, especially when it comes to protecting their families.
The council member referred to the historic violence east of the river as a cancer that's gone untreated and spread throughout the city. He believes it's turned into a genocide of original residents of Washington D.C.