Mayor Bowser speaks after deadly holiday weekend in DC: 'Too many guns and too many violent people'
WASHINGTON - The 4th of July was marred by a rash of crimes across D.C.  As fireworks rang out in the nation's capital, so did gunfire. 
There were at least ten shootings over the long holiday weekend — with seven of those just on the 4th and 5th — and multiple children were injured. Several victims have died and the series of deadly incidents has people asking: when will the violence end?
A 10-year-old and a 17-year-old were two juveniles among nine people shot in the Deanwood neighborhood Tuesday night. The mass shooting unfolded before 1 a.m. at the 4700 block of Meade Street NE. Police say someone drove up in an SUV, stopped and within seconds opened fire on the crowd, targeting a person. 
Thankfully no one died in the mass shooting but multiple people were outside at the time. 
One woman, who asked not to be identified, told FOX 5 she's been throwing a 4th of July cookout with fireworks for her community for the past 9 years. She did not have a permit but she and other ANC leaders say police knew about the gathering. The woman claimed she saw police at point and that the shooting happened after police left.
"Now I'm not even doing no more cookouts. I can't. I cannot, I don't want nobody's blood on my hands," she said. 
To the suspect or suspects, she had this to say: "You're a coward.  I'm not saying it's okay to kill to go kill nobody but if you out here killing people, walk down on your man. Get your man. Leave these innocent people out of your beef."
In other shootings, police say two men were killed in the District. One of the victims died after being shot on North Capitol Street around 5:30 p.m. A second man was killed after a shooting on Livingston Road around 8:30 p.m. 
Shooting investigations are also underway on Naylor Road, 13th Street, Neal Street. 7th Street and Mississippi Avenue.
Two of the shootings did happen within areas where the city deployed its "Safety Go Teams" this holiday and one happened as a team was working.  The teams, whose focus was on minimizing the number of reported fireworks-related incidents, gun violence and crimes on the holiday, were deployed July 3 from 6 p.m. to 1 a.m. and July 4 from 4 p.m. to 12 a.m. 
Mayor Muriel Bowser held a press conference Wednesday with police and public safety officials to discuss the violent holiday weekend but did not offer a strategic plan to address the concerning level of gun violence moving forward. 
"We have too many guns and too many violent people on the street," Bowser said. 
She continued to point to how other partners of the "ecosystem" need to also step up. She once again called on the D.C. City Council to pass her proposed public safety bill — the New Safer, Stronger DC" legislation — which would, among other things, give judges more discretion to hold violent people behind bars — adding that the council should not try to water down the proposal.
The council is not expected to pick it up again until after summer break. 
Bowser's response wasn't enough for some residents who say they don't feel her office is listening to them or implementing the changes they are recommending.  
FOX 5 asked neighbors what they feel like city leaders could do. 
"The mayor need to get off her a** and do something with these kids, that's what. Don't just open up the recs. Give programs for these kids. Real, live programs that they'll do," the woman who wished to remain anonymous told FOX 5.
"Trying to keep everybody honest, if all the services and everything are being done at the same time, it gives people less chance to have those – to have the possibility of people bring guns and putting in places where they shouldn't be," said ANC 7C07 Chair, Antawan Holmes.
While the mayor acknowledged today there is a problem, she also said she felt the responses by D.C. police and fire were appropriate. 
"No one's ever on their own. As I mentioned already in a way that I can respond to you about how our neighborhoods are being protected is just by looking at how long it takes police to get a call and those responses met my expectations," she said.
Some community members have stepped up their calls for the National Guard to be requested as a way to help increase public safety.
FOX 5 asked why the MPD staffing shortages and level of gun violence being seen would not constitute a National Guard request.
"If we had a specific mission that was in the mission of the National Guard, we wouldn't hesitate to call on them. What the National Guard — they're not law enforcement, keep in mind. They don't know our local laws. They don't typically make local arrests. What we have used the national guard for, to perform a more critical function, has been in traffic posts and we use traffic posts very statically," said Mayor Bowser.
An ANC leader told FOX 5 over the phone, she remembers seeing the National Guard work with police on checkpoints in the Trinidad neighborhood years ago. She did not want to return to that and also told FOX 5 she does not want to see any other children shot or killed.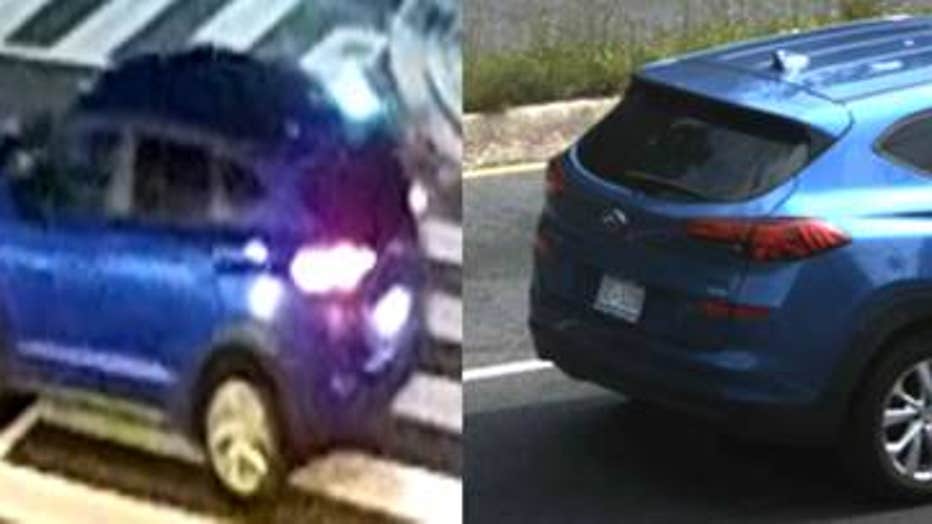 Photo via Metropolitan Police Department 
Police believe a blue Hyundai Tucson with D.C. tags was involved in the shooting on Meade Street. They're now searching for that vehicle. 
Anyone with information on any of these shootings is asked to contact police at 202-727-9099 or text 50411.