Controversial 'FamilyOFive' YouTube channel taken down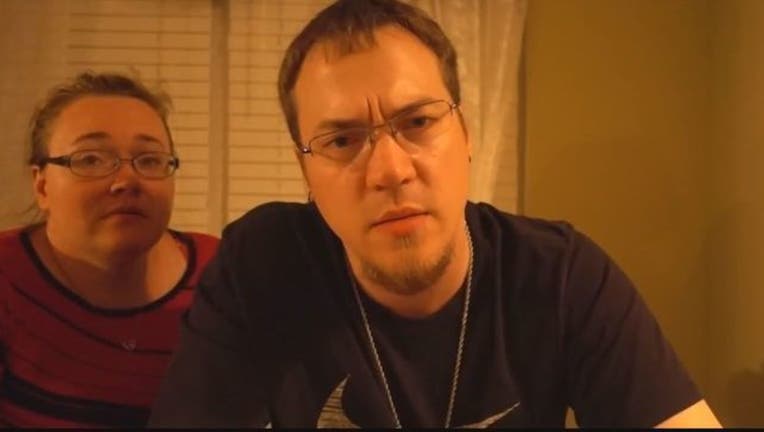 article
FREDERICK COUNTY, Md. - YouTube has taken new action against a Maryland couple who pleaded guilty to child neglect in 2017 and lost custody of two of their children after their online prank videos went viral.
Mike and Heather Martin gained national attention for their controversial videos on the DaddyOFive YouTube page last year. The parents received heavy backlash after a video titled "Invisible Ink Prank" showed them pranking their son in a profanity-filled tirade that left him hysterically in tears.
RELATED: DaddyOFive parents plead guilty to child neglect, get 5 years probation
The couple pleaded guilty to two counts of child neglect last fall. Under the plea agreement, they received a 10-year suspended prison sentence and five-year supervised probation. They lost custody of two of their children following the investigation. As part of the plea agreement, they are not allowed to contact them unless it is approved by a judge. Their probation also restricts them from posting any videos or images of their children on social media unless it is for family use.
The Martins continued posting videos on YouTube under a new monetized name, FamilyOFive. Their videos continued to spark criticism and pressure had been mounting on YouTube to take action against the account after it was discovered they were still active on the platform.
According to an article in the New York Post, a Google spokesperson confirmed the account had been terminated and issued the following statement:
"Content that endangers children is unacceptable to us," the spokesman said. "We have worked extensively alongside experts in child safety to make sure we have strict policies and are aggressively enforcing them. Given this channel owner's previous strikes for violating our Guidelines prohibiting child endangerment, we're removing all of his channels under our Terms of Service."
RELATED: Parents blasted for pulling pranks on their children, posting videos online
The Martin's channel had more than 400,000 subscribers. They claimed all of the pranks were staged and that they often let their children come up with the ideas the videos were based on.
Heather Martin said in a statement:
"What happened more than a year ago was devastating to our family. Back then, we made some terrible parenting decisions then focused on healing and moving forward. We have been in a happy place, our children are doing well in school, they play sports, and they really are some of the best, loving and most talented kids you will ever meet.
"The decision to come back to YouTube was not taken lightly, it was a family decision. The three children involved in our current channels are happy and eager participants. We have never forced them to be on YouTube, it's their passion. FamilyOFive and FamilyOFive Gaming was in fact their channel, their hobby, and what they looked forward to each day. And as parents, we carefully considered and allowed them to pursue their interests. Ultimately we are are responsible; we are very open in our family and everyone's opinion counts.
"The easy thing for my husband and I after last year would have been to hide under a rock never to be seen on YouTube again. What would that have taught our children? That when you make a mistake you quit? When you're at your lowest point you stay there, or when people bully you and tell you how you should feel about yourself it must be true? I am sorry that our return has upset some people, that was not our intention. However, there are many, many more who currently enjoy the entertainment value. We just want our kids to know that there will be times in life that you fall flat on your face. There will be times where you mess up and it is your fault, but you have to live with the consequences and take responsibility- we did. However, during those times, I also want my children to know that they are strong enough to get up, dust themselves off and move forward.
"We are disappointed in YouTube's decision to terminate all of our channels. Over a year ago, when things blew up, YouTube could have terminated the DaddyOFIve channel - they did not. Why wait a year? Our family was given the opportunity to reestablish ourselves on our Gaming Channel and the FamilyOFive channel (Which was formerly MommyOFive). We created boundaries, tried to be sensitive to public opinion, and gave careful thought to the videos we produced and posted. We even disappointed the kids a few times when they came up with an idea that we thought went too far. We made sure to have a detailed channel description explaining that we are entertainers, that the videos featured were for that purpose only and that they were staged. We have been in constant contact with YouTube over the past year about our channel and its content. We have several emails and correspondences with YouTube saying we had "Family Friendly Content" and that we were not violating any of their terms and conditions. We have started the appeals process and it is our hope, and our children's hope, that YouTube will do some further digging into our current content and reconsider their decision. YouTube's decision should be made based on our current content and not a sudden reaction to a few loud, self-serving public voices who generate media attention. And, I would encourage YouTube to treat everyone equally.
"After last year's events and our rebirth on YouTube, we have had a growing fan base who loves our family and who we love as family. They knew our content was staged and they still loved us and our entertaining skits - we are thankful for them.
"Our family remains our number one priority. I encourage anyone reading this to please just let us live our lives. Let us continue to heal, let us move on. If we could reverse some of the decisions we made in the past, we would. In fact, who in this world wouldn't? Bottom line, we believe our staged content is strictly entertainment and appropriate; we hope YouTube arrives at the same conclusion after a thorough review."