3 men charged in Stafford County in connection to attempted bank robbery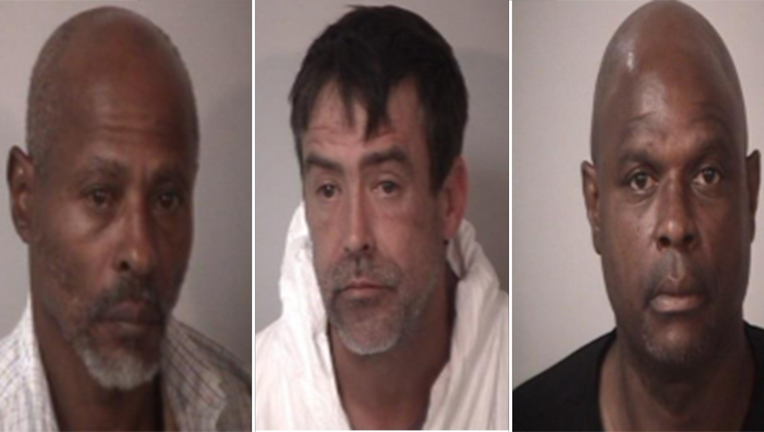 article
STAFFORD COUNTY, Va. - The Stafford County Sheriff's Office arrested three men in connection to an attempted bank robbery.  
At 12:21 p.m. on July 17, deputies responded to the Atlantic Union Bank at 1044 Warrenton Road for a robbery in progress. 
When the first responding deputy arrived at the scene, he found that the suspect had fled the bank on foot. A perimeter was established but deputies were unable to find the suspect. 
The initial investigation revealed that the man entered the bank and handed an employee a note demanding cash. The suspect didn't get the cash and ended up leaving the bank empty-handed. 
He was captured on surveillance video and the Sheriff's Office shared the photo on social media. The suspect was quickly identified following the post and deputies learned that the suspect had been in a Spotsylvania County pawn shop with two other subjects earlier in the day and planned to return to the pawn shop in the afternoon. 
Detectives with the Stafford County Sheriff's Office and deputies with the Spotsylvania County Sheriff's Office partnered to surveil the pawn shop. Their efforts quickly paid off as the suspect and the two other subjects returned to the pawn shop at 3:13 p.m. 
All three were quickly taken into custody. 
Detectives identified the man who entered the bank with the note as John Zinno, 46 and the other men were identified as Winn Spears, 51 and James Harris III, 57. 
All three men were charged with attempted robbery and conspiracy and were held at the Rappahannock Regional Jail without bond. 
This is an ongoing investigation. Anyone with additional information is asked to contact the Stafford County Sheriff's Office.