21 prohibited plants found in Virginia family's luggage at BWI by 'Beagle Brigade'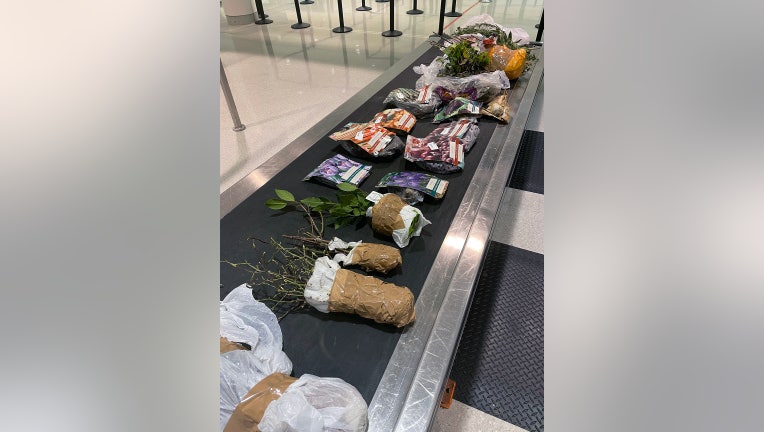 article
A total of 21 prohibited propagative plants and bags of bulbs were found in the luggage of a Frederick County family at BWI airport earlier this month by the "Beagle Brigade" after the family had reported the plants as only tulip bulbs.
U.S. Customs and Border Protection's agriculture detector dog Gatsby was alerted to the baggage that arrived on a flight to BWI from Iceland on Jan. 7.
CBP agriculture specialists inspected the baggage and discovered a total of 21 prohibited propagative plants and bags of bulbs in the family's baggage. 
READ MORE: TSA finds 84 mm caliber weapon in checked luggage at Texas airport
Passengers are required to attain phytosanitary certificates from the original country verifying that the plants meet United States entry requirements. Propagative plant materials may be invasive to the nation's ecology and pose a potential threat to crop plants.
Soilborne pests or pathogens threaten both plants and animals. CBP agriculture specialists examined the plants and discovered a worm and two snails and submitted the specimens to the U.S. Department of Agriculture for identification. The plants and bulbs were seized for destruction.
Learn more about bringing agricultural products to the United States.
CBP released the family, who traveled from the United Kingdom and were destined to their residence in Frederick County after they paid a $300 civil penalty for possessing undeclared prohibited agricultural items.
READ MORE: Cattle prod discovery at Dulles Airport makes TSA's list of top 10 unusual finds in 2022
"Finding such a vast quantity of plants and bulbs in one family's baggage is unusual and the potential threat these items pose to our nation's agricultural resources underscores the importance of travelers knowing what they can and cannot bring to the United States," said Adam Rottman, Area Port Director for CBP's Area Port of Baltimore. "This is another in a long series of important finds by Gatsby and Customs and Border Protection's Beagle Brigade."
Gatsby is part of CBP's Beagle Brigade, highly qualified canine partners that help CBP agriculture specialists. Gatsby has served on CBP's Beagle Brigade for nearly five years.