17-year-old killed in Northeast DC police-involved shooting
WASHINGTON - A teen was fatally shot in a U.S. Parks Police-involved shooting in Northeast D.C. Saturday morning. 
At around 8:50 a.m. on Saturday, a USPP officer responded to assist a Metropolitan Police Department officer with reports of a stolen vehicle near 34th and Baker St NE, under a mile from nearby River Terrace Park, a National Park. 
Officers attempted to detain a male driver of the vehicle. Officials say the driver fled the scene with one USPP officer trapped in the car, and a second USPP officer dragged behind the vehicle. A USPP officer fired his weapon after an "incident occurred inside the vehicle," according to USPP representative Thomas Twiname. 
A 17-year-old male was pronounced dead at the scene. The USPP officers were transported to a hospital with non-life-threatening injuries, according to officials.
MPD officials identified the teen to FOX 5 as Dalaneo Martin, of Northwest, D.C.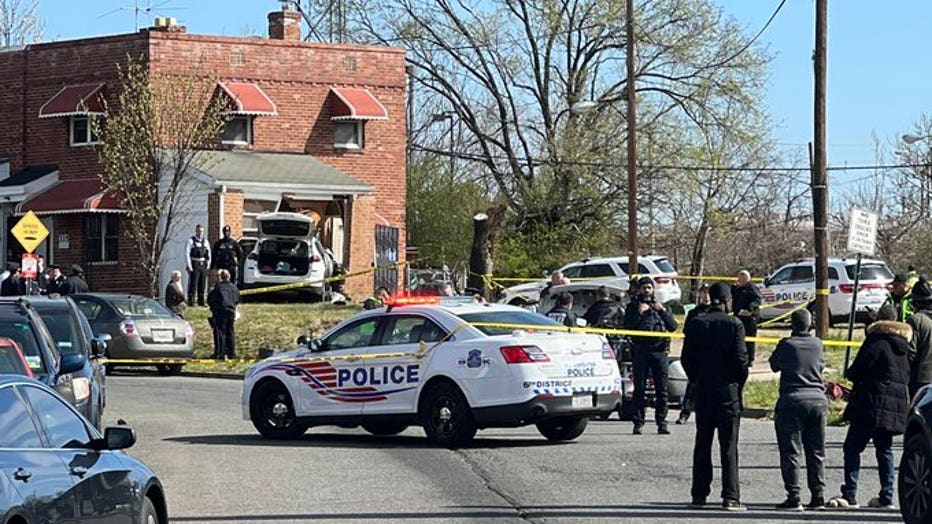 Video and photos from the scene shows a car that crashed into a residential building. 
The incident remains under investigation. 
Southbound D.C. 295 was shut down from NH Burroughs Avenue to East Capitol Street due to the police investigation. Roads in the area have reopened.
This is a developing story. Stay with FOX 5 for updates.