Thursday could bring more strong storms to DC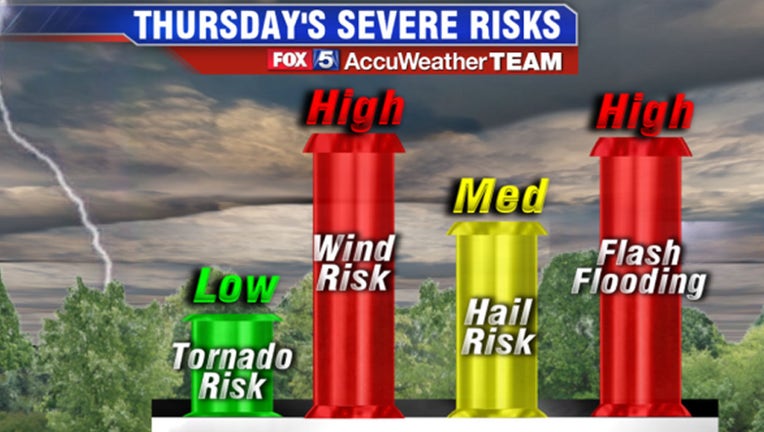 WASHINGTON - Tuesday brought almost every type of severe weather to the D.C. region with winds gusting over 60 miles per hour, widespread hail reports, flash flooding so bad that a Metro station was flooded, and even a confirmed EF0 (80 mph winds) tornado, which was on the ground for 12 miles in northern Howard County.
Numerous trees and power lines were downed, and power outages were widespread. As the cleanup continues from Tuesday night's storms, the D.C. region already needs to prepare for potentially the next round of severe weather as early as the overnight hours.
Thursday brings the opportunity for not one, but possible two rounds of severe weather. The first could come during the early morning hour, as a strong thunderstorm complex packing strong winds and very heavy rain could cross the Appalachian Mountains along a warm front just in time for the morning rush hour. From a forecast standpoint, pinpointing the exact timing or location of the morning storms is extremely difficult. The setup for the storms is one that our computer weather models typically handle very poorly.
The atmosphere around the region on Thursday is one that is supportive of severe weather, but as we know all too well here in D.C., just because conditions are right for severe weather does not mean that it will happen. Features working against big storms Thursday morning are the timing (morning severe weather events are rare in D.C. … but they do happen) and the fact the storms have to cross the Appalachian Mountains, which can sometimes rip organized storms apart.
There is a "way out" of morning storms completely also as a few models suggest the key piece of energy for those storms may sink far enough south that it may not be an issue. If there are in fact strong storms in the morning, the main severe risks are heavy rain, flash flooding and strong winds.
By the late morning/early afternoon, the sun likely starts to come out around the D.C. region. It will be warm and humid, and the atmosphere should destabilize. As a cold front swings through the area during the late afternoon and early evening hours, there will once again be the risk that thunderstorms could fire along it.
Storms during this event would be similar to Tuesday's severe weather. They will likely be scattered, with some seeing the storms while others are missed. Exactly who is at the greatest risk for these and their exact timing is hard to pin down at this time, but the risk with these storms will once again be strong winds, heavy downpours, and hail with an isolated tornado are not out of the question.
Much like the morning event, there is a "way out" of the afternoon severe weather as well. If morning rain is heavy enough and last long enough, or afternoon sunshine is limited keeping temperatures down, then the severity of afternoon storms could be limited as well.
As you can tell, there are a lot of moving pieces with the weather of the next 36 hours, and nothing is set in stone.
The FOX 5 Weather Team is working hard to keep you ahead of any storms that do come our way, and we will continue to update you with the latest information as we get it through this afternoon and evening.
There is some good news too! Once we get past Thursday's thunderstorms, conditions rapidly improve for Friday and through the weekend. It will be as close to perfect as a June weekend can get!