North Carolina's Outer Banks report minimal damage from Florence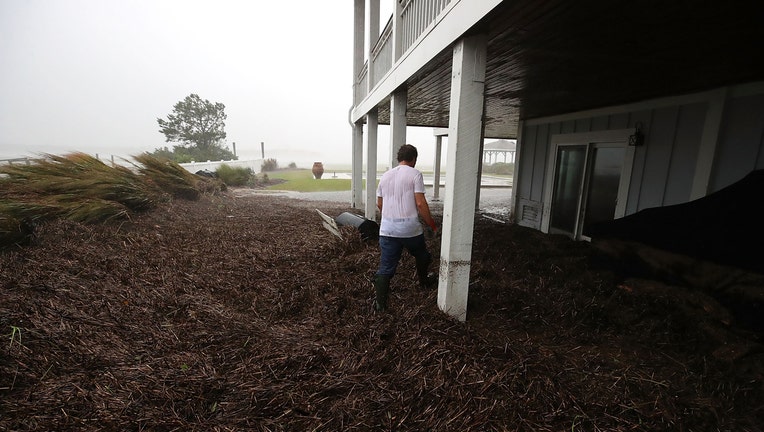 article
OUTER BANKS, NC - Many residents who evacuated North Carolina's Outer Banks ahead of Hurricane Florence made their way Saturday back onto the barrier islands, a popular tourist destination spared from the worst of the storm's wrath.
While other parts of the state were suffering catastrophic flooding from a storm that caused at least seven deaths, county officials and business owners on the low-lying islands reported relatively minimal damage, and there were no immediate reports of injuries or fatalities.
"We were really blessed on this one," said Matt Paulson, a two-decade resident of coastal North Carolina who owns the First Light restaurant in Corolla.
While the Outer Banks made it past Florence fairly unscathed, scientists say they remain incredibly vulnerable to future storms and climate change. The islands are experiencing some of the fastest rates of sea level rise in the world, nearly an inch a year. That rate is expected to accelerate as the oceans warm, sea water expands, currents weaken and polar ice sheets melt.
"Sooner or later we need to get out of there," Orrin H. Pilkey, a professor emeritus of geology at Duke University, told The Associated Press before the storm hit.
Pilkey said Saturday that's still "absolutely true."
"We cannot hold the shoreline still in the context of a rising sea level," he said. "No possibility."
Forecasts earlier in the week had suggested things could be far worse, and North Carolina's governor issued what he called a first-of-its-kind mandatory evacuation order for all the barrier islands.
On Saturday morning, authorities began allowing residents as well as workers and property owners to begin returning to the northern portion of the islands. Visitors were expected to be allowed entry to the same area beginning Sunday.
"They absolutely have started rolling in," Dare County spokeswoman Dorothy Hester said. Photos the county posted showed some traffic backups as local law enforcement worked to cycle cars through checkpoints.
A preliminary damage assessment showed about a half-million dollars of damage in Dare County, Hester said, a figure she called "quite fortunate."
Further south on Ocracoke Island, power was back up and there were no reports of serious structural damage, Hyde County spokesman Donnie Shumate said.
"Ocracoke is fine. It's just a matter of getting to Ocracoke right now," Shumate said. Ferries weren't yet running to the island that's accessible only by boat or air.
An Associated Press photographer who flew over the Outer Banks in a helicopter Saturday to survey damage observed some houses on stilts that were washed out below but still standing. Many dunes appeared not to have sizeable damage, and harbors were empty, with just a few boats scattered about.
Paulson, the restaurant owner, said the upcoming week is generally a busy one for local businesses. Many visitors to the Outer Banks stay in weekly rentals and generally start their vacations on Saturdays or Sundays.
Rental properties will be open, said Clark Twiddy, president of Duck-based Twiddy Realty, which has more than 1,000 rentals. But vacationers will have problems getting to the coast because of road issues, especially if they travel through eastern North Carolina to get there, Twiddy said.
Susie Fisher, who works at a Food Lion in Southern Shores in accounting and as a cashier, opted not to evacuate. She said that when tourists start returning Sunday morning, she's not sure they'll find what they need.
"The shelves are pretty empty, and we don't expect our first truck until Sunday, maybe, if they can get through," she said.
Twiddy emphasized that while he was glad the Outer Banks were spared from worse destruction, the devastation just went elsewhere.
"I don't want to sound like we're relieved, lucky, or excited," he said. "We're fortunate, but our hearts are in southeastern North Carolina."