FEMA postpones federal alert systems message test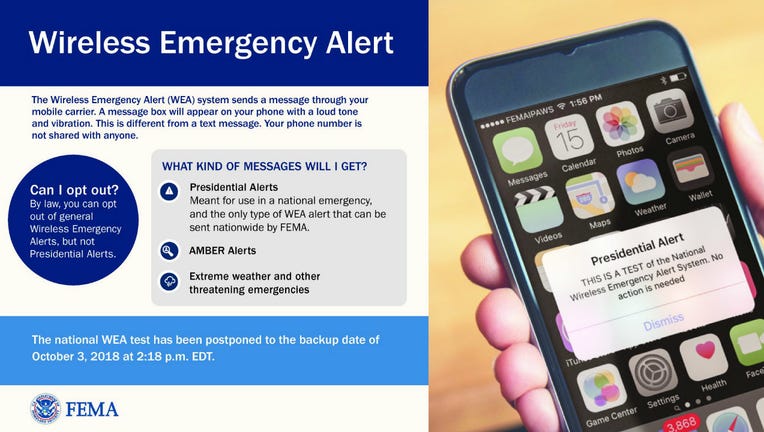 article
(FoxNews.com) - The Federal Emergency Management Agency is postponing a test of its national Wireless Emergency Alert system, according to the agency.
FEMA announced via Twitter on Monday that the postponement of the alert system test, which was originally scheduled for Thursday, is due to the severe weather and relief efforts in the wake of Hurricane Florence.
"Due to severe weather across much of the East Coast and ongoing response efforts, the national emergency alert test has been postponed to the backup date of Oct. 3, 2018 at 2:18 PM EDT," the tweet read.
Federal officials previously announced that the government has a system for sending messages to all cellphone users in the event of a serious weather situation or other emergency.
FEMA says people should expect to receive a phone message beginning at 2:18 p.m. EDT on Wednesday, Oct. 3.
"THIS IS A TEST of the National Wireless Emergency Alert System. No action is needed."
The EAS portion will consist of the following text message:
"THIS IS A TEST of the National Emergency Alert System. This system was developed by broadcast and cable operators in voluntary cooperation with the Federal Emergency Management Agency, the Federal Communications Commission, and local authorities to keep you informed in the event of an emergency. If this had been an actual emergency an official message would have followed the tone alert you heard at the start of this message. A similar wireless emergency alert test message has been sent to all cell phones nationwide. Some cell phones will receive the message; others will not. No action is required."
Plans for the system were initiated in a bill signed into law by former President Barack Obama in 2016, Reuters reported.
For more information, visit FEMA's website which contains answers to many questions about they system and the test.
More on FoxNews.com.