DC could get up to 5 inches of snow in weekend winter storm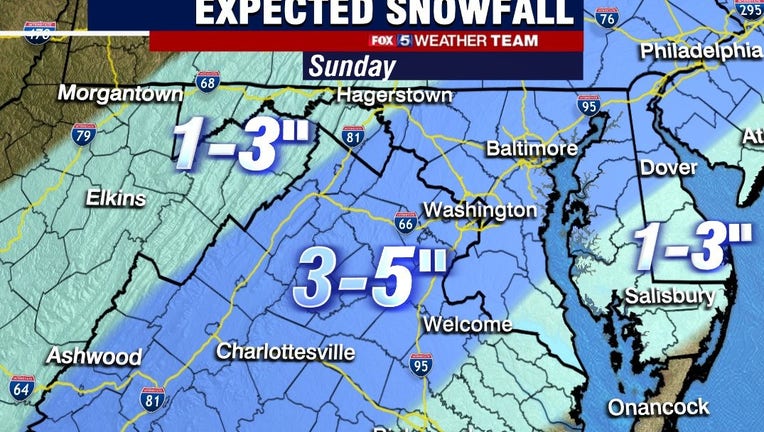 article
WASHINGTON - Less than a week after its first big snowfall in years, the nation's capital could soon see another.
FOX 5 forecasts between three to five inches of snow in another winter storm starting Saturday night into Sunday morning.
The new storm will come just days after a lengthy snowfall last weekend that lasted well into the workweek.
Watch Gwen Tolbart's forecast this morning below. And be sure to stay with FOX 5 for the latest tonight:
Here's more from Gwen:
Clouds will continue to move in Saturday ahead of the approaching storm system to the south that we are monitoring. 
Expect to see gusty winds as well this afternoon, from the Southwest 10-15 miles-per-hour gusting up to 30 mph.
The low pressure system will move up off the Carolina coast and start to bring in precipitation after midnight to pre-dawn. 
A Winter Storm Warning has been issued for much of the area for tonight through noon on Sunday. 
This includes DC and portions of north-central and southern Maryland and northern/northeast Virginia including the Virginia Blue Ridge Mountains. 
Heavy snow with three to five inches or more is possible.
A Winter Weather Advisory has also been issued for lower southern Maryland and portions of northwestern Virginia and eastern West Virginia, and Washington County, Maryland to the north.
Lesser amounts of accumulations are forecast for the advisory area, where one to four inches or more rain or wintry mix may occur.  
Any shift in temperatures to the northwest could change accumulations amounts in the advisory area.
As the system heads in, it will start as rain overnight then change to a wet snow and mix. 
The heaviest snow for our area is expected between 6 a.m. and 10 a.m., when snowfall rates could reach up to inch per hour. 
Be cautious as visibility will certainly be impacted and untreated road surfaces will become hazardous.
Note: In the areas where we have forecast three to five inches of snow, please note that not everyone will see the maximum amounts. 
There are a lot of variables that will impact who gets what snow totals.
The overnight low temperatures tonight will be just one factor. 
Right now it looks like the best chance for some of the heavier bands of snow may be up and down the US-29 corridor (within the winter storm warning area) early to mid-morning Sunday.
Generally, we may even end up with just two to three inches ...it all still bears watching.
The storm is a very fast-moving system and all the precipitation is expected to move out shortly after midday Sunday and clearing skies will follow.
Once we get through this, get ready for the Arctic air that will be settling in.
Very cold days and nights ahead. 
The 7-day forecast also has more days this week of rain/sleet and freezing rain, so stay with FOX 5 for continued updates as winter makes itself at home!
RELATED STORIES:
Snow possible Sunday morning across DC region
Get the latest FOX 5 forecast here.
Check the latest Closings and Delays
Download the FOX 5 DC News App for Local Breaking News and Weather