Women's World Cup: England defeats Denmark 1-0 in Group D play| July 28, 2023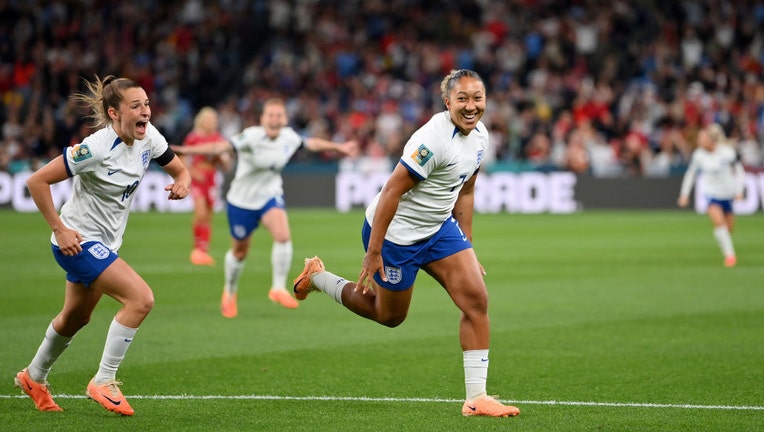 article
CHICAGO - The FIFA Women's World Cup only happens once every four years, and whether you're a soccer devotee or someone who just tunes in when the Cup comes around, you won't want to miss the action. Never fear: We've got you covered.
Every day through the Final on August 20, FOX Digital will be breaking down the details on all the can't-miss matches, players to watch and other essential details. What's next: After an underwhelming victory against Haiti, England looks to regain some momentum as the Lionesses face an impressive Danish team.
Watch the 2023 FIFA Women's World Cup only on FOX and FS1.
Women's World Cup matches on July 28, 2023
Day 9 of the 2023 FIFA Women's World Cup features three matches, including one that started while it was still the 27th in the U.S. Time zones are weird!
Argentina (0 wins, 1 losses, 0 draws) vs. South Africa (0-1-0) Final score: Argentina 2 South Africa 2 
         Watch the replay of Argentina vs. South Africa here
England (1-0-0) vs. Denmark (1-0-0) Final score: England 1 Denmark 0
        Watch the replay of England vs. Denmark here
China (0-1-0) vs. Haiti (0-1-0) Final score: China 1 Haiti 0
        Watch the replay of China vs. Haiti here 
For details on the results of concluded matches, scroll down to the 'Soccer spoilers' section. 
Match spotlight: England vs. Denmark (and Haiti vs. China)
England's Lionesses are the fourth-ranked team in the world, and they won their first match in the group stage. But sometimes a win is, well, less of a win than you might think. 
Such was the case with England's 1-0 defeat of Haiti, who are sitting in the number 53 slot in FIFA's global rankings – a full 49 slots below the English side. 
"The kind of spirit showed was nothing new for a Haiti squad that has faced a difficult journey just to make it to the tournament being co-hosted by Australia and New Zealand," wrote the Associated Press of the surprisingly tight match, "arriving for its World Cup debut with no sponsors and no home games to prepare."
"We're very proud of our performance," Haitian coach Nicholas Delépine told AP. "We've worked very hard and for us it was a huge test. We were very close to England. We were very close."
So the Lionesses have something to prove in their second match, this one against Denmark, who are ranked 13th. Like the English, Denmark took home a win in their first match (against China, ranked 14th), and both teams secured their victories with a single goal over a scoreless opponent. So this is a fixture with big implications for the round of 16 – not just for Denmark and England, but for China and the underdog Haitian team as well. 
Superstars Keira Walsh (England) and Pernille Harder (Denmark) are likely to leave it all on the pitch. Whoever loses the match, one thing is a near certainty: the audiences, whether in Sydney or watching from home, will be the real winners of what's sure to be a barn-burner. 
RELATED: 8 teams that could stop USWNT from three-peating at 2023 World Cup
Players to watch on July 28, 2023
England: Keira Walsh, midfielder
This Barcelona star (she recently moved over from Manchester City for a record-smashing fee) is an intelligent and highly tactical player FIFA calls "the beating heart of the England midfield." She's formidable on defense but her quick thinking helped seal England's EURO win with a crucial pass to teammate Ella Toone. She's a world-class, top-tier player.
Denmark: Pernille Harder, midfielder/forward
One of the world's most exciting players when fit, Harder is back after an injury and is ready to rocket Denmark out of the group stage. FOX Sports notes that "the 30-year-old, Denmark's all-time scoring leader, averages a goal every other game at the international level."
Haiti: Nerilia Mondesir, forward
This 24-year-old has experience to spare – FIFA notes that she's represented Haiti "every age-group (U-15, U-17 and U-20) prior to receiving her first call-up to the senior side." Haiti's captain played a key role in their journey to Cup qualification, and the star Haitian fans call "Nerigol" is (per FIFA) "something of a penalty-box predator, scoring 93 per cent of her goals from inside the area during the 2022/23 season."
China: Wang Shanshan, forward
The star of the Steel Roses, Wang Shanshan is a flexible player with defensive skills to spare – but she's also an imposing threat as a scorer, netting two goals in the 2015 Cup and helping China earn a ticket to the quarter-finals.
South Africa: Hildah Magaia, forward
The player called "Breadwinner" after racking up two goals to guarantee South Africa's first-ever WAFCON championship, Magaia also shot home a goal in Banyana Banyana's tournament opener against the formidable Swedish side. While Sweden eventually struck back, finishing the match 2-1, South Africa's strong showing speaks well of the team's future – especially where their fiery forward is concerned.
Argentina: Vanina Correa, goalkeeper
Called "an undisputed pioneer of Argentinian women's football" by FIFA, this Argentine vet has stopped a lot of goals in her two decades of play for the Argentine women's national team ("Las Albicelestes"). This is her third cup appearance; during the 2019 tournament in France, she kept the English to a single goal and led her team to a draw with the impressive Japanese side. There will be a lot of talk of legendary players making what could be their final Cup appearances throughout this tournament; when you hear talk of Rapinoe, Sinclair and Marta, know that Correa belongs right alongside them in the conversation.
Where is the 2023 Women's World Cup taking place?
The eyes (and cameras) of the world have turned toward host countries Australia and New Zealand. 
In what time zone is the Women's World Cup taking place?
Well, there's more than one time zone involved, as the battles for the Cup will take place in 10 stadiums in two countries. But suffice it to say that you're looking at times that are anywhere from 12 hours (for matches in Perth, Australia) to 16 hours (all New Zealand-based matches) ahead of EST. 
That means some matches – like Nigeria vs. Canada, the first match of day two (July 21) – will be played early in the day locally but air on what's technically the evening before in the U.S. (in this case, July 20). Who said there's no such thing as time travel?
RELATED: Who could be the breakout star for this young, talented USWNT squad?
Where can you stream the FIFA Women's World Cup?
We're living in the future, baby! All matches will be live-streamed on FOXSports.com and via the FOX Sports app, and full replays will also be available. So if you're not into watching soccer at 3 a.m., you're covered! 
How can I watch the FIFA Women's World Cup on live TV?
The FIFA Women's World Cup will air on FOX and FS1. The complete schedule awaits your perusal at FOXSports.com. In addition to all FIFA Women's World Cup matches, head to your preferred FOX platform for game highlights, replays, stats, player stories, analysis and more. 
How does the elimination round work in the Women's World Cup?
Good question! As with the men's World Cup, it's a wee bit complicated. The 32 qualifying teams have been split into eight groups, each assigned a letter (A-H). In the first round, the groups compete against each other: each "side" (team) will participate in three in-group matches. A win is worth three points, a draw worth one point and a loss is worth (you guessed it) zero points. 
At the end of the round, the top two teams (as determined by point total) in each group proceed to the knockout round. That's 16 teams total. 
RELATED: 2023 Women's World Cup betting primer: How to bet on soccer
When does Team USA play next?
After their July 27 draw with the Netherlands, Alex Morgan, Lindsay Horan and company will square off against Portugal on August 1.
Soccer spoilers: today's results
China vs. Haiti: Despite an early red card leaving China with 10 players, they were resilient in coming back to win their first game of the tournament. Wang Shuang provided the game-winner on a penalty kick in the second half.  The result leaves China tied with Denmark for second in the group with 3 points (behind England with 6), while Haiti remains winless and in fourth place.
England vs. Denmark: Lauren James scored after six minutes of her first start at the Women's World Cup as England beat Denmark 1-0. James was benched for the Lionesses' opening game against Haiti. She made a quick impression after being called up from the start by coach Sarina Wiegman. 
Argentina vs. South Africa: Argentina and South Africa both entered the match winless in their World Cup history and both faced a potential elimination with a loss.  After trailing 2-0 late in the second half, Argentina scored two goals in just five minutes of action — its first goals of the World Cup — and miraculously came away with a point and kept its hopes of advancing alive. 
Watch this space!
Watch the 2023 FIFA Women's World Cup only on FOX and FS1.