Wizards GM Tommy Sheppard fired after team misses playoffs again
WASHINGTON - The Washington Wizards fired general manager Tommy Sheppard on Wednesday after the team missed the postseason for a second consecutive season.
Owner Ted Leonsis announced the move, saying the failure to make the playoffs the past two seasons was disappointing, and a search for new leadership will begin immediately.
"Tommy Sheppard was relieved from his duties as General Manager and President of the Washington Wizards," Leonisis said in a statement. "Failure to make the playoffs the last two seasons was very disappointing to our organization and our fans. A search for new leadership will begin immediately for an executive from outside the organization. I would like to thank Tommy for his dedication to the Wizards organization and wish him the best in his future endeavors."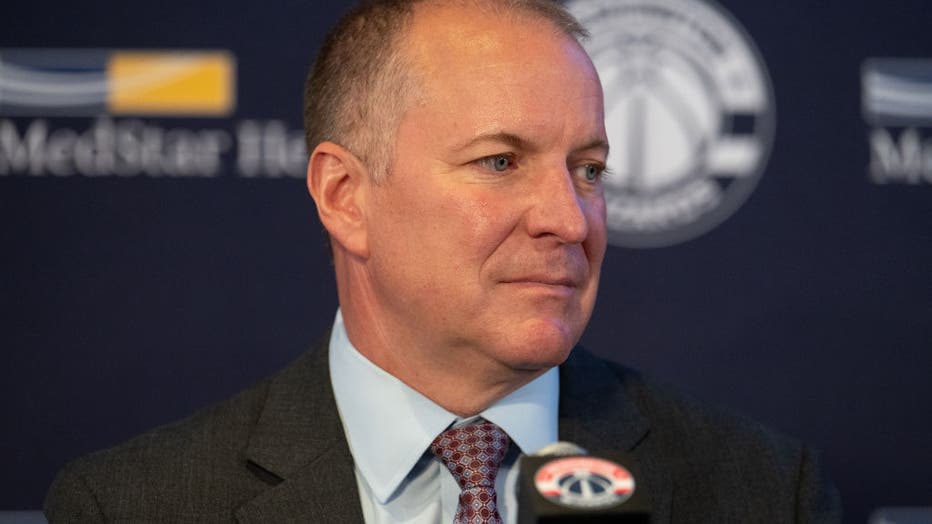 WASHINGTON, DC - JULY 08: Wizards President and General Manager Tommy Sheppard is seen during a press conference at Capitol One Arena in Washington, DC, on July 08, 2022. (Photo by Craig Hudson for The Washington Post via Getty Images)
Sheppard's dismissal comes less than two years after he received a contract extension in November 2021. Washington went 35-47 in 2021-22 and then posted this same record this season.
The failure to make it even to the play-in round was particularly distressing since the Wizards just signed star guard Bradley Beal to a max-value contract last offseason.
In other Wizards news, a Florida basketball fan filed a civil lawsuit Wednesday against Beal and the Washington Wizards alleging assault, battery, and negligence following an incident that happened in March at the end of a game against the Orlando Magic.
According to the lawsuit, Kyler Briffa is suing Beal for assault and battery after Beal allegedly struck the side of his head, knocking his hat off after the game, stemming from a comment a friend made regarding a bet. The suit also charges negligence against the Washington Wizards and vicarious liability against Monumental Sports & Entertainment.
The lawsuit seeks more than $50,000 in damages.
The Associated Press contributed to this report.