Steelers' Alejandro Villanueva on standing for anthem: 'I made my teammates look bad'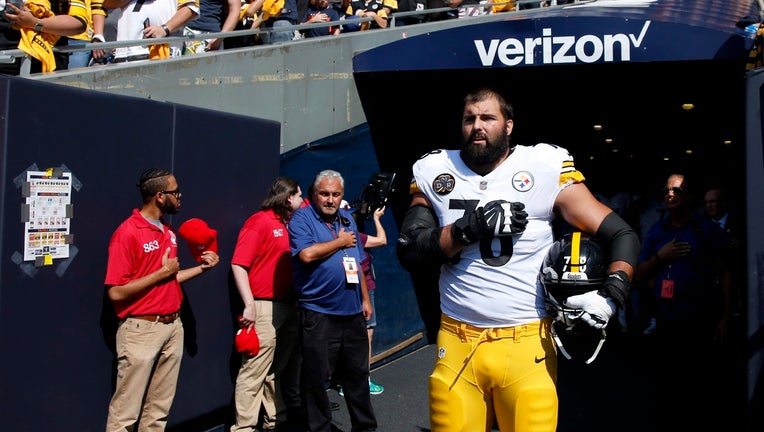 article
(FOX NEWS) -- Alejandro Villanueva, a former Army Ranger and the only Pittsburgh Steeler seen standing during the national anthem on Sunday against the Chicago Bears, told reporters he "unintentionally" threw his teammates under the bus.
In a news conference on Monday, Villanueva said it was never part of the plan to be out on the field alone and that he accidentally ran too far, according to CBS Pittsburgh.
The team had agreed, at least at first, to stay in the tunnel during the anthem.
"Unfortunately I threw my teammates under the bus, unintentionally," Villanueva said. "Every single time I see that picture of me standing by myself I feel embarrassed."
Villanueva told reporters he had originally asked Steelers' quarterback Ben Roethlisberger if he could lead the team out of the tunnel with the captains, but the plan was abandoned due to confusion at the end of the tunnel, according to reports.
"When we came out of the locker room into that tunnel, it was a very small area. There was a flag or something coming off the field so there were a bunch of Bears fans, coming off the field holding that going in front of us, so it kind of held us up," he said.
Villanueva kept running, but the team stayed back in the tunnel.
"I made my teammates look bad, and that's my fault, and my fault only," Villanueva said. "We as a team tried to figure it out, but obviously butchered it."
Sales for Villanueva jerseys have skyrocketed since Sunday's game, nabbing the number one spot on the NFL web store.
During the news conference, Villanueva said he does not mind if his teammates choose to take a knee or sit during the anthem, noting that some of the players who have protested, have also thanked him for his service.
"People that are taking a knee are not saying anything negative about the military, they're not saying anything negative about the flag, they're just trying to protest that there are some injustices in America," Villanueva said.
In 2016, Villanueva commented on former San Francisco 49er's quarterback Colin Kaepernick's initial protest, saying that while he doesn't necessarily agree that taking the knee is the best course of action and thinks Kaepernick needs to "look at the big picture," he understands the need to try to fix the injustice in the country, ESPN reported.
Villanueva, a West Point graduate, served three tours in Afghanistan and became an Army Ranger prior to joining the NFL in 2014, according to the Philadelphia Eagles, who first drafted him.
After being cut by the Eagles, Villanueva joined the Steelers' in August 2014 and had his first official NFL start in October 2015, according to the Steelers' website.